Courtesy Of The Pyros
Ivamae (left) and Steven Yardley in "Coffee"
Depending on how you look at it, being single rules, or it sucks. Most uncoupled people would likely agree that singlehood is a balancing act between perks and pitfalls.
Steven Yardley might tell you that, single or partnered, it's all about the journey. The Burlington sound engineer and front person for garage-rock band the Pyros says his band's new EP, Christian Mingle — and its accompanying music videos — is all about "the reckless pursuit of love."
Through three highly stylized, tongue-in-cheek clips, Yardley gives the world a proper introduction to the band and establishes himself as a precocious talent in the Queen City. While most of his contributions to the Vermont scene have been as a sound engineer, the singer-songwriter takes center stage with Christian Mingle, which drops Tuesday, September 10. That night, the Pyros open for B Boys at the Monkey House in Winooski.
The 25-year-old Farmington, Maine, native migrated to Burlington after graduating from St. Lawrence University in 2016. During his college years, he frequented Vermont, making connections that would later serve him well. Since his move, the blonde, mullet-haired musician has been seen behind the board at clubs including Higher Ground, Foam Brewers and SideBar. (Yardley is also a member of Seven Days' circulation team.) But as a sound tech, his greatest accomplishment is the Jammbulance, basically a rock show on wheels.
Yardley envisioned a mobile concert venue that could be dispatched to outdoor events, with speakers, stage, power and other essentials all included. After picking up a vintage, decommissioned ambulance in Pennsylvania in 2017, he gutted it from floor to ceiling and completely rewired the electrical system. Finishing touches, such as a shag carpet and a fab paint job from local street artists Anthill Collective, give it a "Kurt Cobain meets Austin Powers" vibe, Yardley describes.
"The coolest part about the Jammbulance is being able to help people to have a really good-sounding show and unite the community," he says.
Though his journey with the Jammbulance has been fairly clear cut, Yardley has struggled a bit with how to properly roll out the Pyros. The first songs to be released were a pair of 2018 demos called "Zombie" and "Swamp Monster." Also released as videos, they featured remixed footage of Disney's "The Skeleton Dance" animated short and Wes Craven's Swamp Thing, respectively.
He's also had a bit of trouble holding down a bassist. After cycling through several in the past couple of years, Yardley finally landed Liz Stafford, who plays with indie rockers Paper Castles and, until recently, Julia Caesar. Plastique Mammals' and Community Garden's Evan Raine holds down drums, while Yardley plays guitar and sings.
Yardley began work on Christian Mingle in 2018 as a concept album about the existential crisis of being alone when you'd rather not be.
"I've always admired concept albums and how they flowed," he says. The EP — particularly as seen through its visuals — loosely tells a story about a young lover (played by Yardley) holding on for dear life through a number of romantically charged situations. Though he used a few videographers — Jesse Rosenfield, Kayhl Cooper and Tyler Struss — Yardley was the project's de facto director.
In "Coffee," a retro-rock tune that evokes Chuck Berry, he plays opposite Burlington acoustic soul maven Ivamae.
"I wanted to start off with classic tropes of love," Yardley explains, referring to the standard coffee date.
In the video, the pair sits awkwardly at the Parkway Diner, exchanging longing glances and sipping java. Before long, they escape into a fantasy sock hop full of young revelers performing lightly choreographed dance moves. It plays with the idea of trying to suss out someone's intentions: Where is this all going, and can it be here?
"I was really wanting a partner, that kind of life," Yardley says of his state of mind while writing the song. "In 2018, all I wanted was to make music, [and to have] a partner and a sick ride."
Kicking things up a notch, the second track and video, "Christian Mingle," seems celebratory at first. But the video belies some of the song's darker lyrics.
Yardley climbs into a 1970s wood-paneled station wagon, with tin cans trailing as if he's just gotten married. However, a sign in the back windshield reads, "Just single."
Throughout the video, he and his cronies drive around and appear in pizza parlors, Laundromats and auto garages. Its climax is another fantasy. After an unpleasant run-in with Nico Suave front person Nicole D'Elisa, Yardley imagines the two in a coital position on a mattress strapped atop his rust bucket. They canoodle and carouse as the car drives them through city streets. (Kids, don't try this.)
"I thought I was in love / But Jenny broke my heart ... An IPA will do for now," he idly sings in the modern rock tune, downplaying the hurt and ordering drink after drink.
In real life, Yardley has made an effort to cut back on his alcohol intake. His relationship to booze and how he's used it to quell dissatisfaction with his romantic life are driving forces on "Christian Mingle."
"You feel depressed, you overdrink," he says. "It's not good for your soul. You feel humiliated by your mistakes."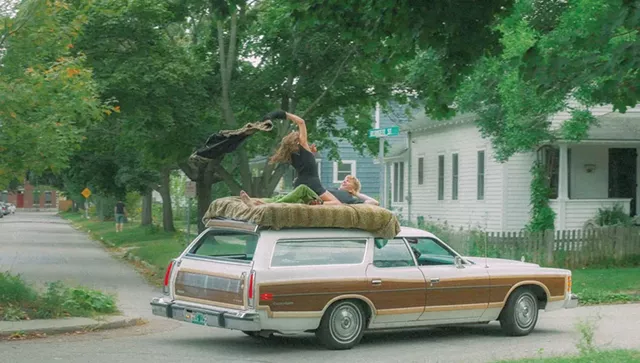 Courtesy Of The Pyros
A still from "Christian Mingle"
The concluding track and video, "Casanova," is perhaps the wackiest installment in the trilogy. Yardley plays a pool boy who can't keep it in his pants as he's seduced by a poolside siren played by Frances Desrochers. An outraged Raine shows up to defend his lady love's honor, and the men brawl with better stage fighting than two amateurs ought to be able to pull off. (Ironically, Stafford, who doesn't appear in the video, holds a black belt in karate.)
The exploration of unchecked lust ends comically with the woman of interest rebuking Raine, the fight's victor. She kicks his ass and considers robbing him blind but ultimately decides he's not worth it.
Taken as a whole, the three tracks show various shades of the single life: hopeful times, depression and unbridled passion.
Though he shot them in 2018, Yardley took the better part of a year to edit the videos and decide on a roll-out strategy.
"This was the first [release] that was very cohesive," he says. "I saved up money to sponsor my [social media] posts [and] bought mastering software."
Yardley also tried some unconventional guerrilla marketing techniques. Namely, he set up profiles for the band on dating apps and websites, such as Tinder, Bumble and, of course, Christian Mingle. He hasn't gotten any noteworthy responses or matches.
That's the single life for you.