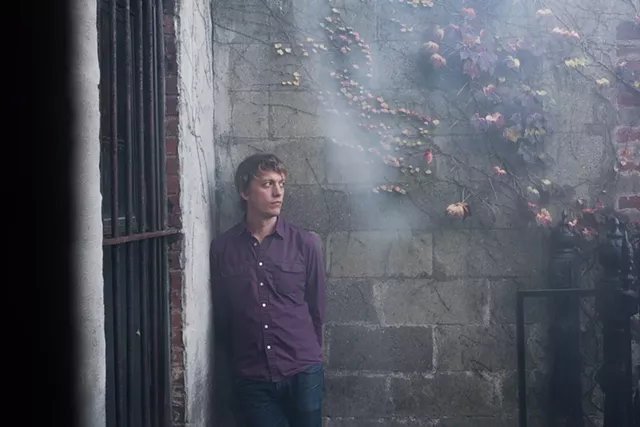 Courtesy of Nathan Salsburg
Steve Gunn
Steve Gunn is exceedingly humble, despite the fact that he's one of the most critically acclaimed singer-songwriters of the moment. After releasing a handful of albums on a few smaller indie labels, he joined Matador Records in 2016 with his latest album, Eyes on the Lines.
Originally from Philadelphia, Gunn currently resides in Brooklyn. He crafts pensive, meandering songs that, until fairly recently, have been much more guitar-centric than lyric-centric. His days as a fingerstyle guitarist still outnumber his days as a singer-songwriter. For example, he once was a touring member of Kurt Vile's backing band, the Violators. Gunn plays a solo acoustic show on Thursday, January 12, at the Winooski United Methodist Church. Sonic Youth's Lee Renaldo co-headlines, with support from Meg Baird.
Gunn intentionally tries to leave his ego out of the songwriting equation, instead letting characters tell his stories for him. Eyes on the Lines is Gunn at his most concise. As such, it's his most accessible album to date. His well-documented drone and jam influences are still present, but they live below the surface of the album's tighter, catchier Americana-influenced rock.
Music journalists from the New Yorker to Interview Magazine have categorized Eyes as a road-trip album about "getting lost." The inspiration for its philosophical thesis comes from author Rebecca Solnit's 2005 collection of essays, A Field Guide to Getting Lost. The album's concept encourages listeners to cherish the unknown and embrace uncertainty as a tool to help calibrate the inner self.
Courtesy of Nathan Salsburg
Steve Gunn
Seven Days recently caught up with Gunn by phone.
SEVEN DAYS: I think that a lot of people are feeling very lost right now. How can the philosophy of Eyes on the Lines help someone who's feeling that way?
STEVE GUNN: It's funny you mention that, because I have been thinking about that. Certainly me, and people close to me, are very lost considering what's going on. It's something I've never — and my peers have never — dealt with in [our] lifetime. I feel like there's this real sense of the unknown that's going to be happening after the inauguration. It's a real looming, dark cloud that's descending over us.
When I was writing [Eyes on the Lines], I wasn't thinking about that kind of stuff. I was more focused on being able to accept or embrace this sense of the unknown [and] chance encounters in life. As I got older and I started reading literature and started figuring out how artists' minds work, they kind of trust their instincts and this unknown territory within themselves and the world. To me, those are the most exciting experiences, where you can trust yourself and not know where you're going.
SD: Have you found that to be true in your experience as a songwriter?
SG: I kind of became a songwriter late in the game. I was a guitar player and a straight-up improviser, but I wanted to tell stories. Part of the process for me is doing a lot of free writing and letting my ideas pour out at certain times. [They] might not make sense to me right away. Particularly with songs and lyrics, the meaning can kind of shift around and represent different things. I try not to be overly specific or confessional. I think certain concepts that I deal with have a lot to do with anxiety. Unfortunately, these questions of the unknown now have a different interpretation with what's currently happening.
SD: How does playing a solo acoustic show stack up against playing with a live band?
SG: It's a grind, traveling in a big vehicle with a ton of gear and a lot of people. There are a lot of moving parts to being on the road with five people. As the front person, I feel responsible for everything that's happening. It's a ton of work. That part of it I'm not going to miss.
I used to do a lot of touring by myself, particularly in Europe. I really enjoy playing solo. I kind of have to talk between songs. It forces me into a different role. If I screw something up, no one's going to give me a dirty look. I like to revisit songs I wrote for band albums and give them a new life. I add things and do some instrumental stuff. I keep it more experimental. I get giddy when I'm going to a gig and I only have my acoustic [guitar]. I'm like, "Where's all this crap I have to deal with?"
SD: Your video for "Conditions Wild" is pretty spectacular.
SG: Thanks! [Director Brandon Herman] came up with the whole concept. I worked with [him] after the fact about the stop-motion-animation concept. I showed him some [Luis] Buñuel and Harry Smith films. I wanted to make it sort of dreamy. I felt like it was really important for me to not have [the video] be "cute," because the song is actually really heavy conceptually. It's sort of about depression and the concept of being lost, and how you can really close yourself off to the people around you and how that's not really healthy. [But] generally it's a song about hope.
SD: Was that your first time "acting"?
SG: Totally. Can you tell?
SD: No! I was just wondering about your experience being directed.
SG: It was cool. [On set,] it was just me, him and his assistant in a green-screen room. He was like, "Pretend you're waving!" And, "Pretend you're getting on a boat!" It was a full day of doing this stuff, and I was like, "What is going on here?" It felt really awkward to do these physical movements without seeing what was going on.
SD: It sounds like you had a crash course in what they call "space work."
SG: Exactly. I felt like it did not look natural.
SD: I read that you once worked with installation artist Robert Irwin. How was that experience?
SG: I'm a big fan of his work. I worked at an art gallery in New York [with which] he was affiliated. I met him a few times when he came in, and I worked on a couple of his light pieces. He makes these curved pieces that are really incredible. We did these large-scale works, these long, painted pieces mixed with light. He's such a friendly, interesting guy. He was more interested in hanging out with us guys working at the gallery than the suited-up, smarmy dealers.
SD: I understand you have an impressive vinyl collection. What's the crown jewel?
SG: I have some Sun Ra albums that are original [El] Saturn pressings. They pressed their own albums and made the artwork and distributed them themselves, which was unprecedented back then. Those albums have since been rereleased, but the originals are hard to find. And expensive.