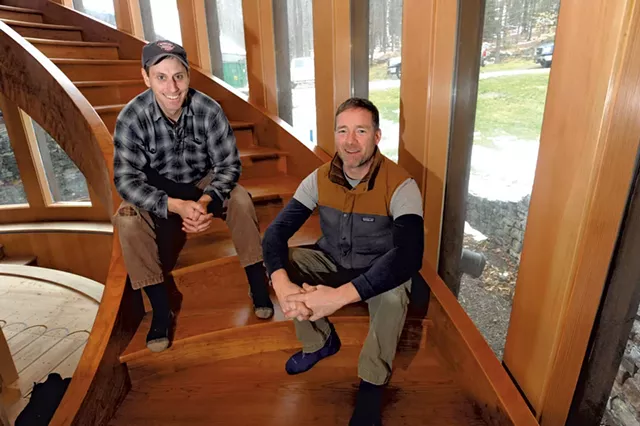 Jeb Wallace-brodeur
Zach Taylor (left) and Sandy Thompson
Sandy Thompson has filled many roles. The Stowe native studied collective bargaining and conflict management at the University of Vermont. He made a brief appearance in Star Wars: Episode III — Revenge of the Sith (2005) as Neimoidian official Rune Haako when the actor who was originally cast broke his leg. And he was a TV producer, traveling the world for three seasons of NASCAR and three World Games. Now Thompson is a woodworker.
The blond builder, age 42, took over Sterling Staircase & Handrail from owner Frits Momsen in 2007. Shortly after, Thompson's longtime friend, luthier Zach Taylor, 43, joined him. Considering his skill set, he's the perfect complement, Thompson says. Last year, Chris "Strongman" Strong, 42, joined their force, as well. Together, the trio has created beautiful stairs for numerous houses in the Waterbury-Stowe area and beyond. And, by all reports, they have fun doing it.
Sterling is known for impeccable, traditional woodworking in crafting high-end staircases and rails — particularly with a method called "tangent hand railing." Thompson explains that this involves carving a curving, twisting rail while keeping the top level and the sides plumb. While not all of their work requires a curve, it's one of their specialties. And it doesn't come cheap. Thompson estimates that most of the continuous rails they construct cost between $200 and $300 a lineal foot.
In fact, the job that brought Thompson and Taylor together in 2008 was a massive oval-shaped staircase for a Long Island home. "Because of its elliptical design," Thompson says, "each tread was unique, and the pitch was constantly changing throughout." After seeing the job, Thompson realized he couldn't do it alone. He called on Taylor, "and the rest is history," he says.
That history is written by many Vermont residents — or their contractors — who have turned to Sterling for assistance. "We tend to be hired for one thing, and, very soon after, the scope grows as they see what we can do," Taylor says. "For a number of reasons, there are often holes in the job that need to be filled, and they tend to be difficult, rather interesting things."
One example is a live-edge wood bench for a mudroom, Thompson's current project. Another challenge was creating small lanterns to top the newel posts of a heart pine staircase. Sometimes the "hole" Sterling needs to fill is an entire staircase, as in the instance of "the Lyon job" — the woodworkers refer to their projects by the client's last name.
In about 1989, Thompson recalls, a couple bought "a dilapidated Victorian house" with an "amazingly complex" staircase in Mount Holly. "It had been abandoned, and people had come in and torn all the balusters out," he says. The couple sent then-owner Momsen photos and requested an estimate. He gave them a quote, but it was beyond their budget.
"They didn't have a ton of cash, but they wanted to do it right," Thompson continues. So they saved and saved and saved. And, 20 years later, they called Sterling and said they were ready.
"To be clear," Taylor adds, "they had been working on this house as a labor of love since they bought it. They would come up from Connecticut for the weekend with their friends and have work parties. It was a special place. But the one missing piece of the entire house was the balustrade, which had been unceremoniously ripped out. It was the crown jewel, the last thing that needed restoring."
The couple helped Thompson and Taylor set the new balusters — given the scope of the project, it warranted four sets of hands. As they were finishing the job, Thompson says he looked over at Mrs. Lyon. "She's sitting on her staircase with this huge grin on her face and tears running down. That was, to me, the most satisfying thing."
They report getting similar emotional reactions on certain difficult projects. Currently, they're working on a house in central Vermont whose design is meant to "symbolize the inner workings of a clock. It has a lot of curving walls and many levels," Thompson says.
They just installed an elliptical stair with smoothly curved steps for the clock house. After the owner, also a woodworker, saw it, Thompson went for a handshake, "and he grabbed me by the hand and pulled me in and gave me this huge kiss on my check."
Given the nature of Sterling's work — precise, elegant and specialized — those reactions aren't surprising. "I think people love working with us because of that sort of unique and challenging project," Thompson says. "We work really hard, and they appreciate that."