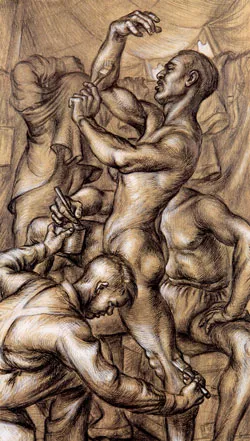 "Gilding the Acrobat" by Paul Cadmus (detail)
A trio of concurrent exhibits at the Fleming Museum illustrates how visual artists have responded to classic three-ring performers. "Under the Big Top: The Fine Art of the Circus in America," "Georges Rouault: Cirque de L'Etoile Filante" and "Masked Spectacle: Commedia dell'Arte and Bread & Puppet Theater" create a colorful panoply of images relating to themes found in pageants and circuses.
"Masked Spectacle" leads off the show in the museum's Wilbur Room. Detailed prints by American/Hungarian artist Giuseppe Pecsenke (1942-1989) focus on masked characters that have appeared in avant-garde European theater and seem to be influenced by Baroque etchings. Pecsenke's "Commedia dell'Arte IV-A, 'Il Detore'" is a lively portrait of a masked performer in character dramatically exiting a scene. The exhibit also includes 16 papier-mâché masks from Vermont's own Bread & Puppet Theater, among them horned devils, large zebras and human-sized "White Clown" masks.
In the East Gallery, Rouault's 1938 suite of 16 etchings with aquatint focuses on a darker aspect of clowns, in this case rendered in the French artist's signature heavy black lines and rich colors. "Madame Louison" captures a female clown in a tutu, with a masklike face, looking absently off to the right. "Tristes Os" is a sad, muscular male figure with a haggard countenance. Rouault's simplified colors and dark outlines give his prints an appearance of stained glass. These are melancholy, subdued portrayals; Rouault was more interested in the sad life of clowns than in their artificially jokey performances.
The most diverse exhibit of the three is "Under the Big Top," which includes early 20th- through 21st-century paintings, prints and drawings, and even a few 19th-century Vermont newspapers advertising the circus. The exhibit's aim is to explore the artists' psychological connection to various circus performers; after all, notes the Fleming's commentary, artists, too, "lived by their skill and talent at the edges of society." Burlington artist Lance Richbourg's "Clowns" drawing from 1997 emphasizes the grotesque and frightening; the face at right is a skull with a pointed hat, while a face crowded against it at left is smeared with makeup and has dull, heavy eyes.
George Bellows' 1912 painting "The Circus" conveys the skill of a female bareback rider standing on a fast-moving white stallion, while a troupe of aerialists defies gravity overhead. Best known for his paintings of boxing matches, the American Ashcan School painter masterfully captures the energy of an audience engrossed in a dramatic event. Bellows' theatrical light and symmetrical composition are sturdy and alive with movement.
"Circus Tent," by 20th-century painter and illustrator George Luks — also a member of the Ashcan group — is informed by his interest in working-class subjects and street scenes. It depicts the outside of a big-top tent in the evening as a crowd streams into the show. Luks' style is simple, almost primitive, but his figures seem filled with anticipation as they stride from darkness into the bright world of the spectacle within.
Before moving pictures came along, circus and vaudeville dominated popular culture — and traces of their influence are all around us. In November 2010, large-scale posters from the 1890 "Forepaugh and the Wild West" circus were discovered on the side of a building being demolished in Barre. Unfortunately, they were destroyed. A happier fate met five 1883 posters hidden by clapboard on a Colchester house in 1991. They were salvaged and donated to the Shelburne Museum, which owns a huge collection of circus art and artifacts. The Shelburne mounted "Circus Day in America," a large, history-oriented exhibition last year, which included the conserved Colchester posters.
The Fleming's current exhibit demonstrates the ongoing interest in the circus, and the significance artists have found in its iconography and human elements. Big-top acts may be fleeting, but the artistry and drama they engender are timeless.