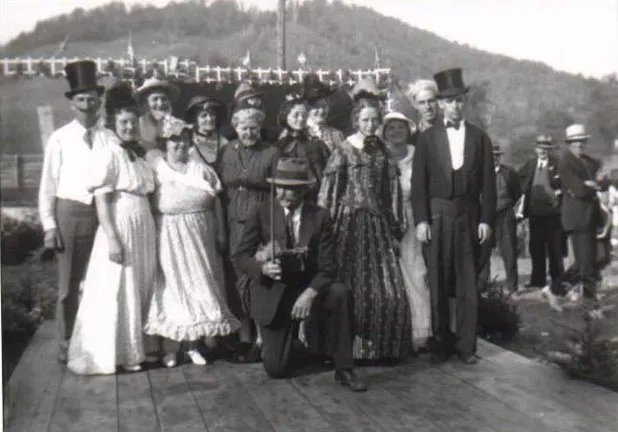 Ed Larkin Contra Dancers Circa 1940
How many times have you read a story about some traditional art turned cool that started with the declaration, "This is not your grandmother's two-step" (or embroidery circle, or fiddling social, or whatever)? This story starts a little differently: This is your grandmother's two-step. Your great-grandmother's, even. So no dumping on grannies: The elder members of Vermont's Ed Larkin Contra Dancers cut a rug like Edward Scissorhands. Respect!
We're all familiar with the hippie contra-dance phenomenon - boho masses drawn to the flowing skirts, inviting social atmosphere and manageable movements. But the Larkin dancers are the real article. Similar skirts, different mission.
"We haven't changed any of the dances," says Dorothy Swayze, an Ed Larkin member for more than 30 years and the group's booking agent. Prior to a recent dance at the Tunbridge Town Hall, she explains by phone that, of the 30 traditional contras and quadrilles the group performs, all follow the original choreography, circa 1883. The "gypsy" move typically seen at a new-style contra dance - i.e., circling your partner in a passionate eye lock - is noticeably absent.
Contra dance originally came over with immigrants from England and France. Some suggest the name is corrupted from the French contradanse, meaning "country" dance. Others believe it refers to individuals standing in two lines facing, or "contra," each other. Either way, Swayze can quickly tell the difference between dancers who maintain 19th-century standards and those who have more modern interpretations. For instance, she notes the sashay: "Down the center, same way back is always called 'sashay,' and a sedate sashay it is, never done strenuously."
The names of the dances also haven't changed. "The White Cockade" and "The Girl I Left Behind Me" are Irish. There's a nod to the Scottish Lowlands with "Hull's Victory." The Ed Larkin Dancers' rendition of the quadrille, a precursor of square dance, is historically accurate as well, including the use of a "prompter" to gently remind dancers of their next step, rather than a "caller," who tends to shout.
Why 1883? That's the year the group's founder and namesake Edward Loyal Larkin first learned the dances, at age 17.
"The Larkin parents were God-fearing folks and did not allow their children to go to dances," begins the company's collected history, entitled And Everyone Would Sashay. Regardless, author Ruth Sher explains, a curious Ed Larkin couldn't resist and, while his parents were out of town, snuck out of his Westmore, Vermont, home one night to check out the Tunbridge Ball.
"Once inside the door, Ed made his way quietly and unobtrusively to his chosen point of vantage and seclusion behind the spacious box stove off to one corner," writes Sher.
Like a heat-seeking missile, a young miss snatched the wallflower up for a dance. A few weeks later, Larkin announced to his parents that he'd be attending another Tunbridge Ball, and there was little they could do about it.
Larkin enjoyed the event so much, he started to organize noontime contras and accompany them with his harmonica. But that wasn't enough; he soon contracted the so-called "fiddle itch"- an overwhelming desire to play the fiddle - and before long was doing just that all over town.
Though Larkin is long gone, Harold Luce remembers him well. The current fiddler for the Ed Larkin Contra Dancers, he learned to play at age 13 from the founder himself.
"He was very strict," remembers Luce. "He'd be calling, and, if you missed a step or someone turned wrong, he'd stop you. He was a perfectionist." Before Luce became the group's full-time fiddler, Larkin's daughter Gertrude used to accompany the dancers.
In And Everyone Would Sashay, Gertrude recalls nights spent riding with her father to kitchen junkets - contra events held in people's homes.
"Mom didn't want me to go. She thought I was too young," Gertrude says. "She would say, 'Ask your father.' Dad liked the company and someone to drive the horse home so he could sleep after a day's work and all-night fiddling and prompting. He didn't hesitate to say, 'Yes.'"
Gertrude remembers tackling snowdrifts and dancing till dawn as she and her father traveled the Vermont midlands, entertaining small towns along the way.
Today Gertrude no longer accompanies the group. "She has Alzheimer's and is down at the nursing home now, but we just let her keep playing until one day she sat down and said, 'I think I'm not going to play today,'" Luce says. "She never played again."
Luce himself shows no signs of slowing down, though. The spry eightysomething handles the fiddle with care and takes pride in his skill. "I can fiddle somersaults around most," he boasts, "but I don't find no fault in others' playing."
When asked if he thinks performing with the group keeps him young, Luce laughs and says, "It can't hurt." Like the aging singers in the current movie Young@Heart, the Ed Larkin Contra Dancers show an energy that speaks to the benefits of an active retirement.
The members are just as notable for their wardrobes. For performances, all of them dress in reproductions of 19th-century garb: top hats and tails for the gentlemen, bonnets and intricate bodice dresses for the ladies.
"Back in the day, some of the members wore their family's original clothing, but those are very delicate and a few are in museums now," explains Dorothy Swayze. Today, many of the female members sew their own. Swayze agrees that the costumes allow the group to strengthen their connection with the past.
They have Ed Larkin to thank for that, too. While he fiddled his way through the glory days of contra dance around Chelsea, Washington and Tunbridge, the style's popularity eventually waned as interest in ballroom dance grew. With admirable foresight, Larkin prevented the disappearance of his beloved contra by founding, in 1934, an organization to preserve its original steps.
Fast-forward to 2008 in that same idyllic village of Tunbridge, a place that resembles the label on a bottle of Hidden Valley Ranch. Every few months, the Ed Larkin Contra Dancers host an informal gathering at Town Hall to share their movements and teach the public. And, just as Larkin did back in 1883 - albeit not with buggies and ponies - dancers and curious guests arrive for an evening of old-time contra dance. More people show up than you'd expect.
"You meet people and have a good laugh," says Peggy Branwell, who looks about 25. She's come to the town hall with three young comrades. "Contra dance is really big in the Hanover area," explains Branwell. "There's also a crew that goes to Norwich, and there are dances at Dartmouth with a live band and caller. You have to bring a change of clothing and a lot of water - it's a workout."
The Ed Larkin crew quickly assimilates the youngsters. Luce rosins up his bow and starts to play. Troupe president Clyde Jenne takes the mike: "Hands in the middle, now sashay down. Sashay back, now spin around."
More people file into the tiny hall - friends, couples, a little girl hand-in-hand with her father. "Come on up and dance," the contra crowd calls out. It doesn't take much convincing. And it's hard not to smile when you're do-si-doing with a fourth-grader on one side and an energetic senior citizen on the other, while an 80-year-old plays an Irish tune from the 1800s. File this under Good Clean Fun - emphasis on fun.
Afterward, as we exit into the Green Mountain dusk, refreshments organizer Maryanne Johnson calls out, "We're looking for gigs." For a small fee, the Ed Larkin Contra Dancers will perform at events. And, of course, anyone is welcome to attend one of their open houses throughout the year. Top hats optional.