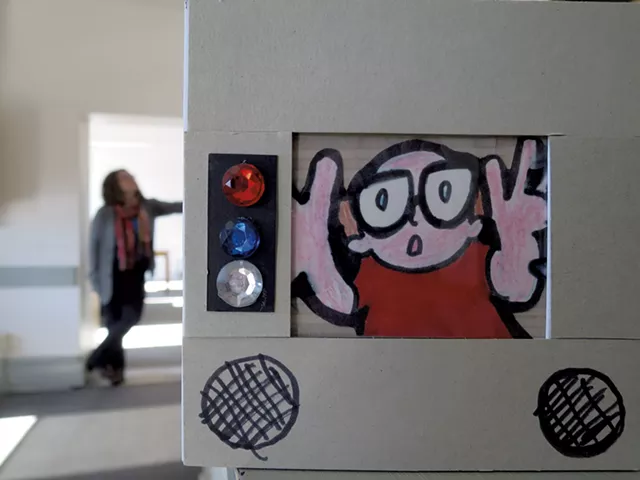 Matthew Thorsen
Kristin Humbargar in the Words & Pictures studio
The art of making comics isn't all funny business. Like other creative mediums, it requires space, specialized equipment and community.
So, when Kristin Humbargar of Essex Hub for Women & Business asked Stephanie Zuppo, the cartoonist and creator of Ladybroad Ledger, if she was interested in a studio at a new space in Essex Junction, Zuppo said yes — but she wanted to share it with other comic artists.
And so Words & Pictures was born. The print-media studio, situated above Martone's Market & Café, caters to anyone who, well, works with words, pictures or both. Those could be cartoonists, independent publishers, illustrators or writers.
So far, the studio has four members, including Zuppo, who each pay a $250 monthly rental fee. The others are comics enthusiast Andy Kolovos (also director of archives and research at Vermont Folklife Center) and cartoonists Iona Fox and Jesse DuRona.
Zuppo is currently taking applications for a fifth studio member and for general membership. The latter would grant access to the space and equipment but no personal desk space. That membership plan will kick in, Zuppo estimates, at the end of April.
Words & Pictures is technically a member of Main Street Studio, which is operated by Humbargar's Essex Hub. While membership dues are paid to Main Street Studio, whose name is on the lease, Zuppo is charged with acquiring and vetting members for the space.
A flexible six-month lease is giving her time to do so and to acquire the rest of the equipment she needs. Zuppo is currently raising money on a crowdfunding site to cover startup costs.
To date, the studio has acquired a black-and-white copier, a DIY screen-printing unit, sewing and embroidery machines, a laminator, bookbinding materials, and "an old plotter we're hoping to hack into a vinyl cutter," Zuppo says. She's still looking for a color copier, a new sink with sprayer, a paper cutter, drying racks for prints and screens, and a few other items to round out the screen-printing setup.
Matthew Thorsen
Kristin Humbargar, Andy Kolovos and Stephanie Zuppo
"We're working very cheaply," Zuppo notes, "trying to get as much as we can through donations or DIY-ing equipment ourselves."
Keeping the operation costs low is imperative. Zuppo founded the space hoping to elevate print media in the age of digital, and to provide inexpensive access to "graphic arts and DIY publishing tools — everything from design software and digital printing to silk-screening and book-binding," she says.
Creating a space with that kind of access, for as little as possible, demands creative thinking. But it's not an uncommon model. Fox points out that almost every major city has a community-focused printing center like Words & Pictures. Zuppo adds that she fashioned the space after a studio she visited in Philadelphia called the Soapbox: Community Print Shop & Zine Library.
As at the Soapbox, Zuppo aims to cultivate a zine library, a project that she's only just beginning. And she has the perfect room for it — separated from studio members' desks by a heavy sliding door, with a floor-to-ceiling wall of bookshelves. They're empty right now, but boxes of zines brought in by members await sorting.
It's clear what Zuppo is getting from the deal: a rad new space to produce comics and connect with other artists, and to support the comics community. But Humbargar's vision is somewhat grander. Her goal is to create a "maker village" in Essex. To Humbargar's thinking, creative people drive a creative economy, which has been shown positively to affect local business. Burlington's South End is just one example.
Sustainability of the location for the artists is important to her model, Humbargar says. Though she can't say how Essex Junction will look in 10 or 20 years, she hopes it will be enhanced by the creative enterprises she's trying to cultivate there.
You don't have to be a member to check out Words & Pictures and its events. Last weekend, it hosted a public launch party for the third issue of Ladybroad Ledger, Zuppo's all-femme comic newspaper. This weekend, Kolovos is hosting Swap Thing (a riff on the DC Comics character Swamp Thing), an old-school comic book show and swap nearby at Essex Memorial Hall.
Words & Pictures members, along with Humbargar, hope that the studio will become a fixture of the comics community.
"Vermont is already attracting cartoonists," Fox says. "It would be cool if we could keep them."