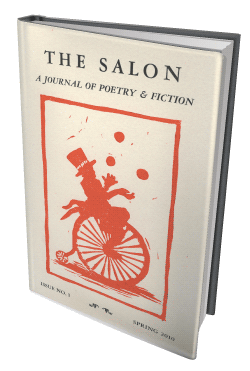 A recent article in Mother Jones called "The Death of Fiction?" mentioned the New England Review, Middlebury's venerable literary magazine. That's because the college has put the journal on a two-year timeline to break even financially — or face the loss of its institutional funding.
But reports of the death of literary magazines seem much exaggerated. Or maybe it just depends on what you call a literary magazine. Around here, it sometimes seems like a new one sprouts up every week.
Besides the acclaimed NER, Johnson's Green Mountains Review and Vermont College of Fine Arts' Hunger Mountain — all highly selective publications — there are Burlington College's newer Queen City Review, St. Michael's College's Onion River Review and Champlain College's Willard and Maple.
Up north, the St. Albans Literary Guild just launched a new 56-page journal called Route 7, which features a range of voices and artwork from Franklin County and environs and can be purchased at local bookstores or at route7magazine.org.
Looking at smaller pubs: The Burlington Poetry Journal has a new issue in the works. The hardcopy zine form isn't dead yet: est and burly bird, two literary/art journals in that format, put out new issues in January.
Into this crowded creative field comes the first issue of The Salon: A Journal of Poetry and Fiction, edited by Burlington poet Ben Aleshire. This 59-page publication is resolutely non-electronic, its cover adorned with a bright red block print. My copy came with a note Aleshire appears to have hammered out on a manual typewriter.
The poetry-heavy journal offers verse from Radio Bean owner Lee Anderson; Jon Turner of the Green Door Studio; Middlebury prof and The Last Station author Jay Parini; and Bread and Puppet impresario Peter Schumann. Acerbic older poets with books under their belts, such as David Cavanagh and UVM's David Huddle, appear alongside the sinuous Hadestown lyrics of Anaïs Mitchell. Adrie Kusserow and Edie Rhoads contributed some particularly memorable lyrics.
The two prose pieces included are both excerpts from longer works. Novelist Marc Estrin's manifesto of a plastic surgeon who calls himself a "surrealist of the scalpel" and playwright Stephen Goldberg's comic, meta-theatrical scene from Flying on the Bright Wings of Despair both left this reader curious about what comes next.
The Salon celebrates its release this Thursday at a reading and party with live music from accordionist David Symons. The $5 admission fee includes a copy, but you can also order one online. Just don't expect to read it that way.