Glenn Russell
Linda Schadler
Linda Schadler has completed 20 triathlons, summited all 46 high peaks in the Adirondack Mountains and once quarterbacked a coed football team. While she climbed the academic ladder at Rensselaer Polytechnic Institute in Troy, N.Y., the nanotechnology expert and materials scientist also raised two children and got a dozen patents.
Last July, the 55-year-old reached another milestone: She became dean of the University of Vermont's College of Engineering and Mathematical Sciences. The $285,000-a-year job puts Schadler in the spotlight — and not just because she is the first woman to lead the college at Vermont's state university in Burlington.
UVM has been investing heavily in science, technology, engineering and math programs and, four years ago, adopted a budgeting model that favors those subject areas. Enrollment in the expanding College of Engineering has more than doubled in the past decade, making it the second-largest school at UVM, with 1,417 undergraduates.
Schadler's office is in the original engineering building, Votey Hall, around which the university has constructed a new $104 million STEM Complex — its largest capital project ever. The collaboration-friendly design puts disciplines such as chemistry, physics and engineering in close or shared quarters with gleaming, light-filled teaching and research labs.
From her standing desk, Schadler is uniquely positioned to defend the new real estate against critics who see it as evidence that UVM is heading in the wrong direction. Although the College of Arts and Sciences remains the biggest on campus, with 4,504 students, its enrollment has dropped 10 percent since 2007. Some professors complain that strategic cuts in recent years are starving the disciplines that earned UVM its good academic reputation.
"Students don't come for the buildings," according to Sarah Alexander, associate professor of English. "They come for the education."
Despite a recent rehab, Votey still screams 1963, the year the building went up. And Schadler's dark office is nothing glamorous. A panoramic photo of the Canadian Rockies hangs on one wall, a memento of a family hiking trip. On another, a poster with smiley-face anthropomorphic molecules promotes a project that included a children's film, Molecules to the Max! At RPI, Schadler helped create the outreach project to teach elementary schoolchildren the basics of atoms and molecules. The 3D film has been translated into five languages.
"It's kind of a first lesson in materials science," Schadler explained. The books on her shelves, including Tribology of Nanocomposites and the Handbook of RAFT Polymerization, suggest the subject gets a lot more complicated.
Schadler has learned how to translate her research into lay terms. With a direct, friendly gaze and a robust laugh, she explains how she mixes tiny particles into plastics and other materials to change their properties — making an alpine ski stiffer, for instance, or improving the efficiency of an LED light bulb.
Now she's putting her communication skills to use in a larger, politically charged arena: navigating the College of Engineering through a shifting landscape, hopefully without alienating her peers in neighboring buildings.
Her pitch is perfect: The humanities are one reason Schadler left RPI for UVM, according to the new dean. The university has a growing number of interdisciplinary majors that cross colleges, she noted, and is positioned to help scientists and technologists become humanists who solve problems to make the world a better place.
Engineering students need to be "fully educated" to understand the cultural and societal impacts of their work. Speaking for UVM, Schadler said, "We are already set up for that collaboration."
'My soul felt good here'
Schadler grew up in suburban Niskayuna, N.Y., the daughter of scientists. Her mother, another trailblazer, taught biology and was a dean at Union College in Schenectady. Her father was a metallurgist with General Electric, which had a huge industrial complex in the area.
"I don't think there was any doubt that I was going to be doing science," Schadler said.
She graduated near the top of her high school class and enrolled at Cornell University in Ithaca, N.Y., where she majored in materials science and engineering.
She also played basketball. One of the first times she visited Burlington was to compete.
"I came up with my team, and we got trounced by UVM," she recalled. "Before the trouncing, we spent time on Church Street. This was back in the '80s. I remember saying to my friends, 'This is a place I could live.' My soul felt good here."
After graduating from Cornell in 1985, Schadler went on to earn her PhD at the University of Pennsylvania, again in engineering and materials science. Her future husband, Tom Feist, was in the same program. They played on a football team together.
"The quarterback had to be a woman," Feist said. The team had two, and Schadler was the obvious choice. "She has an arm," he said. "She can throw."
She practiced tossing a football every day at lunchtime, according to Feist, and it paid off. "We won the league," he recalled.
Schadler is goal-oriented, according to her husband, whether she's bushwhacking up a mountain or delving into science. "It's not been the competition that drives her. It's the internal motivation," he said of Schadler, who maintains the trim, athletic build of someone who regularly pulls on hiking boots.
For most of her career, Schadler has been one of the few women in the classroom, in the lab and on the faculty. "Over the years, I think, being a woman in engineering, she's often felt a little bit like she's under a magnifying glass or in a fishbowl," Feist said. "But I think she has taken it in stride."
The gender imbalance in engineering has narrowed only slightly. Nationally, women earn about one in five of the degrees conferred for engineering and computer science. Thirteen percent of practicing engineers are female. Among engineering college deans or directors, women account for 17 percent, according to the American Society for Engineering Education.
Schadler's been a pioneer so many times throughout her professional life that she downplays her latest "first" as dean. "I don't really pay much attention to it anymore," she said.
But she does want to increase the ranks of women in the College of Engineering, where 27 percent of undergrads are female.
That's a stark contrast with the rest of UVM, where more women are enrolled than men, and their numbers have steadily crept upward. Last fall, 62.5 percent of UVM's first-year students were women.
Why don't more of them pursue engineering?
"Historically, I think it's the same thing as: Why were all the nurses women and the policemen men?" Schadler said. "I think it's just societal pressure." Girls and women respond to STEM learning opportunities when they see that technology "can be used to solve real, human problems," she added.
For example, a new study conducted by a UVM biomedical engineer and a UVM clinical psychologist, among others, showed that wearable sensors could be used to identify anxiety in children. And research by faculty in the UVM Complex Systems Center has analyzed posts on social media to monitor happiness.
Survival Strategies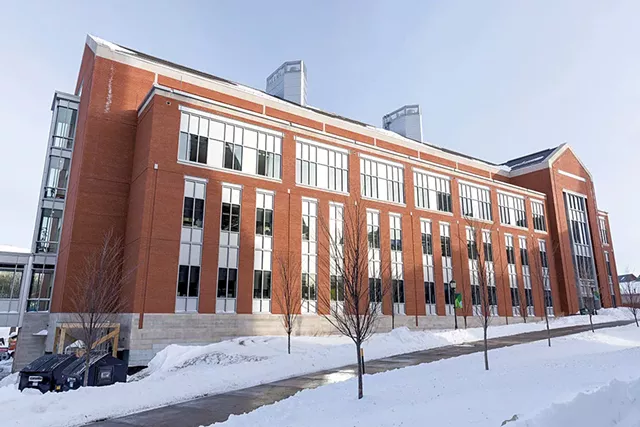 Oliver Parini
UVM's STEM Complex
Provost David Rosowsky, UVM's second in command, has known Schadler for 10 years. They worked together at RPI when he was a dean there and she was a senior faculty member in material science.
"I identified her very early in my tenure as somebody that I thought had leadership potential and would bring really great energy to the office of the dean," Rosowsky said.
He hired Schadler to be his associate dean for academic affairs before leaving RPI for UVM in 2013.
She was still on his radar when UVM's dean of engineering, Luis Garcia, resigned in after a five-year tenure. The university conducted a national search for the job, and the hiring committee was unanimous in recommending Schadler, according to the provost.
Rosowsky has been the driving force behind UVM's new incentive-based budgeting model, known as IBB. While some criticize that approach, he and UVM president Tom Sullivan strongly defend it.
In an era of intense competition for students, UVM must consider national trends that reflect a growing preference for education in high-paying practical fields, they both suggest. But that doesn't mean liberal arts are getting the heave-ho. If anything, the investment in STEM puts UVM in a position to build on its traditional strengths, according to Sullivan.
"We don't want these disciplines sitting in independent silos," Sullivan said, sounding a lot like Schadler. "We want them talking and working together so that we fully understand where science is leading us." He also defended the investment in new buildings — for which Sullivan will likely get credit when he retires later this year. The search for a new president is under way. Candidates are expected to be announced soon and to visit campus for meet and greets.
"One of the reasons that we built the new STEM Complex was because we could see the very large demand for more scientists and engineers, both in Vermont and nationally," Sullivan said, adding that the old facilities were "outdated."
But some faculty members are deeply concerned about how the new approach to budgeting impacts other departments at UVM. In December, William Falls, dean of the College of Arts and Sciences, announced more cuts in response to declining enrollment within that college. Already, the equivalent of four positions had been eliminated this school year. Next year, the equivalent of six full-time positions will be trimmed, affecting classics, Romance languages, history, Asian languages and religion. Specifically, contracts for two lecturers will not be renewed, two retiring lecturers will not be replaced, and several positions will be reduced to part time.
The cuts jeopardize the breadth of liberal arts courses for which UVM has long been known, said associate professor of French Meaghan Emery: "This downsizing model is catastrophic."
While she keeps things positive in the classroom, monthly department briefings are depressing. "It's pretty quiet at those meetings," Emery said. "It's very disheartening. It's like receiving coal for Christmas or something, but you did nothing wrong."
UVM is making a mistake, echoed Alexander, the English prof who is also the president of United Academics, the union that represents faculty on campus. The new budget formula breeds a level of unhealthy competition between colleges, she said. Instead of talking about the student experience, more professors seem to be talking about "profit margins."
"My strong belief is that a university doesn't exist to make the most popular programs the only programs or have a corporate model. But rather, we are responsible for the production of knowledge" and research, Alexander said.
Building a Rep
Oliver Parini
Students at work on a project in Votey Hall
Schadler is a fan of UVM's controversial new approach to budgeting. She likes the fact that student demand shapes academic offerings at UVM. It breeds innovation, she said, by funding new majors such as biomedical engineering.
That's what 21-year-old Binyameen Ghafoor from New York City is studying. When he graduates in May, he'll be one of the first to earn the new degree that was established in 2016.
Earlier this month, Ghafoor worked with three student partners on a senior project — an attachment to a prosthetic hand that would allow the user to perform more sophisticated tasks. The students planned to make prototypes of their design on 3D printers in Votey's FabLab, where students design everything from replicas of organs to factory parts.
"UVM has a good partnership with my high school in the Bronx and, if I'm being completely honest, they offered me a really good financial package to attend here, with scholarship and grants," said Ghafoor, whose parents are Pakistani immigrants.
His major is not as firmly established as some of the other programs at UVM and doesn't offer as many courses as it should, Ghafoor said. He's told staff that some aspects of the curriculum "just didn't work." He wanted "more hands-on stuff to do."
The feedback was well received, said Ghafoor, and overall he's been impressed with the opportunities for research and learning offered with the degree program and the school in general.
"I decided to give UVM a chance, and it turned out to be great," Ghafoor said.
Paige Hamilton, a junior pursuing the same major, also gives the program and the school high marks. "I think we are on the road to being one of the premier research and engineering schools," said Hamilton, who is 21.
She was tempted by much bigger engineering schools such as Case Western Reserve University but wasn't offered enough financial aid. Meanwhile, as valedictorian of the class of 2016 at Stowe High School, she qualified for free tuition at UVM under the Green & Gold Scholarship program. She said the College of Engineering is on the upswing.
"I feel that this university's going to have a lot of strong presence," she said.
That's certainly the goal behind the STEM Complex, which consists of three buildings, two of which are brand-new. Rehabbed Votey Hall still houses multiple labs, including the aforementioned FabLab. In other rooms, wannabe engineers can do strength tests on materials in an enormous metal frame crusher or study velocity in a mini-wind tunnel.
Oliver Parini
Science lab in Discovery Hall
From Votey, they can walk across a skyway to the new Discovery Hall, which opened last year. It has a clean room for lab projects that need to be conducted in a sterile setting, as well as sparkling teaching labs and classrooms full of new equipment. Not everything in the structure is high-tech. A simple whiteboard in a hallway invites students to test out their science jokes.
"I'll make element jokes but only periodically," wrote one punster. "I was going to joke about sodium, but NA," wrote another. "According to chemistry, alcohol is a solution."
The third building in the STEM Complex, Innovation Hall, opens in May, with more classrooms and faculty offices. The building brings together professors who teach data science, statistics, math and computer science. Right now, those faculty are spread throughout campus. "We're hoping this will spark more collaboration," said Douglas Dickey, assistant dean of the College of Engineering. "People that are four doors down are much more likely to be sharing ideas."
Vermont 'Vision'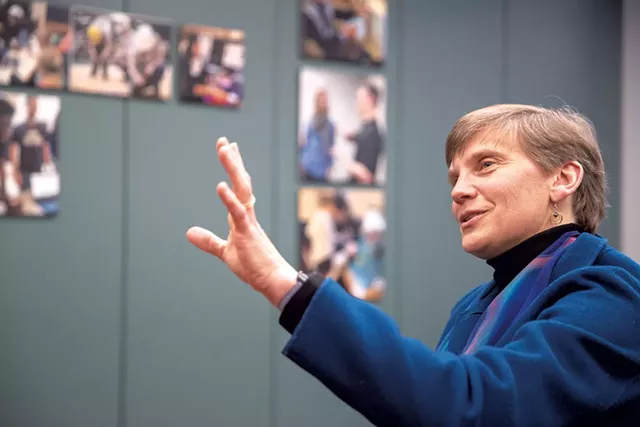 James Buck
Linda Schadler
John Cohn has been an observer of UVM's College of Engineering for nearly 40 years. An IBM Fellow researching artificial intelligence in collaboration with the Massachusetts Institute of Technology, the Richmond resident helped create the FabLab. He has taught classes as an adjunct, judged various UVM STEM competitions and followed the career of Schadler, whom he sees as a major "get" for the university.
Cohn also hires grads from the College of Engineering, and he has noticed in the last few years that they are better prepared. He noted that the quality of projects in the UVM contests he's judged has improved, which he views as another sign "that they are heading in the right direction."
Looking ahead, the best path for the College of Engineering is to play up the Vermont brand by emphasizing courses that align with the environmentalism and green values for which the state is known, according to Cohn.
The goal should be to "double down" on strengths and slowly expand, not to attempt to transform the school into a huge engineering powerhouse overnight, he added.
"I would say that trying to become a competitor to Cornell or something like that, that's like saying, 'I would like to be taller. I would like to be better looking.' How do you do it? You have to earn that. You have to build on your strengths."
He fully supports UVM's investment in STEM. It's important to recognize what the college offers to the public, he added: "We do need more technically skilled people to come to Vermont and stay in Vermont, just from a purely pragmatic standpoint." The College of Engineering has the capacity to help build "high-value jobs and high-value business in the state," Cohn said. "To me, that's pretty aligned with where the state has to go, too."
Cohn noted that prospects for the UVM College of Engineering have steadily improved since 1991, when then-president George Davis proposed eliminating the college due to low enrollment and budget problems.
Critics fended off the move, and it survived to become a rising star at UVM. That reversal can be explained with one word, Cohn suggested: "vision."
The new dean, he said, has plenty of that.
Not surprisingly, UVM is not the only academic institution that has tried to recruit Schadler, a proven leader and role model. "I was in a position where people were reaching out to me regularly,' she recalled.
When UVM came knocking last year, the time was finally right. Schadler's daughter was enrolled at Williams College, and her son was preparing to graduate from Dartmouth College and start his first job as an engineer. Feist retired in 2017, and together he and Schadler had enjoyed skiing, hiking and spending time with friends in Vermont.
Now settled in Williston, Schadler said she has no plans to move again, even if the headhunters call. She expects to stay at UVM "'til I retire," she said.
The research lab UVM built for Schadler — near her Votey office — hasn't gotten much use yet. She's too busy thinking big picture. On out-of-town trips to meet with alumni, "We're raising funds for a variety of things, but the keystone is scholarships for students," she said.
In the years ahead, Schadler hopes to grow the college's graduate programs and graduate enrollment. She'd like to attract not just more female scholars but also students of color to the College of Engineering.
Interdisciplinary research is the overarching goal. For instance, Schadler hopes to collaborate with the UVM College of Education and Social Services on a certificate program that would offer teachers computer science and technology lessons that they could put to use in the classroom.
"In terms of the philosophy and the approach here, we are trying to educate students to have this blend of technology and understanding of social justice and the environment and sustainability," Schadler said, striking a Vermonty note. "And just giving them a good education is much more important than how you are eventually ranked."