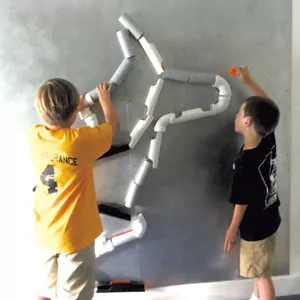 coURTEsY of vERmoNT dAY schooL
Vermont Day School's Innovation Lab
Sage Bagnato, a Charlotte mom of three, has studied neuroscience and education at Harvard and worked as a classroom teacher, educational diagnostician and learning specialist. She's putting that experience to use this fall when she opens Vermont Day School, an independent K-5 school off Route 7 in Shelburne. Over the last 20 years, Bagnato has honed her vision, which includes project-based, interdisciplinary learning with a focus on science, technology, engineering and math education, aka STEM. Students will have access to an Innovation Lab where they can work on design projects and experiment with a 3-D printer. The nonprofit school will start with three multi-age classrooms and add a grade each year until the oldest kids reach eighth grade. A recent $25,000 donation will go toward scholarships for qualifying students. "It's been such a busy year," Bagnato says of the planning that has gone into establishing the school," and "it's been incredibly fulfilling to see it come together."
To learn more about Vermont Day School, visit vtdayschool.org or contact Sage Bagnato at info@vtdayschool.org or 495-5150.