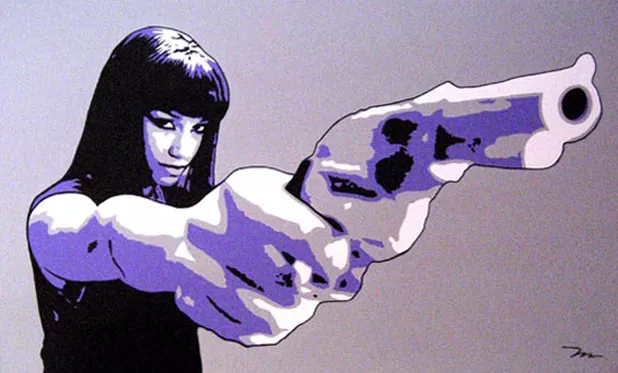 Burlington's hip-hopsters flock to Steez for the latest gear, from oversized shirts to designer caps. But the newly expanded retail store on Church Street, right above Speeder & Earl's, is also a de facto gallery for the bright, graphic portraiture of co-owner Kyle Thompson. Music lovers know him as Fattie B., a DJ extraordinaire whose role in local lore began with the wildly popular band Belizbeha in the early '90s. To a growing number of fans well beyond Vermont, though, the 38-year-old is a visual artist whose career is heating up by the day.
One of those admirers is Jan Larsen, whose eponymous gallery in Brooklyn has been showing and selling Thompson's paintings for the past two years. Jan Larsen Art carries about 30 artists whose work, the gallerist says, "tends to be edgy and urban." Never mind that Thompson is from rural Bristol, Vermont; he fits right in. "I like the way Kyle gives a bright 'pop' sensibility to his paintings, but doesn't use a mechanical process like photographing or screen-printing," Larsen says. "His work is all handmade."
For his part, Thompson says he loves it when viewers think his paintings are silk-screens. "I want it to be that clear, to look like a reproduction," he declares. In fact, his images begin as photographs — subjects are "a combination of what I'm inspired by and what I think will look good on a wall," such as hip-hop stars and sports heroes, he says. Thompson scans these into his computer and "throws some filters on them" in PhotoShop. He carefully chooses just two or three bold hues — "I try to pick colors that change your perspective on something," he explains, pointing to the portrait of a fierce-looking subject rendered in Easter-egg lavender. Then comes the handmade part. Thompson copies his images onto canvas "by eye" and uses Deco markers to fill them in. Since he was little, the artist says, "I've always had a gift of being able to transfer."
At first glance, the resulting works indeed look printed. Thompson's minimalist images with eye-popping color recall the artists he credits as influences: Andy Warhol and Keith Haring. And his transferring talent is one for which urban art buyers are willing to shell out several thousand bucks. (Mindful of Vermont incomes, Thompson sells his works locally for a fraction of that price.)
This week Larsen is opening a new gallery called JLA Baxter in Manhattan, and Thompson is the star of its debut show, titled "Change We Can All Get With." Among the acrylic creations is, fittingly, a vibrant headshot of President Barack Obama. Other iconic images — Marilyn Monroe, Martin Luther King Jr., the Statue of Liberty — mingle with more idiosyncratic, edgier designs such as a young woman aiming a handgun and a don't-mess-with-me glare.
Thompson's work will also be introduced to Chicago this spring at a soon-to-open gallery called Import. And Jan Larsen's future plans include additional galleries in Los Angeles and Japan, where he thinks Thompson's sensibility will click. "People's comments tend to be about the subject, whether that be Lauryn Hill, Amy Winehouse or Lady Liberty," Larsen notes. "But mostly folks just admire the color choices, the contrasts and the detail." In New York, one couple is currently "falling in love with" Thompson's bubble-gum-colored Paris Hilton, he adds.
Thompson's big-city art shows grew out of his poster-design work for Culturenik, a company that used to be headquartered just down the street from Jan Larsen Art. Culturenik, which produces posters and other merch, possesses the licensing rights to myriad pop-culture images. Steez is one of the brands listed on its website, and the company is already duplicating Thompson's paintings on products such as notebooks, shower curtains and jigsaw puzzles. Conversely, he has access to some of Culturenik's trove of subjects. "I hope to get a couple Bob Marley images," Thompson says. "The Elvis Presley estate saw my stuff and contacted Culturenik," he adds hopefully, suggesting the King could use some updating for the now generation.
Marketing is the name of this game, and Thompson acknowledges its tantalizing possibilities while maintaining his modest, laid-back demeanor. After all, in addition to fulfilling his retail duties at Steez, the homeboy is still DJ'ing three or four nights a week around town — his gigs include a nearly 10-year stint at Club Metronome's Saturday-night dance party. "I want to write a book," Thompson faux-threatens: I Was a 400-Pound DJ on '80s Night.