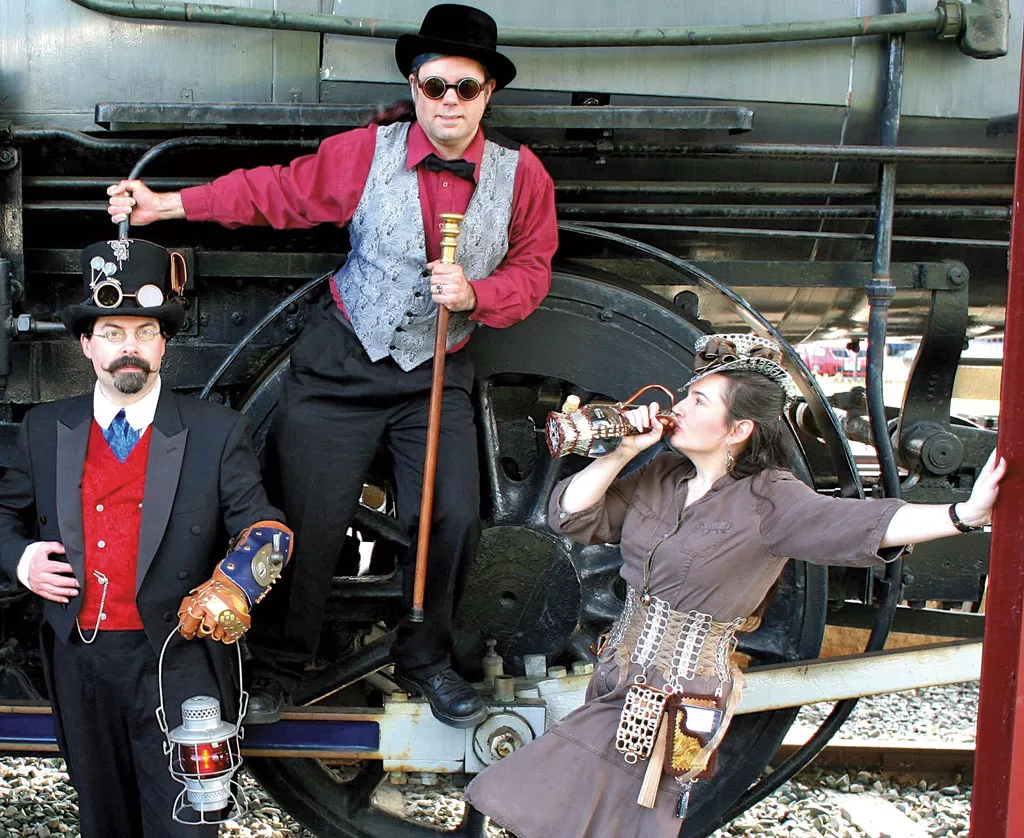 Courtesy of Lenemery photos
Left to right: Matthew Rockwell, Paul Hyson and Sarah Machtey
If you plan to be in Springfield the weekend of September 11 to 13, you'll likely encounter men and women in Victorian-style getups — some with elaborate, multi-lensed monocles — and a preponderance of clockwork gewgaws. The explanation for all this anachronism? Steampunk.
Yes, this month, the Windsor County town of about 10,000 will host the Springfield Steampunk Festival, a gathering for enthusiasts of the complex and fascinating aesthetic. The historic Hartness House Inn and Springfield's Great Hall exposition center will provide venues for musical performances, games, workshops, lectures and, of course, an absinthe tasting, led by an authority on the subject. Organizers hope the event will bring steampunk aficionados from all over the country.
Steampunk has coalesced as an international pan-artistic phenomenon over the past few decades. Characterized by a spirit of "retrofuturism," the movement espouses fanciful reimaginings of modern technologies as they might have been conceived in the past. For most folks of a steampunky persuasion, "the past" means "Victorian England." Key inspirations include the fantastical works of authors Jules Verne and H.G. Wells. Other precursors include Fritz Lang's dystopian 1927 film Metropolis and the oddball 1960s sci-fi/western series "The Wild Wild West."
These and other seminal steampunk works evince a fondness for complex, gear-driven machines, goggles, telescopes and old-timey optical devices of all kinds. Participants favor costumes that give a modern twist to the sartorial styles of Victorian London. To see the movement's influence on pop culture, one need look no further than the work of Terry Gilliam or the steampunk-inspired bric-a-brac of the recent Sherlock Holmes films.
Beyond external trappings, though, steampunk is committed to viewing the future through the lens of the past. Its adherents often mix digital and steam-powered tech, for instance, to emphasize the commonalities of the two eras. Steampunk distinguishes itself from related movements such as cyberpunk in having a generally rosy perspective on technologies old and new.
The optimism and creativity of steampunk appeal to festival coordinator Sabrina Smith, who has taken the moniker "Lady Bohème" for the occasion. She also appreciates the movement's tongue-in-cheek attitude. "Get your bustle in gear" is the festival's unofficial motto, she says.
The event's modest budget comes from vendor fees, sponsorships from local businesses and prepaid ticket sales. Net proceeds from the volunteer-run, nonprofit festival will go to the Springfield Community Center.
So what happens at a steampunk festival? The broadly defined movement could encompass all manner of inventive activities. At this one, a pair of sword-wielding belly dancers named Malice and Mercy will perform; so will Skye Whirlwind, who bills herself as a "hula hoopster." A proper afternoon tea will be held concurrently with the absinthe tasting, so attendees will have to choose between "up" and "down" beverages. Saturday night brings Victorian parlor games, celestial observation opportunities and a Stargazer's Ball with MC Kathryn Blume. Games, music and workshops run all weekend long, and vendors of steampunk accoutrements will set up at both locations.
Smith is especially excited that the festival will host a talk by Bruce Rosenbaum, dubbed the "Steampunk Guru" and "Steampunk Evangelist" by the Wall Street Journal and Wired, respectively. With his wife, Melanie, Rosenbaum runs the Sharon, Mass.-based design firm ModVic (Modern Victorian) and has written and spoken extensively about steampunk. In Springfield, he'll give a talk titled "Steampunk Creative Problem Solving: How the Past Influences the Present and Inspires the Future."
Festivalgoers will find that this town is uniquely qualified to host a steampunk gathering. Springfield is home to the Stellafane Observatory, built in 1926 and still the site of an annual gathering of amateur astronomers and telescope makers. More prominently, the town has a rich history as a center for the manufacture of precision tools and machinery. The website of the Springfield Regional Chamber of Commerce boasts that, for its vital production role during World War II, the town was seventh on Adolf Hitler's list of bombing targets.
For these reasons, Smith believes that Springfield is perfect for a celebration of all things steampunk. So does George McNaughton, a local attorney and selectboard member who encouraged organizers to hold the festival there. "In steampunk, there's a heavy emphasis on the upscaling of prior objects and structures," he says, "and by 'upscaling,' I mean taking old objects and buildings that were originally built for something else and using them for modern purposes."
Chester artist Melody Reed is one of five festival organizers — or, in the parlance of the event, a "Mistress of Extraordinary Occurrences." Just five years ago, she hadn't heard of steampunk. Now Reed is a committed admirer, incorporating the movement's visual aesthetic into the jewelry she makes. She thinks an association with the movement could be a great boon to Springfield.
"Being in little, rural Vermont, and living in a little bit of a bubble, it's hard to get a feel for what's happening in the cities," Reed says. She adds that the festival will "shine a positive light on the good things about Springfield."
Smith clearly concurs. "Springfield was really a town of innovation and inventiveness for years," she says, "and we still have a lot of people here who are talented, who invent things and craft things." Indeed, in this place that the Führer wanted to destroy, steampunk would seem to fit right in.