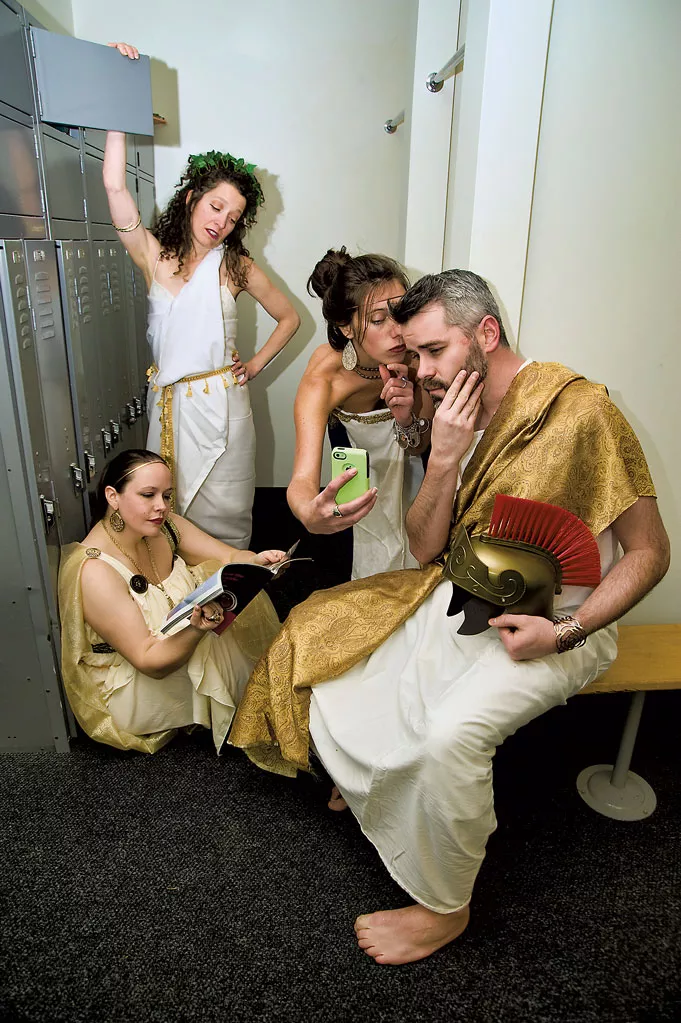 Courtesy of Christopher Ryan
Left to right: Sarah Venooker, Marianne DiMascio, Cael Barkman and Jory Raphael
In a back room at Burlington's Regional Educational Television Network, a yoga class is getting out of hand. The flexible folk can't stop one-upping each other with tales of their rigorous personal practices: bizarre retreats, pricy gear, lives scheduled around the yoga mat.
"Yoga is my life's purpose!" bawls one.
"Yoga is my soul mate!" another ripostes.
And, just like that, they launch into a slow-motion brawl in which yoga poses double as wrestling holds. So much for inner peace.
While this "Yoga Match" is actually a sketch being rehearsed by Burlington comedy troupe Stealing From Work, some would argue that it's also a comically heightened version of real life in the Queen City. Marianne DiMascio, the founding troupe member who writes SFW's material with Angela Albeck, says her own experiences "taking yoga classes with some outlandish people" inspired the sketch.
Like the IFC show "Portlandia," SFW aims for the sweet spot between cultural satire and silliness — and usually hits the mark. Formed in 2011, the troupe is back with new cast members and a new director for its third full production, which will premiere on February 4 at Burlington's Off Center for the Dramatic Arts. The very Burlington title? A Funny Thing Happened on the Way to the Front Porch Forum.
SFW's players remain three-quarters female, with local actors Cael Barkman, Sarah Venooker and Jory Raphael replacing original cast members Chris Caswell, Kevin Christopher and Geeda Searfoorce. All four actors play both sexes at the drop of a hat, but a fair number of the sketches are female-centric — and frank to the point of raunchiness. In one number, ladies compete for the title of "Miss Fur-bruary" in the female equivalent of a hipster beard-growing contest. In another, DiMascio plays a magical prankster called the Period Pixie. ("Psych!" she trills after a pregnancy scare.)
"I love the focus they have on women," says Seth Jarvis, who's directing SFW for the first time this year. "But it's never pedantic; it's never righteous. They're willing to skewer or at least poke at all sides of the spectrum and political and cultural sensibilities."
Jarvis warms up the players at each rehearsal with a bit of improv: On this evening, he instructs them to act out an impromptu "trailer" for the show. That show itself, however, is thoroughly scripted by longtime collaborators DiMascio and Albeck, who both have day jobs at the Community College of Vermont. (Yes, they say, their boss knows the name of the troupe. And gets a kick out of it.)
Each Thursday, says DiMascio, the two women meet to discuss sketch ideas they've recorded in a shared spreadsheet. "Angie is a real writer, and she writes outlines. I sort of have the characters talk to each other," she explains.
From there, they trade drafts and start painstakingly polishing each sketch. "By the time we're bringing it to actors, it will be on the eighth or ninth version," Albeck says. "We'll hear it and get a sense of the pacing and the flow, and then have eight drafts after that" — some incorporating lines added by the performers.
The result is thoughtful, highly verbal comedy, enlivened by physical clowning and sound designer Jess Wilson's musical cues. It's also hyperlocal — but not in a purely celebratory way. (A sketch in a past show, for instance, mocked some of the typical attitudes on display at City Market.)
"I love the way they collaborate together," says Jarvis of DiMascio and Albeck. "As a writing team, they both push each other in great directions, but then they provide the checks and balances for each other."
Asked about the inevitable "Portlandia" comparison, DiMascio says she's heard that a couple of times: "Where it's set is one of the characters." Albeck agrees: "It is really grounded in place. We try to connect with ourselves and our own lives, poking fun at ourselves."
A big part of that is creating vivid characters grounded in their environment. For actors, sketch comedy can be a "tricky medium," says Venooker. "Sometimes you have 30 seconds, and that's your chance to present that funny moment."
In the process, a man might play a woman or vice versa, but the switch itself isn't the joke. "We just write characters," Albeck says — then let the director cast "the best person for the role. We know it's pretend; let's play with it. Gender is something we want to play with."
In theory, that playfulness is accessible to all kinds of audiences — including ones that don't typically show up for live comedy. SFW's last show, supported by a grant from the Vermont Community Foundation, was "pay-what-you-can." DiMascio recalls seeing senior citizens in the audience, "and I loved it," she says.
"And college students," Albeck adds. Hoping for a similarly diverse crowd, they're returning to the pay-what-you-can model for their first performance of Forum.
When the troupe has run through three sketches — with pauses to adjust blocking and giggle at DiMascio's ninja moves as the Period Pixie — everybody takes a break.
Sketch comedy poses its own special challenges, says Barkman, a veteran of local stage and film productions. "You're creating something fresh — being flexible and creative."
"You get to be silly," notes Raphael.
Jarvis, who's familiar to local theatergoers as an actor, director, playwright and spoken-word artist, says he came to SFW "as a fan. It's a sweet gig," he notes with a wink. "A lot of my job is just giving them room to play and then staying out of their way."