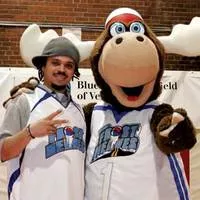 Performances by instrumental rock trio Charles, Dead or Alive? are pretty rare these days. Drummer Joe Slaby spends much of the year on the road as a drum tech to the stars, while guitarist Nate Plasha and bassist Gahlord Dewald keep busy with other endeavors. Plasha has lately been performing with the band HellerHighWater; Dewald is the musical director for Viva Voce, the folks behind the Faust Puppet Opera.
CDOA? will reconvene at Burlington's Firehouse Center on Wednesday, January 10, where they'll provide a live soundtrack to Fritz Lang's archetypal sci-fi flick Metropolis. Playing along with silent features is de rigueur for moody instrumental acts — the band was bound to get around to it eventually.
The German movie is considered the fountainhead of futuristic cinema — not bad considering it was shot in 1927. You can see echoes of Lang's opus in modern classics such as Blade Runner and Star Wars. In fact, C-3PO's fab golden style was directly inspired by Metropolis.
The movie reportedly cost 7 million Reichsmark — the equivalent of 200 million in today's currency — making it one of the first "big-budget thrill rides." Trust me when I say you can see every penny on the screen. You just can't hear it.
That's where CDOA? come in. Their crescendo-rock already sounds cinematic, so it should pair well with Lang's vision of technological dystopia. The show starts at 7:30 and costs $7. Pretty cheap for a concert and a movie.
BALLERS UNITE
The folks at Montpelier's Halogen Records have had a busy season. Last November, they joined forces with increasingly popular jocks the Vermont Frost Heaves for a hip-hop and basketball-themed shindig at Positive Pie 2. That event was a success, and the two crews continue to collaborate.
Halogen hip-hop artist EN recently composed a theme song for FH mascot Bump the Moose, unsurprisingly titled "Bump the Moose." It'll debut at the Heaves' Burlington appearance on January 20. Something tells me there'll be an easy-to-learn dance involved.
I've heard a couple of top-secret versions of the track, which were "leaked" to me by Halogen honcho Justin Hoy. I know next to nothing about b-ball, but I'm pretty comfortable critiquing music. So here goes.
A handful of years ago, mock-rockers Ween were improbably commissioned to write the music for a Pizza Hut commercial. They turned in a strange little ditty called "Where'd the Cheese Go At?" Suffice it to say, the corporate suits deemed it unacceptable. "Bump the Moose" is unlikely to face that kind of rejection, but it's equally odd.
The song has a simple structure — the kind of thing your little brother could throw together with Garage Band while simultaneously watching YouTube videos and rebuking a congressman's IM advances. But it sure is catchy.
Most bizarre are the sampled moose grunts, which sound like a rusty chainsaw being pull-started. EN's flow is solid enough, but he sounds unsure about putting his rep on the line for a goofy mascot.
Still, it's easy to imagine amped-up game freaks hollering along to the larger-than-life hook. Queen can sleep easy, however — "We Will Rock You" will no doubt retain its title as Ultimate Sports Anthem.
In other news, Halogen recently signed local band Manifest Nexto Me to a "worldwide distribution and development deal." They've previously entered agreements with The Aztext and Abby Jenne. The imprint is also launching a subsidiary label called HipJoint Records, which will focus on reggae, rock, ska and punk music. You could say they're keepin' it real in Montpelier.
MONKEY BUSINESS
Before the holidays, rumors were flying about the impending sale of Winooski's Monkey House. Well, the deal has indeed gone down. Sneakers owner Marc Dysinger and Ryan Smith, formerly of Nectar's, are the new proprietors. So what does this mean? Are they turning it into a karaoke joint or a DJ dance club? Not that there's anything wrong with that. But I know some local musicians who'd be pretty pissed.
Well, they can relax. The Monkey will continue to host live music, mostly on the weekends. That's good news for those who've come to depend on TMH as an alternative venue.
I recently chatted with Smith, who told me he'd be handling the booking himself. "At first I was so overwhelmed that I thought of hiring someone else to do it," he says. "But I think it'll be better for the club if I'm the one developing the relationships. I'm hoping the regulars are still interested in playing here."
There will be some changes, however, mostly of the cosmetic variety. "We put fresh paint on, and are bringing in a new pool table and some old-school video games," Smith reveals. The walls will be decorated with vintage music posters and memorabilia, courtesy of Montpelier's Riverwalk Records. "We want it to be a little more welcoming, and a little more fun," Smith says. Sounds like one of my New Year's resolutions.