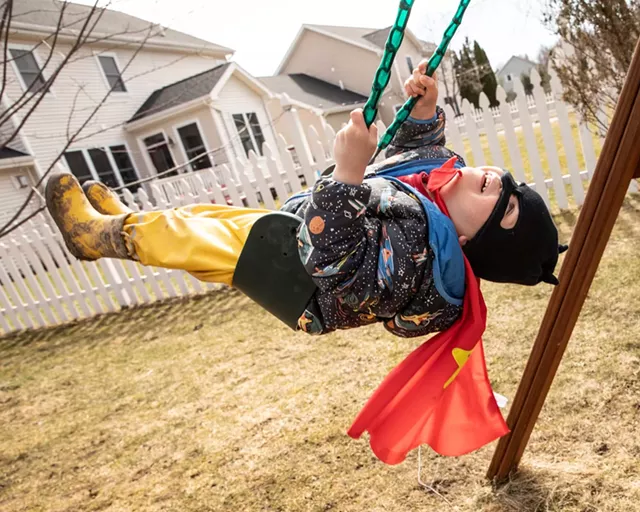 Cat Cutillo
Bo swings in his cape and mask
My family has entered into a new realm of quarantine: My 7-year-old, Remy, wears a pink tutu and crown daily. My 3-year-old, Bo, wears a cape, with or without his Batman mask. My husband, Ross, has even unearthed an Irish cap from the closet's darkest corner — and he's been in a great mood ever since.
I don't have a costume yet but I did dig up my rollerblades from 1998 and rolled through the neighborhood with Remy.
"When did you get those!?" Remy asked me, next-level excited.
"Remy, these blades are old enough to be your mother," I told her.
As I gained speed, swerving in and out of a neighborhood of empty driveways, I thought, "Why did I ever give this up? I am really good."
Then I swung out of control and did a crash landing on the neighbor's lawn.
Cat Cutillo
Backyard kite flying
We spent April Fools' Day trying to fly a kite in the backyard. Ross mostly dive-bombed our kids with it, but there were a few good moments where the kite really took flight and soared.
It's not all capes and kites over here. At least once everyday, I nose dive into feelings of doom, grief and dread about what might happen and what is already happening — happening to people that I love.
But I think the kids — and Ross — are onto something with the dress-up. Those things we haven't done or worn in years that used to bring us joy, those things can still bring us joy. It's been well-worth the trip to the back of the closet.
Cat Cutillo is a Vermont-based photojournalist, writer and video producer. See more of her work here.