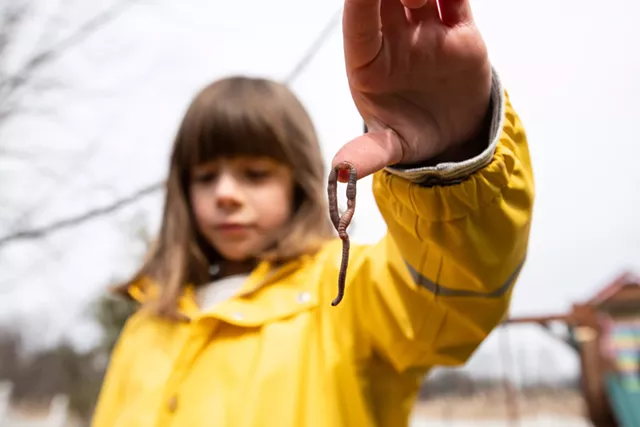 Cat Cutillo
Remy holds up an earthworm
We've buried a lot of things in the backyard recently. From a fish funeral to a time capsule, my kids, Remy and Bo, have gotten used to digging holes over the past two months. The thrilling part is what they find: Worms, snails and more worms.
My 3-year-old, Bo, is a worm connoisseur. He knows every variety they come in, from long ones to fat ones to stubby ones. Worms are his biggest motivation in life.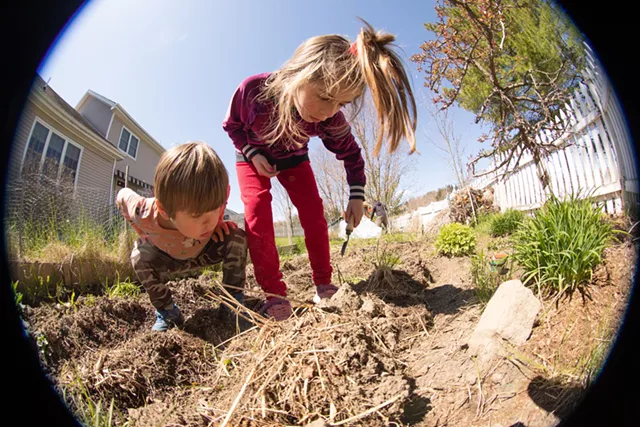 Cat Cutillo
Bo and Remy examine the dirt
This weekend, my husband, Ross, was equally elated about worms. Earthworms are a gardener's gold and a benchmark for healthy soil. They speed up the composting process and help mix soil by eating the bacteria growing on decaying plants and giving off "worm castings" — a nutrient-filled type of manure that plants love. As we were out in the garden planting seeds and seedlings, Ross took the abundance of worms he found crawling in the dirt as a sign that the growing season would be successful.
"It is going to be a great garden this year," he said.
In response, my 7-year-old, Remy, started pumping out worm facts.
"Did you know worms have five hearts? They also breathe through their skin and don't have any eyes. I've been studying them," she told me.
Cat Cutillo
Seedlings grow inside the house
Like many Vermonters, the first thing Ross did when he heard about the quarantine was to start planning for an expanded garden. He had the kids start seedlings with him in the house as part of their homeschooling curriculum. Watching the seeds sprout up from the soil never gets old for them. But perhaps the best part of planting this year was the digging. The creepy crawlers were like buried treasures.
Worms are a great reminder that life is odd and, at the same time, resilient. These creatures without eyes and ears might spend most of their time buried beneath the surface, but they are the first things you see in the aftermath of a rainstorm. And when life tears them in half, instead of dying, they multiply and crawl off in different directions to continue enriching gardens and delighting kids.