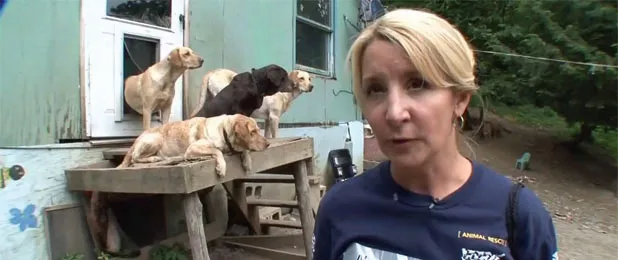 Video footage of the Bakersfield puppy mill seizure
Animal welfare advocates were running with the big dogs for a time during the last legislative session. The Vermont Senate overwhelmingly approved two animal welfare bills before crossover, the deadline by which bills must move from one chamber to the other in order to stand a chance of passage. However, both wannabe laws were euthanized in the House of Representatives.
The first, S.142, would have closed a loophole in state law that allows home-based pet merchants to claim their breeding animals as "household pets," thus exempting them from state licensure and regulatory oversight. The pet merchant's license, which costs $150, enables the Vermont Agency of Agriculture to inspect breeders' premises to ensure that their animals are kept in humane and sanitary conditions.
Operators of unlicensed "puppy mills" often use the household-pet exemption as a way of avoiding detection and scrutiny, according to Joanne Bourbeau, northeast regional director and Vermont state director of the Humane Society of the United States.
In July 2011, for example, Vermont State Police and animal-rescue workers raided the Bakersfield home of Karen Maple and seized more than 50 Labrador retrievers found living in crowded and filthy conditions. Many of the dogs were malnourished and suffering from dehydration and untreated wounds. Maple was later charged with animal cruelty and is expected to go to trial this summer.
S.142 would have eliminated the household-pet exemption by defining a pet merchant as anyone who sells or transfers three or more litters per year. But after the bill sailed through the Senate, it met stiff resistance in the House, where advocates for Vermont's dog breeders expressed concerns about privacy as well as the fear that hobby pet breeders would be lumped in with larger professional operations.
At the urging of the House ag committee, the major stakeholders on this issue — including HSUS, Vermont Veterinary Medical Association and the Vermont Federation of Dog Clubs — signed a memorandum of understanding to meet over the summer to work out their conflicts, including differentiating bona fide pet dealers from hobby breeders and people who sell the occasional "oops" litter. Possible discussions may also include running public-service-announcement-type campaigns to educate the public on how to choose a responsible breeder.
Crate Expectations
A second bill backed by the Humane Society of the United States, targeting livestock producers, met a fate similar to that of the pet merchant's bill. In March, the Senate unanimously approved S.239, "an act relating to ensuring the humane treatment and slaughter of animals." Sponsored by Sen. Harold Giard (D-Addison), the bill outlawed the housing of pregnant pigs in gestation crates, which are considered among the cruelest confinement systems in factory farming today.
The cages are 2 by 7 feet and are so cramped that the animals cannot turn around or take more than one step in any direction. Being kept in gestation crates for years on end, through repeated cycles of impregnation, can lead sows to go lame and exhibit neurotic, self-mutilating behavior.
This spring, the House Agriculture Committee heard testimony from representatives of the Agency of Agriculture and the Vermont Farm Bureau. The latter raised concerns about the "slippery slope" of government regulators telling livestock producers how to run their businesses. Others argued that S.239 is unnecessary because gestation crates aren't a problem yet in Vermont.
Bourbeau counters that, in the past, lawmakers have outlawed other inhumane animal practices before they gained a foothold in the state, including dog fighting and greyhound racing. As she points out, "They passed a ban on fracking this year, so I'm not sure that argument really holds water."
Secret Experiments
Vermont is one of a handful of states that releases virtually no substantive information about taxpayer-funded animal research. That would have changed if a bill modifying or eliminating hundreds of exemptions to Vermont's open-records law had survived the committee process. H.611 included an amendment offered by Sen. Tim Ashe (D/P-Chittenden) that would have made public documents related to animal experimentation conducted at Vermont state colleges and the University of Vermont.
Animal-rights groups have long sought access to UVM's animal research protocols, which are currently exempt from open-records requests. These federally mandated documents specify the exact nature of the experiments done on animals, including the species and numbers of animals used, how much pain they endure, whether anesthetics are administered, and what happens to the animals once the experiment ends. Research protocols must also address whether alternatives to animal testing exist and, if so, why they're not being used.
UVM representatives have long justified keeping these documents secret by claiming that their release could compromise the proprietary nature of university research, jeopardize the personal safety of researchers and ultimately make it more difficult for UVM to recruit faculty.
But Lori Kettler, senior regulatory counsel for the animal-rights group PETA (People for the Ethical Treatment of Animals) calls such arguments "bullshit."
Kettler, who lives in Burlington, testified before the legislature in December in favor of eliminating this exemption. Speaking on her own behalf and not PETA's, Kettler contends that sensitive or proprietary info, including the names of researchers, can all be redacted before the documents are made public, as is typically done in most other states.
"All of these concerns can easily be addressed," Kettler adds, "which leads me to believe that [UVM] just doesn't want people to know what they're doing with these animals."