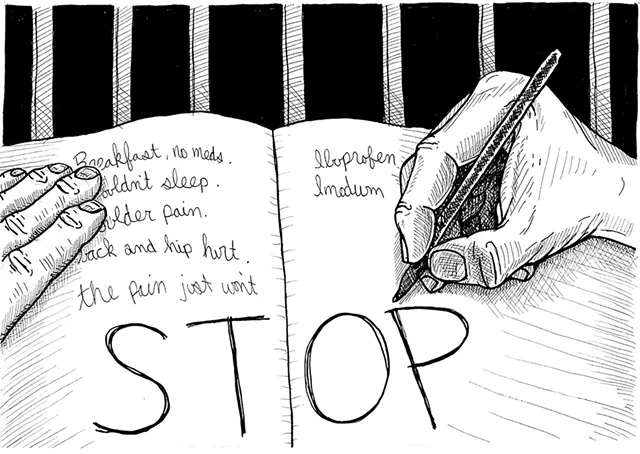 Vermont inmate Roger Brown was in agony in the weeks before he died at Pennsylvania's Camp Hill prison. Staffers provided over-the-counter remedies such as ibuprofen and gel shoe inserts to treat the worsening pain in his back and hips, he wrote in his diary. When Brown could no longer write, his cellmate, Clifton Matthews, put pen to paper for him.
"I'm frantic," Matthews noted in the week before Brown died on October 15, 2017. "I can't get staff to do anything."
Brown's death certificate revealed the source of his pain — metastatic cancer. Fellow inmates upset about his lack of treatment sent his diary to Vermont Public Radio, which published it. Brown never indicated in it that he knew cancer was spreading throughout his body.
Vermont Department of Corrections officials conducted two separate investigations of Brown's case, standard procedure when an inmate dies. One inquiry examined his medical history and whether he received adequate care; a separate administrative review considered his living conditions and whether prison officials treated him in accordance with prison policies.
Seven Days requested the reports five times this year, in February, March, April, May and June. The corrections department responded each time that the records did not exist. Then, last week, Deputy Commissioner Mike Touchette acknowledged the mortality review was completed on February 2 and the administrative review on March 27.
Asked why officials provided false information in response to initial requests made under Vermont's public records law, DOC attorney Emily Carr said there was confusion because only one of the two reviews was complete, so officials said there was nothing. "That was a mistake," she said.
Carr did not explain why the department provided false information in April, May and June after both reviews were finished.
Now the department is refusing to make either report public. Commissioner Lisa Menard denied a public records request appeal from Seven Days last Friday.
Touchette refused to discuss the inquiries' findings, conclusions or recommendations. "We think it would be very helpful if we could share some of this information," he said. "But at the same time, we also need to respect that these reviews are in-depth accounts of an individual's health care needs and services."
Brown, who was convicted in 2009 of lewd and lascivious conduct with a child, was one of more than 200 Vermont inmates serving time out of state because of limited capacity in Vermont prisons. Those prisoners were moved from a private prison in Michigan to the state-run Pennsylvania facility in June 2017. Since Brown's death, three more Vermont inmates have died at Camp Hill; another died last fall shortly after being returned to Vermont.
Did Brown get the treatment he should have in his final days? The secrecy surrounding the reports prompts another question: Where's the accountability in the correctional system?
"It's a good question," said Sen. Dick Sears (D-Bennington), chair of the Senate Judiciary Committee. "I'm surprised that they couldn't at least tell you what the conclusions were."
The department also denied a request for the findings from James Valente, the Brattleboro attorney representing Brown's estate. "I wish they would give us the report, but they've told me the same thing that they're telling you," Valente said.
His role entitles Valente to access to the inmate's medical records. But without the state's analysis, he's trying to make sense of what happened.
"I'm left speculating just as much as you are," he said.
DOC officials cited a little-known exemption to Vermont's public records law to justify withholding the reports. It's intended to keep records generated by a health care "peer review" from being disclosed publicly.
Valente, who has handled medical malpractice lawsuits, said the exemption is intended to enable an institution's physicians to frankly critique one another's treatment decisions without fear that the information will be used in a lawsuit.
"You need to give a hospital a way to investigate its mistakes so that hospital continues to provide as competent medical services as possible," he said.
But that exemption shouldn't apply to this situation, Valente said. Peer reviews are internal and undertaken in a setting where investigators can change policy to prevent future mistakes. But Vermont DOC investigated how a Pennsylvania prison managed Brown's care — and the department can't dictate Pennsylvania's policies.
Valente had been hoping to find answers for Brown's widow, Joanne. Last week, she said she doesn't know much more than she did when her husband died. Joanne wants to know why she was never told her husband was sick, why the cancer wasn't found sooner and why Brown died in so much pain.
"I have a right to know what happened to my husband," she said.
She's losing confidence that she ever will.
"I don't know what more I can do," she said. "You hire an attorney, and if he's having a hard time, they're sure as hell not going to be forthcoming to me, of all people."
The public may never learn whether corrections officials have done anything to prevent similar problems.
Sears pointed out that much more public information was released about previous inmate deaths, such as the 2013 suicide of Robert Mossey at Northern State Correctional Facility in Newport.
Less than three months after his death, officials released details describing how Mossey barricaded himself in a closet before hanging himself. Sears said officials usually strike a balance between sharing information and respecting inmates' medical privacy.
"It seems like we've always gotten better information," Sears said. "This is unusual. Maybe it's because it was an out-of-state case."
Tom Dalton, the executive director of Vermonters for Criminal Justice Reform, said the public is entitled to an explanation of how inmates are treated.
"We can't count on them to have oversight over themselves," Dalton said of corrections officials. "There needs to be outside oversight, as well." Dalton proposed an independent "inmate safety review panel" that could review deaths in prison and allegations of abuse or mistreatment.
Touchette acknowledged that by keeping the reports secret, his department can appear to be dodging questions.
"It often feels like we're trying to hide behind these protections, and the reality here is, we're protecting the patient's right to privacy," he said. "We would love to be able to share this information, because I think it would be helpful to understand the nature of the care."
But the department's lawyer, Carr, who was sitting in on the interview, said officials wouldn't release the records even if Brown's family signed a privacy waiver, because of the peer review exemption.
Touchette suggested options were available to families, noting that they can sue and the Vermont defender general can conduct investigations.
Defender General Matthew Valerio said his office is charged with investigating inmate deaths and allegations of abuse, then sharing its findings with the corrections department and the Joint Legislative Justice Oversight Committee. Valerio can share information with inmates' families, but he isn't responsible for corrections policy and he can't publicly discuss much of his work. Under Vermont law, all inmates are automatically considered clients of the Defender General's Office, so its work is largely confidential under attorney-client privilege.
But what Valerio can share suggests systemic problems at Camp Hill.
"His death was cancer-related. He was going to die," Valerio said of Brown. "What they didn't do — and this has been an overriding theme in cases in Pennsylvania — is, they didn't provide appropriate pain mitigation or palliative care during the time that he was there."
Valerio said the medical care at Camp Hill wasn't as good as it is in Vermont prisons.
"That facility as a whole, I think, had a culture in place and policies in place that dissuaded people from accessing medical care," he said. "And they were good with that — 'they' being Pennsylvania. And that's completely inconsistent with the type of care Roger Brown would have received, likely, in Vermont."
It's too soon to say if Brown's widow will sue. Valente is trying to obtain Brown's medical records from the Pennsylvania corrections department and any outside medical providers who treated him.
"When we do a case review, it's pretty demanding," he said. "We have to put everything together, and then we have to put it in front of somebody with medical training. We don't have any conclusions yet."
Vermont's inmates are leaving Pennsylvania soon; the two states started a six-month separation process in the spring. The DOC announced on Wednesday that it plans to send the inmates to a Mississippi prison operated by CoreCivic, formerly the Corrections Corporation of America.
Valerio, who welcomes the move, said Vermont's past experience with Corrections Corporation of America, which housed Green Mountain State inmates in Kentucky from 2004 until 2015, was better than the current situation. It was run as a "low-stress environment," he said, and inmates like that.
Joanne Brown took some comfort when, four months after her husband died, Vermont officials decided to move the state's inmates from Camp Hill.
She said, "I tell myself that his death was not in vain, and that it brought out change for other people."