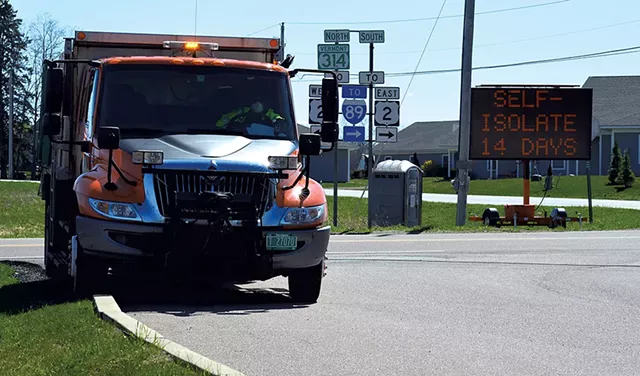 Sasha Goldstein
Vermont Agency of Transportation employee tracks license plates coming off the Grand Isle ferry near a sign delivering the governor's message
Justin Breiner is going a little stir-crazy. Since mid-March, he, his wife and two young kids have been holed up in their home in downtown Stamford, Conn., the epicenter of that state's coronavirus outbreak.
With no end to the pandemic in sight, "we're looking for a change of scenery," Breiner said.
Luckily for the family, they're among thousands of out-of-staters who own a little slice of heaven in the Green Mountains. They typically visit for a week at a time, but with the kids' summer camps likely canceled, other travel plans on hold and the ability to work remotely, the Breiners are planning to soon spend a month at their Stowe getaway — and they're not the only ones hoping to shake the quarantine blues in Vermont.
"Families are going to be looking for activities to entertain their kids all summer," Breiner said. If people want to get away, "this is the year to do it."
Vermont's population typically grows by 5 to 6 percent when snowbirds and second-home owners arrive for the summer. State officials expect the increase to be as high as 10 percent this year, meaning about 60,000 more people — many from coronavirus hot spots in New York, Massachusetts and Connecticut — could soon be living in Vermont.
In anticipation, Gov. Phil Scott has ordered those who arrive from outside the state to self-quarantine — defined as staying on your property and away from other people — for 14 days. The state also has bolstered its ability to test for the virus and to trace the contacts of those who are infected, two tactics officials say will help prevent a major outbreak of COVID-19.
However, the state's strategy is based on the honor system. There are few ways to ensure that new arrivals comply with the rules and no real measures in place to prevent them from bringing the coronavirus and spreading it in Vermont communities.
Some municipalities with a substantial number of second homes have taken it upon themselves to bolster their defenses. The Town of Woodstock is sending letters to second-home owners from New York City, letting them know about the quarantine order. Stowe has assembled a volunteer group that delivers groceries to the homebound, flatlanders included.
That's a far cry from what's happened in one coastal resort community in Massachusetts. The Town of Scituate went as far as shutting off water service to some vacation homes in order to keep outsiders away, the Boston Globe reported this week.
In Vermont, state and local officials are confident that their more measured approach is the right tack.
"There's always that concern about reintroducing the virus," said Michael Pieciak, Vermont's commissioner of financial regulation, who has been tasked with using data to predict the ebb and flow of coronavirus cases. "But we think ... that over the summer, this can be manageable in Vermont."
Worries about second-home owners arose early on in the pandemic. One of Vermont's first COVID-19 cases was a Westchester County, N.Y., man who had decamped to his second home specifically "to escape the virus," state Health Commissioner Mark Levine said in March.
Courtesy
The Breiner family
Vermonters began calling their legislators as they spotted a slew of cars from out-of-state presumed to be full of people fleeing urban virus hotbeds for greener, cleaner pastures. In Stowe, the complaints about visitors became so heated that the town's emergency management director took to Facebook to urge people: "Now is the time that we must come together as one and support our neighbors, regardless of their license plate color."
"There was a lot more anxiety about that, and rightfully so during that period of time," said Pieciak, noting that cases were rising in Vermont and surrounding states in mid-March.
The fear hasn't completely dissipated. Windsor resident Mary Cain told Seven Days that she wouldn't get out of her car at a Woodstock gas station recently because two New Yorkers were fueling up next to her. They weren't wearing face masks.
"I said [to one guy], 'You couldn't stay home?' He didn't say anything," Cain said, later adding: "If we see that Woodstock is a hot spot in two weeks, we know that's the [reason]."
Woodstock town officials are doing what they can to ensure that visitors don't cause a new outbreak. Knowing that the Upper Valley village of about 3,000 swells to 5,300 in summer, they sent letters on March 26 to every second-home owner hailing from the Big Apple, asking them to abide by a 14-day self-quarantine when they arrive. Scott issued a similar statewide mandate four days later.
"We wanted to make sure we were focusing on folks who might have increased exposure to the virus," Woodstock town manager William Kerbin Jr. said. "It's just important that ... we flatten this curve."
The town will send out a second round of letters to other seasonal residents in the coming weeks, he said.
The impending influx of second-home owners is also top of mind for town manager Scott Tucker in Wilmington, less than 12 miles from the Massachusetts state line. Because it is near Mount Snow and the Harriman Reservoir, two popular visitor destinations, Wilmington's population in peak seasons can increase threefold, from just under 2,000 people to 6,000, Tucker said.
Still, the town manager isn't too concerned that the virus will spread, as long as travelers follow Scott's executive order. He's especially heartened that one of Wilmington's major seasonal communities, Chimney Hill, has posted a copy of the governor's mandate on its website's home page.
Tucker only heard a little chatter among townsfolk who, early on in the pandemic, were afraid to visit Wilmington's lone supermarket after seeing out-of-state plates in the parking lot.
Perhaps locals haven't forgotten how seasonal residents helped them recover after Tropical Storm Irene decimated their downtown nine years ago, Tucker said.
"I heard stories of people stopping by with their kids at different places of business ... helping them hoe out mud and everything else," he said. "People were very generous with their time, their energy, their passion for the area and their money, as well."
Out-of-towners are also omnipresent in Stowe. The Lamoille County municipality is home to about 4,400 people year-round, but in peak seasons its population grows to more than 20,000, including second-home owners, weekend tourists and daytrippers, according to town manager Charles Safford.
Like many towns in the coronavirus era, Stowe has created public safety campaigns to promote social distancing and proper hygiene. None are specifically targeted at returning Vermonters, Safford said. He, too, thinks Scott's mandated 14-day quarantine will do the trick.
"If you are here, you are part of the community, and we ask that you be community-minded," Safford said.
"People have been understanding of the governor's directive to date," he continued. "We may have to make some sacrifices in order to minimize another flare-up."
More informally, the Stowe C19 Community Response team has some 140 members who are ready to grocery shop for homebound folks, including elderly snowbirds and seasonal Vermonters who will be quarantining.
"We're here for them," said state Rep. Heidi Scheuermann (R-Stowe), a response team member. "We want them to reach out to us. We're publicizing it all over the place. We have signs up in front of all the grocery stores to make sure that they know how to contact us."
Scheuermann thinks the 14-day quarantine will minimize the virus' reach, but only if the word gets out. Scott discusses the policy at his thrice-weekly press conferences, but Scheuermann fears the message "gets lost in the shuffle."
Pieciak, the finance commissioner, thinks the directive is clear. Reminders are posted on the state website, at Burlington International Airport and in huge, orange letters on state highway signs that direct new arrivals to stay home for 14 days. Data from border crossings, where Vermont Agency of Transportation workers have been counting inbound vehicles since April 1, show that there hasn't been a surge of out-of-staters just yet.
People can also use an online "executive order reporting tool" to tell on quarantine scofflaws, something about two dozen people have done so far, documents obtained by Seven Days show.
In one, a Stratton-area resident described their shock when a neighbor from Brooklyn came over to ask for help moving a foosball table shortly after arriving from New York.
A document obtained by Seven Days from the executive order reporting tool
"They are nice people ... however, their actions are frightening at this point," the complainant wrote. "This is [an] obvious lack of public respect and a serious health risk while blatantly defying Vermont state orders."
Vermont State Police can ticket those who disobey the mandate. But so far troopers are asking for voluntary compliance, according to state police spokesperson Adam Silverman. If the rule-breaking continues, he said, troopers can refer cases to the Attorney General's Office for possible prosecution or financial penalties.
Last week, the health department announced it had stockpiled enough test kits to perform 1,000 tests a day, the most available since the beginning of the crisis. A health department spokesperson said some of those tests would be available to new arrivals who want to finish their 14-day quarantine early; details of such a program are not yet available.
Meanwhile, more state workers are helping with contact tracing by reviewing the recent movements and personal interactions of people infected with the coronavirus. The strategy is expected to help slow further spread of the disease.
"All of those factors together should give Vermonters confidence that their government is working with their best interests and safety in mind," Pieciak said. "It'd be great to see the virus burn out in Vermont completely, and then we'll just wait and see what a second wave might look like next fall."
The summer should be a good test. Breiner, the Connecticut dad, says his family is heading north as soon as Vermont ends its two-week quarantine requirement. The governor has not yet indicated when that might be.
For now, "I'd rather stay back in Connecticut and let the kids run around," Breiner said with a laugh. "It's mud season in Vermont right now anyways."