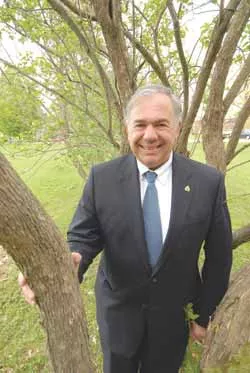 MONTPELIER — Vermont's Agency of Natural Resources (ANR) is undergoing a massive reorganization. Agency honchos praise the process. But according to two prominent environmental groups, three long-time staffers, a workers' lobbyist and a state senator, the "re-org" is plagued by a lack of transparency.
Most complaints center around the reportedly domineering managerial style of ANR Secretary George Crombie. One staffer even suggests he dismissed former Department of Environmental Conservation (DEC) Commissioner Jeff Wennberg, who officially "resigned" in August. DEC staffers represent half of all ANR personnel.
ANR, which has an annual operating budget of more than $80 million, has traditionally housed three departments: DEC, Fish & Wildlife, and Forests, Parks & Recreation. After Crombie took office in January 2007, however, he reconfigured the agency into 18 cross-disciplinary "centers" to better address contemporary environmental issues. Accordingly, 18 agency-appointed "task forces" were created to consult on the re-org.
DEC morale is "pretty difficult right now," says Nancy Manley, director of DEC's Environmental Assistance Office. The 19-year DEC employee, who co-leads one of the task forces, says her fellow employees are nervous about how the changes will affect their work environment. "People know that they're going to have jobs, but they don't know what those jobs are going to be," she notes. "That kind of nebulous future is disconcerting to anybody."
Manley's former boss, Rich Phillips, isn't surprised by that assertion. A 35-year DEC vet who retired in January 2006, Phillips characterizes the re-org as Crombie's "pet project." He has issues with what he terms the secretary's "command and control" approach.
Two months ago, Phillips was one of only half a dozen citizens to testify on the restructuring at an ANR-sponsored public forum. In late August, he sent a letter to Governor Jim Douglas outlining his concerns, but says he hasn't received a response. Douglas' Press Secretary Jason Gibbs did not respond to a message left at his office inquiring about the letter.
Laura Pelosi, ANR director of Policy Research and Planning, presided over the summer meetings and disagrees with Phillips' assessment. She points out that ANR's website allows for public input and provides minutes from the task-force meetings. "We're trying to be as transparent as we possibly can," she insists.
But despite her assurance, ANR employees and state legislators remain "skeptical" of the process, according to Conor Casey, a lobbyist with the Vermont State Employees Association. Casey, who also serves on one of the task forces, says he's received phone calls from ANR employees who worry that the agency's public services might deteriorate. And he says state legislators have called with concerns that ANR may be circumventing legislative processes.
"These decisions . . . can't just be implemented unilaterally by the administration," Casey says. "My worst fear is that it's the illusion of public input." Members of two Montpelier-based environmental advocacy groups, the Vermont Natural Resources Council and Vermonters for a Clean Environment, echo that critique.
Seven Days obtained a copy of an internal email that supports Casey's claims. It was sent on September 4 by Senator Susan Bartlett (D-Lamoille), who co-chairs the state's Natural Resources Reorganization Committee (NRRC). The committee was created in 2005 to provide input on ways ANR can operate more efficiently. According to Bartlett, Crombie's re-org has subverted NRRC's work.
"The words all sound good, but I'm hearing from many sources outside and inside the agency that it's not all going so well. There has been no public process," Bartlett writes. The email circulated through various senatorial and administrative offices in Montpelier. "There is total disgust at the lack of septic rules . . . I, in all honesty, don't have any idea what's going on," she adds.
ANR official Pelosi was the first addressee on Bartlett's email. "We've certainly given Senator Bartlett and the others on the [NRRC] the information that's available at this point in time," she maintains. "We've invited them to come and attend the task-force presentations." Pelosi says she expects the bulk of public comments to come in November, after the 18 task-force committees have released their final reports.
John Brabant, an environmental analyst who has worked at the DEC for almost 20 years, thinks both the NRRC and Pelosi are to blame for the apparent lack of public transparency. Late last month, he copied Pelosi on an email stipulating his concerns about the re-organization. He doesn't expect a substantive response. "My constant complaint for 19-and-a-half years is, we have this tendency to close the public out of our processes," he explains. "It puts us at a disadvantage in terms of doing the people's work." Senator Bartlett did not respond to requests for an interview.
Like Rich Phillips, Brabant blames the re-org woes on George Crombie and other senior ANR officials. "George Crombie has been good to me, but his remoteness . . . has created a paranoia," Brabant asserts. "It's their approach, how they deal with people on a day-to-day basis, that's gotten people all worked up."
According to Brabant, Crombie's style isn't just affecting employee sentiment. On August 15, DEC Commissioner Jeff Wennberg officially resigned after four-and-a-half years of service. But Brabant suggests there was a lot brewing behind Wennberg's departure. "It's my understanding that he was let go," Brabant states bluntly, citing an alleged rift between Wennberg and Crombie as the reason.
"I think you'd have to talk to Jeff about that," says acting DEC Commissioner Justin Johnson when presented with Brabant's claim. Wennberg could not be reached for comment.
As for low morale among DEC employees, Johnson's not worried. "Whenever there's a reorganization, then there's concern, that's natural," Johnson suggests, adding that only a handful of employees have expressed concerns to him personally.
That said, Johnson acknowledges the ANR could do better. "The secretary has made it clear that staff development is something we haven't done as much of in the past as we should do," he explains. "We need to nurture people and give them the opportunity to learn.
"Is it easy along the way?" Johnson adds. "Absolutely not. But . . . if we can get it right, I think it will be great for the state."
A call to Crombie's office requesting an interview for this story was not returned as of press time.