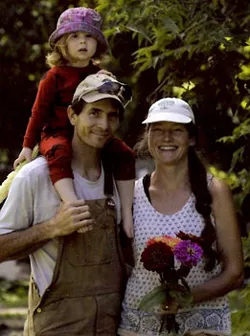 David Zuckerman with family
Two state employees spent a year on paid administrative leave while their bosses apparently investigated their handling of millions of dollars in public grant money.
In May 2010, Jeanne Johnson and Stephen Reckers were sidelined without explanation from their jobs at the Governor's Highway Safety Program. The Burlington Free Press managed to suss out that it had something to do with federal highway grants that were under scrutiny. But beyond that, there was nothing to indicate whether misconduct was involved.
Johnson earned $69,888 as the program's coordinator, and Reckers earned $60,340 as its alcohol safety program coordinator. Both got paid to do nothing — $32.59 an hour for Johnson, $28.14 for Reckers — for almost a year while the internal investigation dragged on.
In April 2011, Public Safety Commissioner Keith Flynn pulled both off the bench and subbed them into different jobs within the Vermont Department of Public Safety. Johnson was assigned to the office of emergency management, and Reckers was sent to information technology. There was never an explanation for the absence.
Johnson retired last August. On the way out, she signed a settlement agreement that prevents the state from discussing her case. Fair Game has learned that Reckers was reinstated as a grants-management specialist at DPS on January 1, at his former salary.
Human Resources Commissioner Kate Duffy says Reckers' case is confidential under state law because it's a "personnel matter." Deputy Commissioner of Public Safety John Wood wouldn't comment.
End of story, right?
Not so fast.
Criminal defense attorney David Sleigh of St. Johnsbury is on a mission to obtain the records related to the Johnson-Reckers investigation. After his own public-records request for the investigation documents was denied, Sleigh filed a lawsuit against Flynn in Caledonia County Superior Court on January 11 to obtain the file. Sleigh has been bulldogging the state for its shoddy handling of the alcohol-testing program and faulty breath-test machines used to nail drunk drivers, some of whom are Sleigh's clients. He suspects the Johnson-Reckers investigation might uncover more relevant clues.
But he also wants the records on principle.
"Vermont agencies don't function with a great deal of scrutiny," Sleigh says. "These agencies just claim that if anything has been an investigation, then you're not entitled to it under the public-records act. Well, what facts are generated without an investigation? What facts are spontaneously created?"
As a rule, Vermont's public-records act gives government agencies wide latitude to withhold information from the public — even when, as in this case, there is a drawn-out, taxpayer-funded investigation into possible misconduct by state employees with jurisdiction over substantial amounts of public money.
Duffy says she's not aware the state has ever released findings of a human-resources investigation — and says there are legitimate reasons not to do so. Privacy, for example. The case might involve personal matters such as substance-abuse problems, she says.
But Steve Collier, general counsel for the Department of Human Resources, tells Fair Game the state could release personnel records if it chose to.
"If we think personal privacy interests are outweighed by the public interest, we can disclose," he says. In the state's estimation, the Johnson-Reckers case didn't meet that threshold, Collier adds.
"If the state felt that there was reason to terminate [Reckers], he wouldn't be working for the state," Collier says. "I don't blame the public for wanting to know, but we can't discipline employees in the public eye."
So who gets to decide what's in the public's best interest? In this case, and so many others, the state does. But Sleigh is hoping his public-records lawsuit against Flynn will let more sun shine in on state government.
His desired final destination? "The Vermont Supreme Court."
Un-FAIR Poll?
The online news outlet VTDigger routinely posts press releases verbatim on its website. But one such piece of spin — from an anti-immigrant group with ties to white supremacists — recently raised eyebrows in local media circles.
On Monday, VTDigger was one of two Vermont news outlets (Fox 44 was the other) that published a press release headlined "New Poll Reveals Vermont Voters Overwhelmingly Support Immigration Enforcement and Reductions in Overall Immigration." The Federation for American Immigration Reform, or FAIR — a group the Southern Poverty Law Center has branded a hate group — commissioned the poll.
Within minutes of posting the release, Digger editor Anne Galloway says she received an email from Brendan O'Neill of the Burlington-based group Migrant Justice. O'Neill pointed out FAIR's "dubious" reputation and linked to a Southern Poverty Law Center report documenting a lengthy history of racist statements by group leaders.
Here's how the FAIR press release began: "A new statewide opinion poll reveals that likely Vermont voters overwhelmingly believe illegal immigration is harmful to the state and half would like to see overall levels of immigration to the United States reduced."
Oh, really?
In fact, that overwhelming number of voters who believe illegal immigration harms Vermont isn't all that overwhelming. FAIR called it a "clear majority" but that's questionable.
Of the 500 likely voters polled by Pulse Opinion Research on January 3, 55 percent said the impact of illegal immigration on Vermont was extremely negative or somewhat negative. The rest answered that it was extremely positive, somewhat positive or not sure.
That's a five-point difference on a poll whose margin of error was plus or minus 4.5 percent. Do the math!
In fairness to FAIR, 68 percent of poll respondents said they oppose giving in-state college tuition to illegal immigrants, and 44 percent answered that overall levels of immigration are too high in the U.S. and should be reduced.
But when asked how immigration affects workers in Vermont, 46 percent answered that immigration — both legal and illegal — is "generally beneficial because immigrants fill jobs that Americans are unwilling or unable to perform." Less than a third called it "generally harmful."
Boy, the last time I felt this spun around was after the teacups ride at Disneyland.
The University of Vermont has done its own polling on the subject — and turned up completely different results.
The Center for Rural Studies' 2010 Vermonter Poll surveyed 661 people and found that 60 percent disagreed or strongly disagreed that undocumented immigrants take away jobs from Vermonters; and 86 percent agreed or strongly agreed that migrant farmworkers help Vermont farmers stay in business.
So does that mean the FAIR poll's results aren't legit? Not necessarily, according to UVM assistant professor Dan Baker. For one thing, FAIR used the term "illegal immigrant" as opposed to the Vermonter Poll's "undocumented immigrant." That could account for the increased negativity. Also, FAIR's was an automated telephone poll. The Vermonter Poll used live humans.
On its Facebook feed, Migrant Justice urged its followers to "Tell Digger to check their sources before publishing hate!"
Galloway removed the press release and in an editor's note the next day, explained that while she rarely removes posts of any kind, she took this one down after reading the Center's report on FAIR.
"Though the information from FAIR was cloaked in legitimacy — it was about a poll, and it came from a commonly used email newswire — I decided VTDigger.org shouldn't publish information from a group that has a record of racist views."
Now that's news judgment.
By the way, you can still find FAIR's press release on Yahoo! News, the Sacramento Bee and elsewhere on the web.
David et al. vs. Goliath
Organic farmer and former Vermont legislator David Zuckerman has joined a class-action lawsuit against agri-giant Monsanto. The company is infamous for suing farmers whose crops get cross-pollinated by the company's patented, genetically engineered seeds. Now farmers are fighting back.
Zuckerman runs Full Moon Farm in Hinesburg, a 151-acre certified organic, community-supported-agriculture farm that raises vegetables, pigs and poultry. He served seven terms as a Progressive representing Burlington in the state House of Representatives, including four years as chair of the Agriculture Committee, before bowing out in 2010.
On behalf of Zuckerman and 83 other farmers and farm organizations, including NOFA-VT, the Colorado-based Organic Seed Growers and Trade Association is asking a federal judge to protect farmers from patent lawsuits should their crops become cross-pollinated with Monsanto's transgenic seed.
Monsanto has asked the judge to toss the case. Zuckerman appeared alongside other farmers in a federal courtroom on Tuesday in Manhattan to discourage that action.
As a legislator, Zuckerman sponsored the Farmer Protection Act to shield Vermont growers from just such lawsuits. It passed the House and Senate in 2006, but was cut down by former governor Jim Douglas's veto pen.
Zuckerman says that the issue of cross-pollination is a "real risk" for him and other Vermont farmers. "I've got a conventional dairy farm that grows corn within pollination distance of my fields," he says.
Technically, cross-pollinated produce can still be sold as "organic;" the label relates to farming practices rather than the end product. "But from a consumer perspective and a marketing perspective," Zuckerman says, "people wouldn't buy my corn."
For the Record
Secretary of State Jim Condos felt last week's Fair Game misrepresented his comments about corporate spending in elections.
We thought the meaning was pretty clear, but in the interest of fairness, here's a clarification.
At the risk of oversimplifying, Condos' take on corporate spending in elections boils down to: Citizens United, bad; Vermont campaign contribution limits, good.
Condos says he fully supports the effort to overturn the Citizens United court ruling through a constitutional amendment that would curtail independent expenditures by corporations in campaigns, which, to date, have mainly impacted federal elections. As for state elections, Condos says he's OK with businesses contributing directly to Vermont candidates for governor, Senate and House because they're limited to $2000 per donation.
Got it?