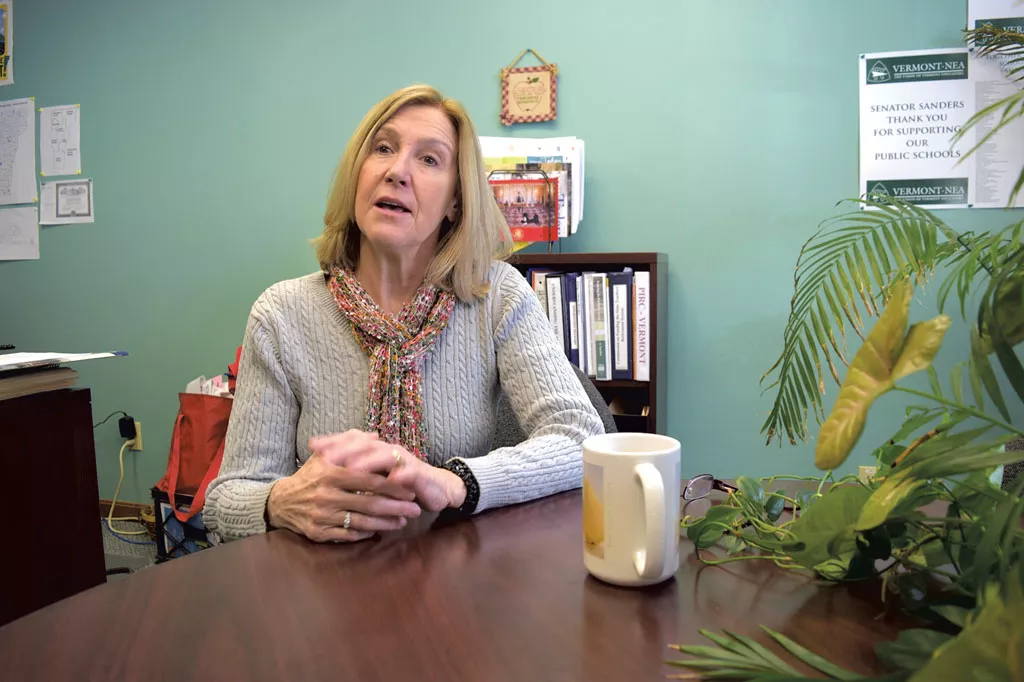 Terri Hallenback
Martha Allen
Six years ago, the president pro tempore of the Vermont Senate stood on the steps of the Statehouse and decried state employee layoffs proposed by the governor.
The senate president, Democrat Peter Shumlin, thanked Vermont State Employees' Association members for offering other budget-cutting ideas to counter Republican governor Jim Douglas' proposed layoffs.
"What we will do in exchange is ensure ... that the governor's plan to demoralize the state workforce with fear and intimidation doesn't happen," Shumlin said during the March 2009 rally, drawing enthusiastic applause from union members. "We stand by you."
When Shumlin ran for governor the next year, those state employees endorsed him in the general election, helping to nudge him to a narrow victory over Republican Brian Dubie. The 5,500-member union endorsed Shumlin again in 2012 and in 2014.
So, too, did the Vermont National Education Association, which represents 12,000 teachers, support staff and retirees.
It might have been naive of the unions to believe that state employees and teachers could count on Shumlin to leave them unscathed, given escalating concerns over the state budget and rising school taxes. But each union met with Shumlin before the last election, asked him a series of questions and liked what it heard. Shumlin assured the VSEA in October that layoffs would only come as a last resort. He supported keeping the Vermont Veterans Home in Bennington open and publicly owned, he said.
The governor was committed to creating a government-financed health insurance system with coverage as fine as the teachers have, he assured the Vermont-NEA in August. He believed, as they did, that employers should be required to provide paid sick leave.
Shumlin went on to win reelection by just 2,434 votes. The unions never seriously considered endorsing Republican Scott Milne or the incumbent's other challengers, nor did those candidates actively seek their backing. But if either or both unions had simply declined to endorse a candidate for governor, it's possible Shumlin would not have won.
How are those unions feeling now?
A month after the election, Shumlin jettisoned plans for government-financed health care, an issue near and dear to the teachers' union.
In January, Shumlin declared in his budget address that he was counting on the VSEA to reopen its contract and give up pay increases. The union got 15 minutes' heads-up that its members would be targeted in the speech. Plus, Shumlin announced, he planned to cut other state jobs by consolidating emergency call centers and closing the Community High School of Vermont, which serves inmates in state prisons.
In that budget address, Shumlin also called for cutting school spending and raising student-teacher ratios, moves that would inevitably cost teachers jobs. Vermonters, he said, "expect better outcomes for our students at lower costs."
No longer do those unions believe Shumlin is standing by them.
"There are a lot of members who question that endorsement now," said Steve Howard, the VSEA's executive director.
"It's been very disappointing," said Martha Allen, president of the Vermont-NEA. "I feel as though the line of doing more for less is an insult."
Vermont unions find themselves in an odd position. They worked for years to elect a Democratic governor and a huge Democratic majority in the legislature. And yet they feel barely better off than their battered labor brethren in Wisconsin, where Gov. Scott Walker signed a 2011 law that limits public-employee union collective-bargaining rights.
Labor unions have never been as powerful a political force in Vermont as they are in more industrialized states. But even in Vermont, there could be political payback for Shumlin — and leaders of the legislature — if traditionally Democratic union backers rebel against the party's candidates.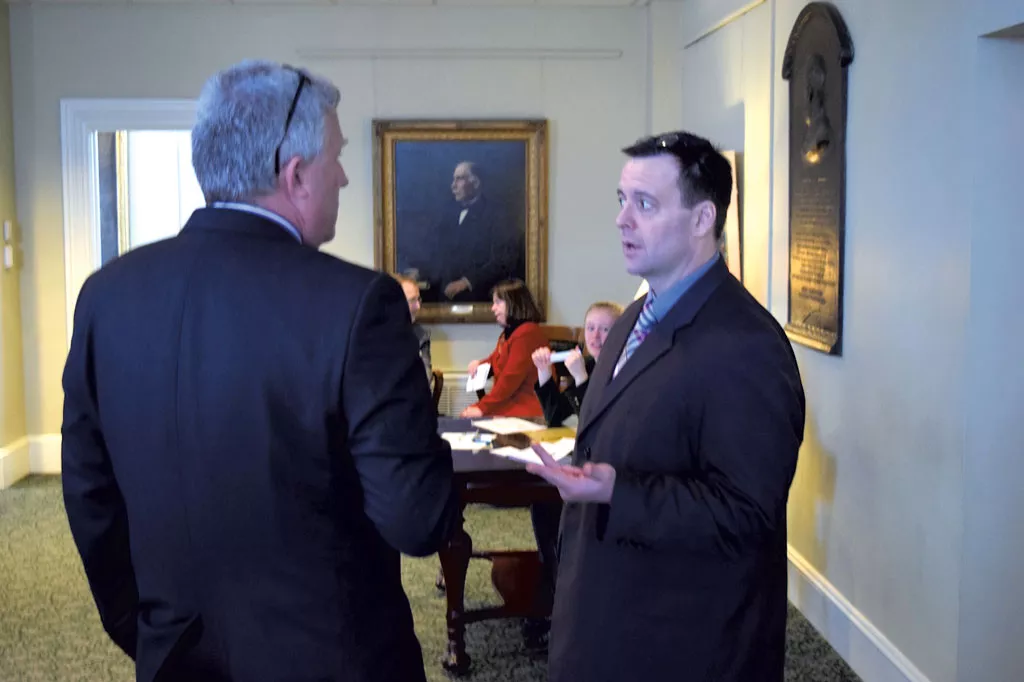 Terri Hallenback
Steve Howard
"Our members are pretty fed up with relying on the status quo or powers that be to decide who's in state government," said Howard, a former Democratic state legislator who once chaired the Vermont Democratic Party.
The union is planning a new push to elect its own members to office, he said.
"We are working right now on building a labor-candidates' school," Howard said. "We need our own candidates."
The Vermont-NEA is similarly irked. "He'd have to do some serious relationship-building with us if he's running for governor again," Allen said of Shumlin.
Whether those union members will have other choices remains to be seen, concedes Rep. Chris Pearson (P-Burlington), who chairs the Progressive caucus. "The political ramifications depend on whether the Progressives can mount a credible statewide campaign so they'd have somewhere else to go," he said.
Shumlin won't say whether he plans to seek reelection in 2016.
"As long as I feel I can make a difference and get things done for Vermonters, I wish to continue to do this job, if Vermonters will have me do it," he said last week.
Both union leaders and critics from the right say this standoff could have been — and perhaps could still be — avoided.
"There are efficiencies in state government," Howard said. "Our members offered to sit down with management and identify efficiencies. The administration wasn't interested."
Others say Shumlin and the legislature should have seen the budget troubles coming.
"It was widely known that state government was spending above available revenues for the last few years," said Mike Smith, who served as secretary of administration under Republican Douglas. "This was masked in large part by federal money that eventually was going to be gone. The process of getting personnel costs in line should have begun two years ago."
Fissures emerged between Shumlin and the teachers' union even before voters went to the polls last fall. During a five-day teachers' strike in South Burlington last October, Shumlin told Vermont Public Radio such strikes should be outlawed, prompting complaints from union leaders that he was blaming them.
Relations between the unions and the governor have only grown more tense since Shumlin's January announcement that he was looking for $10.8 million in personnel savings. The VSEA outright dismissed the notion of reopening the state employees' contract it signed a year ago.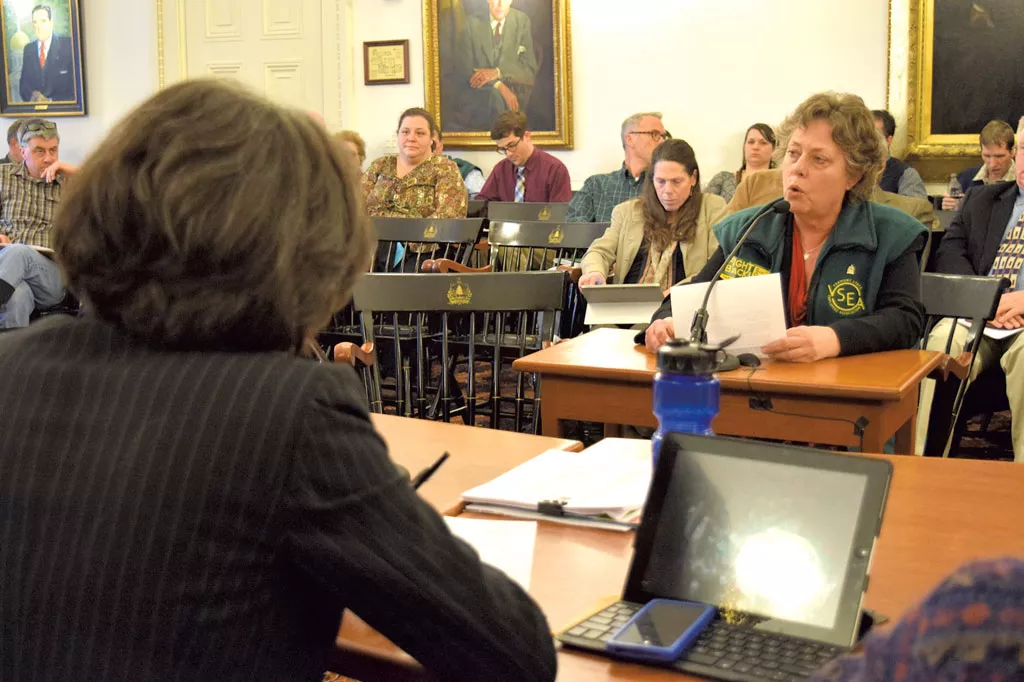 Terri Hallenback
Shelley Martin
"That's not going to happen. It's really that our members can't afford to do that," Howard said, characterizing the proposal as a tax on state workers. "To say we're going to take money out of the pockets of 6,000 hardworking state employees before you'll ask the wealthiest people in the state to pay another dime is hard for them to stomach."
Last week, Shumlin's secretary of administration upped the ante by directing state agency heads to submit plans to cut up to 325 workers.
"It seems unlikely that the state's labor contract will be reopened as part of the solution to balancing the budget," Administration Secretary Justin Johnson told agency chiefs in a memo. "This situation leaves me with no alternative but to begin planning for a significant reduction in force across all sectors of Vermont state government to be effective July 1, 2015."
"That's part of the game the administration is playing," Howard said of the memo. "They're ratcheting up the pressure."
Johnson said the timing of the memo was logistical — rather than a negotiating tactic. To save $10.8 million in personnel costs in the fiscal year starting July 1, jobs must be vacated by mid-June. The process of identifying positions and allowing veteran employees to bump newer coworkers takes months, Johnson said.
It's possible, he acknowledged, that much of the savings could be achieved by eliminating 500 state positions that are currently vacant. But he said it's unclear yet how many of those are partially federally funded and whether they should be the ones to go.
"When you take vacant positions, you're taking them from wherever they happen to be that day," Johnson said. "It's a random thing."
Shumlin insists he'll initiate layoffs if necessary.
"We can achieve the 10 to 12 million in employee savings the smart way or the hard way," Shumlin said. "The hard way is to do it through layoffs, but that's what we'll do if it's our only choice. The smart way would be to sit down with the union and figure out how to not make pay cuts, but all make some reductions as a group."
Reminded of his 2009 stand against layoffs proposed by his predecessor, Shumlin argued that the situation is more difficult now than it was in the depths of recession, when there was hope that revenues would rebound.
"We're in a very different place right now. We fundamentally have a situation where our growth rate is not projected to increase to 5 percent," Shumlin said. "Some of it has to come from compensation for state employees."
Not all public sector unions are crying foul over the governor's plans.
The 270-member Vermont Troopers Association has also been asked to reopen its contract.
"They're happy to sit down and talk to us," Johnson said.
VTA president Mike O'Neil declined to say whether the union would agree to reopen the contract. "We're not going to comment," he said.
The administration and the troopers' union signed a one-year contract just last month, giving its members a 2.5 percent pay raise. Shumlin could have simply held off signing the deal rather than ask to reopen negotiations, but Johnson said he did so to put the VTA on the same contract timeline as the VSEA.
So far, the Democratic legislature appears no more likely to go to bat for the unions than Shumlin is.
Just last week, House Appropriations Committee chair Mitzi Johnson (D-Grand Isle) proposed cutting $1 million from the budget of the Vermont Veterans' Home, where some 200 state employees work.
Asked last week whether he will fight to keep the home open, Shumlin said he's long supported the home. "I think my record's pretty clear," he said, but he declined to explicitly promise he could save it from the chopping block.
Other labor issues dear to the VSEA, such as paid sick leave, show no sign of advancing this year.
House Speaker Shap Smith (D-Morristown) and Senate President Pro Tempore John Campbell (D-Windsor) have supported Shumlin's insistence on reopening the state employee union's contract.
"I certainly understand why they wouldn't want to do it," Smith said of the VSEA. The legislature is looking to raise new revenue, but Smith said the notion of closing the $113 million budget gap largely through new taxes is untenable. "We're not going to raise $100 million in revenues because we'll be right back in this situation again."
Allen said she sees a difference in rhetoric coming from the legislature than from the governor, even as both are targeting school spending in ways that could force schools to close.
"We have a good working relationship with the speaker," she said. "I think he understands where we're coming from, and he respects our teachers."
Howard also said he's found legislative leaders to be open-minded, but he's looking for more.
"Shap has heard our concerns," Howard said. "We wish he were stronger in standing up against the state employee tax."
Pro-labor legislators say they are disturbed by talk of reopening contracts, even though they have yet to raise a ruckus about it. That's in part because it remains unclear how the budget cuts will play out, but also because so many other programs they value are on the chopping block.
"We haven't heard there's a better way," said Rep. Tom Stevens (D-Waterbury), vice chair of the House General, Housing and Military Affairs Committee, which oversees labor issues. "They've been shaking every tree and haven't found that better way."
The VSEA has been trying to persuade lawmakers that raising taxes — or eliminating tax deductions — is a better approach than cutting pay and benefits for state workers.
"We feel that these proposals amount to a tax — an unfair tax — on state employees," VSEA president Shelley Martin told the House Appropriations Committee last week. "Taxes should be applied in a broad-based way. State employees believe that taxes should be proportionate to income."
Last month, VSEA members gathered for a rally in the Statehouse cafeteria. Shumlin walked down the hall to listen as several union members argued against consolidating emergency call centers and the Community High School of Vermont.
They made their case. The governor made no promises. When they were done, several union members asked Shumlin to pose with them for selfies, like old friends.