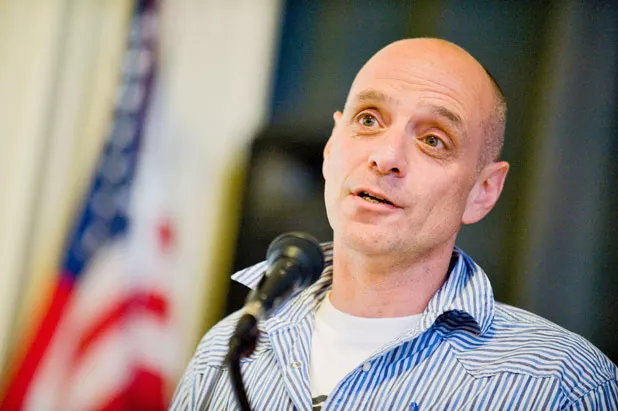 Eric Schlosser is the man who told Americans exactly what lies between their hamburger buns. His best-selling expos of the cheap-eats industry, Fast Food Nation, laid bare the sordid history and grotesque inner workings of factory farms, slaughterhouses and restaurants such as McDonald's and Burger King.
Since he published Fast Food Nation: The Dark Side of the All-American Meal, in 2001, Schlosser has advocated for sustainable food raised and processed without human-rights abuses; he also promotes healthier options and nutritional education in schools.
A couple of weeks ago, Senator Bernie Sanders invited Schlosser to Burlington to participate in a "town meeting" discussion about sustainable agriculture. Schlosser blew the crowd away with his impassioned views on the nation's tangled food chain. Panelists, including State Rep and organic farmer David Zuckerman and Allen Matthews, farm enterprise coordinator at the UVM Center for Sustainable Agriculture, also weighed in.
Seven Days caught up with Schlosser for clarification on how Schlosser and Sanders got connected. The author-activist also divulged two of his favorite local restaurants Al's French Frys and the now-defunct Oasis Diner and told us which Vermont product he believes should be shipped around the country, gas prices be damned. Schlosser, formerly of Charlotte, admits he's "addicted" to maple syrup.
******
SEVEN DAYS: How did you end up working with Senator Sanders on bettering wages for exploited Florida tomato workers?
ERIC SCHLOSSER: It was really an incredible experience for me. I wrote an op-ed for The New York Times on the issue, and I was contacted by Senator Sanders' office . . . He wanted to see [the conditions] for himself. I said I'd meet him down there and show him around.
I was impressed that he did go down there to see for himself and also that he showed up without any aides or press people, and he did the work: He stayed at the home of one of the local coalition members. He got up at the crack of dawn to see how the workers were chosen. He was powerfully affected by what he saw and was determined to do something about this. And he carried through on his promise. Some of the poorest workers in the U.S. are going to get a pay raise from this.
SD: During the town meeting, you brought up the idea of interconnectedness among consumers, food manufacturers and growers, and the employees of those companies. But it seems to me that many Americans take the position: "What I put in my body is none of your business." Do you think it's unethical to eat without social consciousness?
ES: You know, I'm not pure, and I don't expect anyone else to be pure, either. But I think it's important to have a social consciousness, to be aware. It's good to think about the larger implications of all your behavior. For the past few decades, selfishness has been widely celebrated in the mainstream culture. We could all use a little more compassion.
SD: Given that Vermont has a challenging climate, is it wise to try growing everything locally? Would it be better to learn how to grow crops like persimmons and rice here by modifying the land and using season extension techniques and technology, or should we keep on purchasing rice grown in another part of the country? Or should we give up eating rice because it doesn't grow here?
ES: Again, it's a question of how pure you aim to be. The perfect shouldn't become the enemy of the good. If people in Vermont want to drink coffee, they're going to have to import it. The same is true for lovers of maple syrup in California (like myself). Some commodities are always going to be shipped long distances. But the goal of local self-sufficiency is well worth pursuing, even if it's never fully achieved.
SD: Since you left, I heard a rumor that Burlington's Intervale may be shut down, because of conflicts between its designation as a historic site and a flood plain and its use as farmland. Given that you and other folks have been lauding Burlington as being "way ahead of its time" when it comes to sustainable food production, what are your thoughts on this news?
ES: Shutting down the Intervale would be a huge mistake. There has to be a way to balance the area's archaeological importance with its importance as a model of enlightened urban agriculture.
SD: Even though conventional food costs are rising, and Vermonters have an increasing number of places to purchase organic, local foods, there's still a price gap between the two. What are the next steps toward making healthy, ethical foods available to everybody?
ES: We need agricultural policies at the national level that end the subsidies for unhealthy food and that make good food much less expensive. Low-income families shouldn't have to worry about whether they can afford to eat well. We have an overabundance of food in this country and a system that encourages mass consumption of the wrong foods.
SD: You mentioned that the "organic" label doesn't provide any information about how workers are treated. What's the solution? A new label along the lines of "Fair Trade," or a greater reliance on local foods so that a consumer can actually check out a farmer's practices for herself? Other ideas?
ES: The more information that people get about their food, the better. Labeling can provide it, as can a greater emphasis on local foods. I am a big supporter of labels like "Fair Trade" that go far beyond organic.
SD: If you were asked to explain your ethical food purchasing hierarchy, what would it look like?
ES: People, animals, land, in that order. There's no reason we can't have an agricultural system that treats all three with respect.
SD: One of the questioners at the town meeting opined that it doesn't take a lot of education to choose healthy foods, and that most people would do it if it was affordable. I'm not sure that's true, in part because Americans' tastebuds have been suckered by food manufacturers into preferring fake flavors, like "cheeze," to wholesome ones. Plus, certain inexpensive, healthy foods, such as rice and beans, are viewed as boring. What do you think?
ES: There's a direct correlation between how much education you have and how likely you are to become obese. Many billions of dollars are spent each year to persuade people to buy what's cheap and easy and tastes good in the moment. If an equivalent amount were spent every year educating people about our food system and its consequences, the Chicken McNugget would become an endangered species.
SD: Many folks around here hold that Vermonters should "buy local," yet don't want people from out of state to stop buying Vermont products. Hypocritical?
ES: It depends what you're exporting. Vermont strawberries to Japan? That would be a bad idea. Vermont maple syrup to the rest of the United States? Absolutely essential.
SD: There's some tension between the folks who think smaller farms and food operations should be less strictly regulated to give them a greater chance of financial success and those who think all food sources should be heavily regulated in an attempt to eradicate food-borne illnesses. What do you think?
ES: It depends what you mean by regulation. Most of the federal food safety rules are process-oriented. They are mainly concerned with how you do things. They favor large-scale, industrial operations. And for the most part, they ignore the actual threat posed by what's for sale. I think our food-safety policies should be based on routine testing for dangerous pathogens. Judged by that sort of measure, the small producers will do just fine. Our small meat-packing plants have much lower levels of contamination than the really big ones. Big or small, however, nobody should be allowed to sell tainted food.
SD: I read an interview from 2002 in which you posited that most Americans didn't have a clue about where their food was coming from, or about the abuses inherent in the system. Do you think the American public is better informed in 2008?
ES: I think some of the public is much better informed . . . A lot of people are changing what they eat and where they buy it, but in my opinion it's too confined to the educated, the middle class and the upper class. The danger is we're splitting even further into a society where there's one class who are eating really well and getting fit, and another group who can't afford to eat that way and don't have access to health care. If you're upper middle class and you're getting obese, your doctor tells you that you have to make a change; you can go to the gym . . . There needs to be much more in the mass media about this, and there needs to be much more at the federal level and at the state level.
SD: So is it too late for some people? What can we improve?
ES: It's never too late for anyone. Statistically, though, if you're obese by the age of 13, the odds are overwhelming you'll be obese as an adult. If you're already obese, it's harder to make the change. But that doesn't mean any one individual can't change.
That's why so much of my own activism has focused on children and trying to prevent kids from becoming obese, both by working with schools and by putting limits on what these companies can market to kids.
SD: You've said that you're not a gourmet guy, and that you enjoy basic American food. But on the flip side, you know more about the ills of the industrial food complex than most. So I'm curious: What does a typical meal look like in your household?
ES: You know, it really varies. Whenever possible, we buy local and organic. We don't buy any meat from the industrial system, ever. A typical meal would not be a hamburger and French fries, but it also wouldn't be quinoa and a vegetarian casserole. The best way to describe the diet would be Mediterranean.