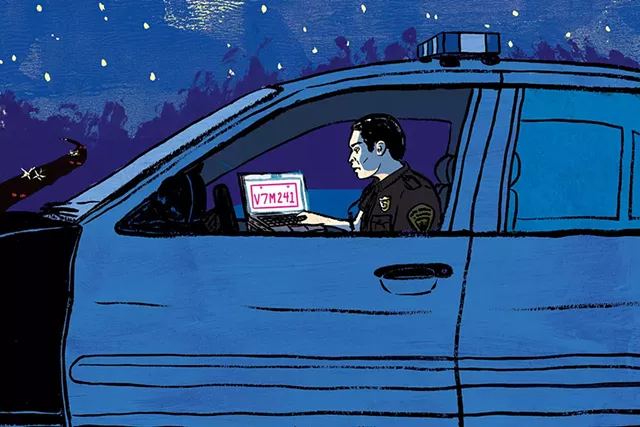 Shortly after 2 a.m. on December 27, Obafemi Adedapo was shot on the sidewalk at 187 Church Street after an argument that started at the nearby Zen Lounge, police say. Burlington police officers a block away rushed over and performed CPR on the 28-year-old New York City man. A crowd began to form.
Meanwhile, a Chittenden County deputy sheriff headed over to help at the chaotic scene. A few blocks away, just three minutes after the shooting, his cruiser's automatic license plate reader captured an image: a plate number on a dark vehicle with a circular BMW logo above the plate, headed out of the city.
Adedapo was a member of the Cashford Crips, a Brooklyn gang, and had an extensive criminal record. He died of his wounds, and police found crack cocaine on his body.
When police arrested Chavis Murphy, 24, two days later in West Springfield, Mass., and charged him with Adedapo's murder, they were quick to reveal what led them there: the image from the license plate reader that showed the time, date and location of the 2016 BMW X3.
Burlington Police Chief Brandon del Pozo said his officers had received information about who was at the bar and checked their vehicle registrations. They learned that a car registered to Murphy had recently been in an accident, and he'd leased a replacement vehicle. Enterprise Rent-a-Car provided the license plate number. When officers queried the state's license plate reader database, the record captured by the deputy sheriff turned up, del Pozo said.
"It was an objective electronic piece of evidence that came to corroborate witness evidence," said del Pozo. "It really turned us in the right direction."
In a press release about Murphy's arrest, del Pozo highlighted the role the license plate reader played. This unusual attention to a detail in the investigation came just as the Senate Judiciary Committee prepared to wrap up work on a privacy protection bill that includes provisions governing license plate data — including how long the millions of snapshots that the readers capture should be retained.
The privacy bill would also regulate police access to electronic communications, such as phone records and emails, and would set rules on when law enforcement may use drones.
"This is a historic bill protecting people's privacy," Sen. Dick Sears (D-Bennington), who chairs the committee, declared just before the Senate gave it unanimous support Wednesday.
It's historic because it fills a gap, explained Sen. Tim Ashe (D/P-Chittenden), the bill's lead sponsor: "As technology has been moving so quickly with such advances, sometimes our understanding of the implications on our private lives has been slow to keep up."
License plate readers were first used in Vermont in 2010. Today, 42 law enforcement agencies operate 67 license plate reader units, with more in the pipeline. In Vermont, all the cameras are mounted on cruisers and snap pictures of thousands of plates every hour.
Records from across the state are transmitted to a single database maintained at the Vermont Intelligence Center in Williston. It is one of 78 "fusion centers" created 10 years ago to improve information sharing among law enforcement agencies. It is home to five databases, including the license plate information. A dozen analysts process 4,000 requests for information a year. The center's director, Lt. Kevin Lane, said state law allows access to the data only by law enforcement officials investigating crimes.
Officers must submit requests in writing describing the legitimate law-enforcement purpose. "So we are not just pulling random information and surfing through all this data that is out there," Lane said.
Lawmakers enacted regulations on readers two years ago, but they expire in June 2016. In their recent review of the program, several senators questioned whether they had allowed police to keep the data longer than necessary, given the few serious crimes in which such data had played a role. Current law requires the destruction of data after 18 months.
"The long-term question is, if the information isn't really being used to solve a crime, why are we hanging on to the whereabouts of most Vermonters essentially for many years?" Ashe said.
The American Civil Liberties Union of Vermont suggested a new limit — a mere 24 hours.
"We think that, every day, the data that was collected on all the license plates that didn't match any of those people on the hot list of the day should be destroyed," said ACLU-VT executive director Allen Gilbert. "Retaining data turns it into a surveillance system."
Matthew Valerio, defender general, argued for keeping the data indefinitely because it might help defendants prove their innocence. He recounted a drug case last year in Franklin County that was dismissed after license plate records and cellphone data corroborated the defendant's alibi.
Law enforcement officials urged lawmakers to stick with the 18-month limit. "It suits almost all the needs I could think of," del Pozo said. Twenty-four hours would be insufficient in many investigations, he noted, citing a drug case in which Burlington tapped New York City license plate records going back several weeks. A suspect denied he had been to New York City recently. But license plate records showed his car "had spent the prior week traversing Brooklyn, Manhattan and the Bronx and had last been scanned headed northbound out of Manhattan at 9 p.m. the night before we stopped it in Vermont," del Pozo said. Based on this information, police secured a search warrant and found drugs.
The Senate Judiciary Committee wrestled with the retention question before deciding to maintain an 18-month limit. When he presented the bill, Ashe said license plate readers had been useful in only a handful of criminal investigations and usually in the days immediately following the crime.
The bill would also establish state rules for access to another investigative helper — data on electronic communications such as phone call histories, texts and emails. If the bill becomes law, Vermont would become the third state to address this. Ashe said, "It is a big deal."
Electronic communications "are the bread and butter of serious felony investigations and will be more so in the future," said David Cahill, newly appointed Windsor County state's attorney. A 1986 federal law coupled with subsequent, sometimes conflicting court rulings governs access to this data. He noted that this out-of-date law allows police to obtain emails older than six months without warrants.
Cahill helped write the provisions in the Senate bill, which are based on California's privacy law. "What we have proposed is a framework that acknowledges all of our interest to not have our thoughts surveilled," he said. By thoughts, he said, he means the content of emails, texts and phone conversations.
The bill creates different levels of protection depending on the kind of information that law enforcement is seeking. For the most sensitive information — emails, texts and phone calls and precise location information — police would need to get a warrant, for which officers have to show they have "probable cause." With only "reasonable suspicion" and court-ordered subpoenas, they'd have access to less sensitive records — subscriber information, such as names, addresses and the package of services purchased, from electronic communication providers.
The bill's provisions on drones also set out for the first time when law enforcement might use these miniature, unmanned aircraft, which can be helpful in search and rescue as well as surveillance. Warrants would be required for the latter. The bill prohibits equipping drones with weapons.
The judiciary committee didn't hear from any police department that has a drone, and public safety commissioner Keith Flynn said the state has no plans to buy any. But, Ashe predicted, "That won't last."
The bill wouldn't regulate commercial and recreational use of drones except to direct owners to comply with Federal Aviation Administration rules. In December, the FAA began requiring owners of drones to register their aircraft.
Guy Rouelle, aviation program administrator with the Vermont Agency of Transportation, said the state has a list of 60 drone and model-plane owners who fly their aircraft near airports. "If they are going to fly close by, they must call," Rouelle said. The list includes businesses and hobbyists.
Nothing in the proposed bill impinges on commercial drone operation, said Ian Ray, who cofounded AirShark two years ago. Ray and partner Jon Budreski brought some of their fleet of tiny aircraft to a Senate Judiciary Committee hearing last fall. "Our focus is using drones anyplace where an aerial perspective would be valuable," Ray said. For example, their drones have performed inspections of power lines, rooftop solar arrays and wind turbines.
The Senate Judiciary Committee also considered enhancing existing federal protections of personal health records by allowing people to sue for damages over breaches. Doctors lobbied against it, and the controversial provision was removed from the bill. Said Ashe, "We agreed that provision wasn't fine-tuned."
The Senate moved the privacy bill early in the legislative session to clear the decks for its work on a marijuana legalization bill.
Disclosure: Tim Ashe is the domestic partner of Seven Days publisher and coeditor Paula Routly.