Cathy Duncan was doing what she could to provide for her kids. The 45-year-old divorced mother of three had returned to school, landed a steady job and bought a modest house in downtown Johnson.
But, as she told a panel of Vermont state legislators, cabinet members and low-income advocates in November 2007, Duncan still hadn't escaped the poverty she had known for much of her life.
"I am one of the successes," she said during a public forum at the Morristown Elementary School library. "But when I live from paycheck to paycheck and sometimes it doesn't make it, doesn't pay all the bills, I don't feel much like a success."
For weeks that fall, members of the newly established Vermont Child Poverty Council had been traveling the state's 14 counties with great fanfare, hosting evening discussions in crowded school cafeterias, gymnasiums and libraries. They were calling on poor parents such as Duncan to share their stories and solutions. "I am here to represent people in poverty," she told them, according to a Stowe Reporter account of the meeting.
Earlier that year, the State of Vermont had made a colossal commitment: to cut child poverty in half within a decade. A new law, passed by the Democratic legislature and signed by Republican governor Jim Douglas, had established the 14-member council and charged it with carrying out the state's ambitious goal by June 30, 2017.
"The point was to change the conversation instead of going through yet another year of trying to get a little more funding for this program or that program," recalled former state senator Doug Racine, who championed the legislation and then chaired the council in its early years. "We really needed to elevate the prominence of poverty in this state."
But by the time Vermont's 10-year deadline passed this June, the goal had long since been forgotten — and the state had come nowhere close to meeting it.
In 2007, according to the U.S. Census Bureau, 15,907 Vermont children, or 12.4 percent, were living below the federal poverty line. By 2015, the most recent year for which data is available, the number of children in poverty had declined, slightly, to 15,469, but the rate had increased to 13.3 percent.
Such figures fail to capture the true extent of economic hardship that Vermont's children face. Most experts agree that the federal poverty line, developed in the 1960s, is outdated and underestimates the income it takes to survive. At present, the poverty line is drawn at $12,060 a year for an individual and $24,600 for a family of four — up slightly from a decade ago.
At their earliest meetings in 2007, members of the Child Poverty Council questioned whether they might be wiser to measure the number of young people living at 200 percent of the federal poverty line. By that metric, the state has done no better: From 2007 to 2015, the number of poor kids in Vermont rose from 32 percent to 35 percent.
To be sure, Vermont is not an island — and this was no ordinary decade. A year after the council toured the state, a financial crisis plunged the country into the deepest economic downturn in nearly a century. The national child poverty rate soared from 18 percent in 2007 to a peak of 22.6 percent in 2012, in tandem with the unemployment rate. As parents lost their jobs, children suffered.
Child Poverty in Vermont and the U.S., 2007-2015
Andrea Suozzo
Source: American Community Survey, U.S. Census Bureau
"I don't want to use this as an excuse, but I really don't think we could have made the kind of dent we wanted to make because of the recession," said Voices for Vermont's Children executive director Carlen Finn, who worked with Racine to establish the half-in-10 target.
Whether a small state, acting in isolation, could have achieved so bold a goal absent the Great Recession is another question entirely. For years, the costs of housing, health care, childcare and higher education have outpaced the growth of wages, in Vermont and around the country. The result has been a rise in economic inequality and the emergence of what sociologists fear is a permanent underclass, trapped by generational poverty.
"It's very hard to get ahead when you're getting going at a different starting line in life than others," said state Assistant Attorney General Christopher Curtis, who spent a decade fighting poverty at Vermont Legal Aid.
As Vermont grappled with the economic downturn, attention to the Child Poverty Council waned. Though required by statute to meet six times a year and update its recommendations annually, the panel was largely abandoned in the early 2010s. And while it has been rejuvenated in recent years, few lawmakers seem to remember the commitment Vermont made.
In interviews this month, the state's most powerful politicians — Gov. Phil Scott, Senate President Pro Tempore Tim Ashe (D/P-Chittenden) and House Speaker Mitzi Johnson (D-South Hero) — each expressed ignorance of the half-in-10 pledge.
"I don't think anyone but the authors remember that specific goal," Ashe said.
Though the state never engaged in the war on poverty described in the 2007 bill, it continued to do what it had always done: take incremental, ad hoc steps to support the poor. In recent years, lawmakers have expanded health insurance coverage, raised the minimum wage, increased childcare subsidies and enhanced welfare benefits.
To be sure, Vermont is doing better than most states. Its child poverty rate is tied for the third lowest in the nation. And the Annie E. Casey Foundation's 2017 Kids Count report, which measures 16 indicators of child well-being, found that young people were better off only in New Hampshire and Massachusetts.
That's cold comfort to Vermonters such as Duncan.
Ten years ago, when she addressed the Child Poverty Council, Duncan was beginning to feel "more self-sufficient," she recalled last week. But a few years later, she started falling behind on mortgage payments after her failure to keep up on paperwork cost her a federal housing subsidy. Duncan lost her Main Street home in 2014 — the same year a disability put her out of work.
Now suffering from arthritis and diabetes, the 55-year-old woman is trying to survive on $933 a month in Social Security disability payments, $825 of which goes to rent. She can no longer afford a car and relies on a nephew to drive her to the grocery store once a month.
"Life's been throwing punches that I just can't seem to dodge," she said.
Duncan worries most about her three grown children, now 24, 22 and 20 years old. Only the oldest enrolled in college, and he lasted there just a year. The youngest was still in high school when foreclosure forced them into a crowded two-bedroom apartment. She wonders whether they will escape the poverty cycle she could not.
Because her new apartment is barely a block from her old home, Duncan has trouble forgetting what she lost.
"You drive by and see it and think: How come?" she said. "But it is what it is."
Target Practice
Childhood Poverty in Vermont by County, 2015
Source: American Community Survey, U.S. Census Bureau
Andrea Suozzo
In 1999, prime minister Tony Blair pledged to cut child poverty in half in Great Britain over the next decade and eradicate it completely by 2020. The idea soon crossed the Atlantic, and, in 2005, Connecticut set its own half-in-10 goal.
To Jodie Levin-Epstein, then the deputy director of the Washington, D.C.-based Center for Law and Social Policy, such targets made perfect sense for states.
"How do you know what you're accomplishing unless you set yourself some kind of goal?" she said. "This is what metrics do for us. They help us see how far we've gotten and how far we've got to go."
Levin-Epstein worked with Finn, Racine and Rep. Ann Pugh (D-South Burlington) to bring the concept to Vermont. Robin Lunge, then a legislative lawyer, helped draft the bill, S.177, and staffed the council it created.
"I don't think people were particularly thinking, Is this a realistic goal? or anything like that," recalled Lunge, who now serves on the health care-regulating Green Mountain Care Board. "It was more like, How do we get attention focused on these issues?"
Unlike similar state commissions created in Delaware, Minnesota and Oregon, Vermont's called on its members — six legislators, four cabinet members and four advocates — to visit every county in search of ideas. By staying "away from Montpelier," Pugh explained in a contemporaneous report, "we could hear directly from people who never could get to the capital."
The tour resulted in something just as important: coaxing the stigma of poverty out of the shadows — if only for an evening.
At a November 2007 stop in Middlebury, council members heard from a 16-year-old girl who recalled bringing a can of corn to school in second grade to help fill a box for a family in need of a Christmas dinner.
"My class colored the box to look like a present, and we talked about how bad it must suck to have other people buy your food for you," she told the council. "That night, when I went home, the box was sitting on my kitchen table ... I felt like a dirtbag."
The girl's story, Racine said earlier this month, "still can bring tears to my eyes."
It's not unique. According to the state Department for Children and Families, more than 26,000 children receive assistance every month through the 3SquaresVT food stamp program. More than 44 percent of Vermont's children were eligible for free or reduced-price lunches last school year, according to the state Agency of Education.
Last week, at the Northeast Kingdom Community Action Agency's St. Johnsbury outpost, a 27-year-old woman who identified herself only as Jessie said she knows what it's like to eat on a budget.
"I've been living off of cans of SpaghettiOs and hot dogs my entire life," she said. "Growing up, you'd see kids at school when they would have nice-looking backpacks or just nice clothes in general. We would get hand-me-downs a lot."
Neither Jessie nor her high school sweetheart, Justin, has been able to hold down jobs. So, like Jessie's mother did, they are raising children on welfare: their 9- and 6-year-old boys.
"My son's been playing baseball for the last four years," said Jessie, who has never left this faded manufacturing town near the New Hampshire border. "I was able to afford it when I was working, for the most part. But now that I'm broke, I'm not going to be able to afford to keep going with that."
She added emphatically, "I want my kids to be able to take part in stuff like that."
For Emily Raymond, it's the "bigger-ticket items," such as summer vacations, that she would like to provide her four children, who range in age from 5 to 15. "But," the 42-year-old single mother said, "it makes the treats you have more meaningful — like ordering a pizza or going out for creemees."
With the help of the Reach Up welfare program, which provides cash assistance to poverty-stricken parents, as well as 3SquaresVT, Social Security and Section 8 housing, Raymond can house and feed her family — but not much more than that.
"The kids know we're poor, and they know we can't say yes to everything," said Raymond, who suffers mental disabilities that keep her from working. "It's tough when other kids get things they can't have or do things they can't do, but I feel my kids are humble and grateful — two values that are important to this family, anyway."
Edge of a Cliff
Matthew Thorsen
Left to right: Dennis, Melody and Derek Read
On the evening of her first birthday, on August 9, Melody Read perched in a high chair in her St. Albans home, wearing a pink dress, purple socks and a paper crown. Her 2.5-year-old brother, Derek, played on the floor in front of her with a pink castle his sister had just received.
"It's been a long couple weeks," their mother, Jerica, said with a sigh. Their father, Dennis, sat beside his wife on a white pleather couch in a corner of their lightly furnished living room. He explained that he had been working long hours at a local information technology company and that a bug had been keeping Derek home from daycare. The family owns one car and Jerica doesn't have a license, so she had been stranded with the kids in their two-bedroom apartment a mile from the closest convenience store.
"It's OK," said Jerica, whose chronic depression and anxiety have kept her out of the workforce for years. "With Melody getting all the attention, Derek could use the quality time."
The Reads have never loved their cramped quarters on the ground floor of a seven-unit apartment complex, but they are grateful to have a place of their own. For much of their eight-year relationship — including through both of Jerica's pregnancies — their inconstant employment at low-wage jobs had left them homeless. The two 28-year-olds have slept in a parent's basement, at a friend's house, on a boss' porch, in a drab motel, in their car and in a homeless shelter. When Jerica was pregnant with Melody, they crashed in a crumbling apartment with lead paint, exposed wiring and the persistent smell of home heating oil.
"It was just terrible," Jerica recalled. "I think this might be part of the reason [Derek] didn't walk until he was 18 months — because I never let him be mobile."
As his parents described their circumstances, Derek chirped away in a language only they could understand. "'Look at my Play-Doh,'" his mother translated for him. "'I'm going to make and roll my Play-Doh.'"
"Derek, are you being silly?" asked his father, a big-bellied man with dark hair and gray in his beard.
The boy, dressed in black shorts and a red T-shirt with the words "ALL-STAR, ALL-DAY" emblazoned in white, kept grinning and chirping.
"I'm not sure what that was," Jerica said.
"Sometimes not even we can translate," Dennis said.
In January 2016, the Reads' fortunes began to improve. A job shadow mandated by the Reach Up program turned into part-time work for Dennis at the IT firm. A year later, it became a full-time gig, fixing computers and networks in this northwestern Vermont city. Earning the state minimum wage of $10 an hour, Dennis expects to make $19,600 this year. Between that, food stamps, childcare subsidies and a state program that covers all but 30 percent of their rent, the family is making it work.
"I mean, I make enough to cover the bills and get these guys some things occasionally, but that's about it," Dennis said.
In recent months, Dennis' boss had been talking about giving him a raise, but the St. Albans dad wasn't sure he wanted it. Even a slight bump in income could push the Reads over the income thresholds for food stamps and cash assistance, disqualifying them from the programs. Dennis and his boss also discussed deferring the raise and then making up for it with a bigger one down the road.
"We've sort of had to play a math game to give me a raise without costing me a place to live or food on the table," Dennis said.
That paradox — known as the "benefits cliff" because families fall off it when their incomes rise — became a key concern of the Child Poverty Council as it toured the state in 2007.
"I think the thing that was most compelling to me out of all of that work was when someone gets into poverty, the system always traps them," Racine said. "The difficulties of getting out are almost insurmountable."
In January 2009, the council issued its first comprehensive report. It identified 12 themes from the public hearings and made 47 recommendations. Some were vague: "State government will bring the community together to share and develop best practices at the community level." And some were vast: "State government will prioritize energy affordability issues and continue to strive to find long-term affordable energy strategies."
To address what it called the "perverse disincentive" of the benefits cliff, the council called on the state to "encourage a rational economic progression from reliance on benefits to financial self-sufficiency."
In the years since, according to Paul Dragon of the Agency of Human Services, the state has endeavored to do just that. It has raised eligibility thresholds for those receiving food stamps and home-heating assistance, expanded childcare subsidies, and extended the duration of cash-assistance programs.
"All of these things together have helped," Dragon said. "I don't want to create a euphemism here, but it is really more of a slope than a cliff. We've done quite a bit in terms of leveling things off."
To Dennis Read, it doesn't feel that way.
"The whole point of the state system is to help you get off the state system," he said. "But working 40 hours a week leaves me with $475 [a month] left in my pocket for electric, food, clothes, diapers and everything else. Clearly, that doesn't work, which is why the state still needs to help me out."
Still, Dennis said, hoisting Derek over his shoulder, "I've done pretty good for myself, considering that I started smoking cigarettes at 8 and I spent plenty of time on the streets." He said he grew up in a broken home, and his father "beat the crap out of [him] every night."
Dennis held his son in the air. "Now I've got this awesome family: my son, my daughter, my wife ... I don't have much money to my name, but at the very least we can live comfortably. And I can try to teach my kids what I can teach them. And I can raise them up and, hopefully, they'll end up doing better than I did."
Dennis paused.
"And that's the main goal, right?" he said. "Always the hope that your kids do better than you do."
Taking Credits
It didn't take long for the Child Poverty Council to run out of steam.
In 2010, Racine left the Senate — and the chairmanship of the council — to run, unsuccessfully, for governor. The victor in that race, fellow Democrat Peter Shumlin, appointed Racine secretary of the Agency of Human Services, a position with broad authority over the state's social safety net.
But fighting poverty was never a top priority for the Shumlin administration. Other crises took precedence: recovering from Tropical Storm Irene, launching the troubled Vermont Health Connect insurance marketplace and, most of all, addressing the lingering effects of the Great Recession.
"I would say there was kind of a lull in the middle," Finn said, referring to the council's work. "When the recession really hit hard, it just made it much more challenging to focus on reducing poverty."
States can do a lot to pull children out of poverty, according to Annie E. Casey Foundation associate director Laura Speer, but less so in the face of a global economic downturn. Of the factors driving child poverty, Speer noted, "One of the big ones is the unemployment rate."
From May 2005 to May 2009, the number of Vermonters seeking work more than doubled, from 3.4 percent to 7 percent. The unemployment rate wouldn't drop below 4 percent for another five years.
Kashka Orlow was living in Nevada and working as a business consultant when Wall Street imploded. "Within four or five months, the company closed their office in Vegas, and it became a ghost town," she recalled.
Orlow, who was born in Poland, relocated in late 2008 to Burlington, where her parents were living. She struggled to find a job in Vermont while taking care of her 2-year-old and 1-month-old girls. "How do you do that if you can't put them in daycare because daycare is unaffordable?" asked Orlow, whose partner was deported. "What do you do when your kids get sick?"
Matthew Thorsen
Left to right: Emma, Kada and Kashka Orlow with their dog, Lola
Now 43 years old, the Loyola University business major makes roughly $12,000 a year working part-time jobs. She otherwise relies on $300 worth of food stamps every month — and free school lunches — to feed her kids, who are 11 and 9.
Orlow still hasn't gotten her career back on track. "You feel like a gerbil," she said. "I'm that horse trying to get out of that gate. But it's always like, 'Mommy! Mommy! I'm sick!'"
As AHS secretary, Racine sought to make childcare more affordable for low-income parents such as Orlow. At his recommendation, Shumlin proposed pumping $17 million into childcare subsidies in January 2013.
"I became convinced that dealing with the benefit cliff was the most important thing we could do — and the biggest component of the benefit cliff was childcare," Racine said. "Until we solved that one, we were not going to really help kids deal with the impacts of poverty."
The plan faced immediate resistance from some of Racine's closest allies. The administration had decided to finance it not with new revenue but by cutting $17 million from the Earned Income Tax Credit, which provided an annual boost to 44,000 of Vermont's working poor. Just a few years earlier, the Child Poverty Council Racine had chaired had hailed the state's generous match to the federal EITC and recommended expanding it.
"[It] is one of the nation's — and Vermont's — most successful anti-poverty programs and raises many families' incomes above the poverty level," the council wrote in its 2009 report.
Adding insult to injury, Shumlin soon proposed saving $6 million by placing time limits on Reach Up.
Racine spent much of that winter defending the plans to skeptical former colleagues in Statehouse committee rooms. In a tight budget, he argued, expanding childcare subsidies would provide "a bigger bang for the buck" than retaining the full tax credit.
"Their solution was always, 'Tell the governor to raise taxes on higher-income people,'" Racine recalled, referring to some anti-poverty advocates. "Well, Peter Shumlin was not going to raise taxes on rich people. Period. End of story."
By the end of the legislative session, both the EITC and Reach Up plans were dead.
'Above and Beyond'
After moving to Vermont last September, the only work Jeanne Abapendane could find was a night shift at Twincraft Skincare, a mile from her Winooski home.
It was a draining job, and it kept her from her two young boys, who were cared for by their grandmother. But Abapendane was not about to complain. Compared to the 17 years she had spent in a Tanzanian refugee camp, life in the Onion City was a vast improvement for the Congo native.
"In the camp it was very, very difficult," Abapendane said earlier this month, speaking in Swahili through an interpreter in her Malletts Bay Avenue apartment. "You don't have a job. You don't have food. Everything was very, very hard. But here, if you have a job, you can have food. You can have everything you want."
Two months earlier, Abapendane had landed a daytime housekeeping gig at a Burlington hotel. She earns $11.30 an hour, but much of that goes to her unsubsidized $900 rent.
"It's not enough," she said. "I just pay for the house."
The 31-year-old single mother sat quietly in her sweltering living room, hands folded in her lap. She wore a bright blue dress with yellow and red accents and a turquoise headband in her short hair. Five-year-old Tumba and 2.5-year-old Salumu played with cardboard books, pushing them across couches and tables as if they were toy cars.
Abapendane said she hoped one day to learn English — and then, perhaps, study nursing. In the meantime, she would have to rely on translators to help her trudge up the mountains of paperwork required of those seeking assistance.
"I'm trying. I'm doing my best," she said. "I'm hoping things are going to get better — that I'm not stuck."
Poverty is not an equal-opportunity affliction. In Vermont, New Americans such as Abapendane are more likely to experience it, as are people of color and those who live in the state's rural reaches.
According to 2015 Census data, 21 percent of African Americans and Asian Americans in Vermont live in poverty, while only 9.7 percent of whites do.
In the southern Vermont counties of Rutland, Bennington and Windham, the child poverty rate for all races ranges from 17 to 18 percent, compared to 10.2 percent in more populous Chittenden County. The highest rates belong to the Northeast Kingdom counties of Orleans and Essex: 20 and 22.8 percent, respectively.
Joe Patrissi, who has run the Northeast Kingdom Community Action Agency since 2010, isn't optimistic about economic conditions in his hardscrabble region.
"I don't see things going in the right direction," he said. "Housing costs are not going down. Transportation costs are not going down. Childcare is hard to get. The demand for our food shelves continues to grow."
Vermont Foodbank spokeswoman Nicole Whalen said her organization sees the same growing need throughout the state. A 2014 study of the nonprofit's operations found that food shelves in its network served 153,000 people a year, including 33,900 children. That was up from 2010, when a similar study found just 86,000 people patronizing Vermont's food shelves.
"The need only continues to increase," Whalen said. "We're not seeing fewer people coming in to these pantries and food shelves."
Opiate addiction, which went entirely unmentioned in the Child Poverty Council's 2009 report, has also grown in the years since it was published. That increase has strained the Department for Children and Families, which has seen a spike in complaints against parents struggling with addiction, according to Commissioner Ken Schatz. From 2013 to 2015, the number of children in state custody jumped from 982 to 1,370.
"Addiction doesn't know class, so it can happen to anyone," said Curtis, the assistant attorney general. "That said, for very low-income people that don't have access to the kinds of supports that might otherwise be available to them, it does exacerbate problems and conditions of poverty."
Keshia Watts has seen it all. The 37-year-old Florida native has lost children to state custody due to drug addiction and homelessness. She's spent time in prison on theft and motor vehicle charges, all related to her crack cocaine addiction.
"I've been through so much in life, the word 'poverty' is overrated to me right now," she told a group of five other women seated around plastic folding tables last week at NEKCA's St. Johnsbury parent-child center.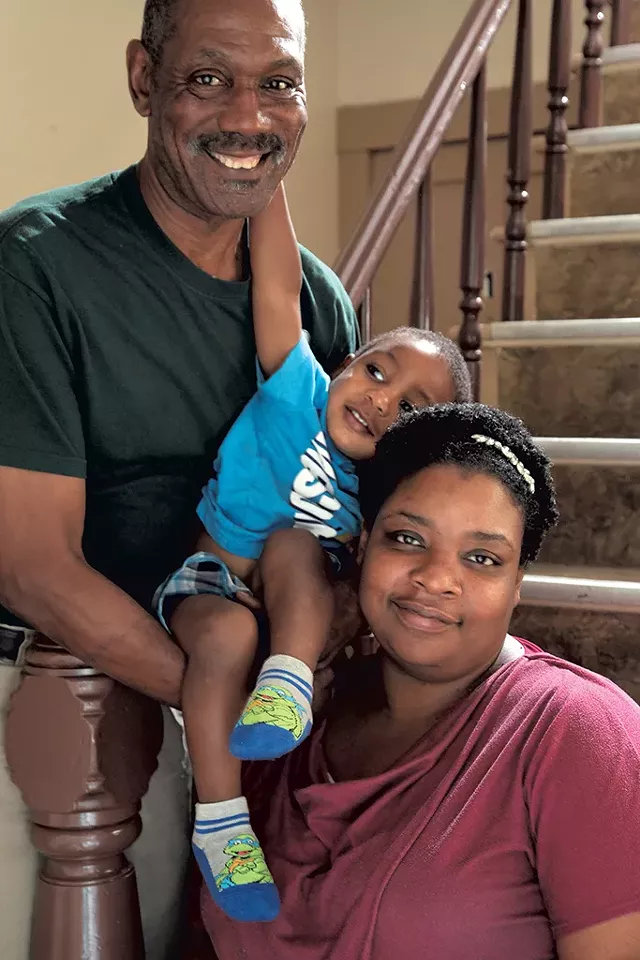 Matthew Thorsen
Left to right: Jerry, John and Keshia Watts
The women, all Reach Up participants, traded stories about abusive partners, lead-painted and spider-infested housing, and encounters with DCF. They took turns holding Leo, the 2-month-old son of Lizzy Reed, a disabled personal care attendant who said she had put an older daughter up for adoption to protect her from abuse.
When Leo was 36 hours old, Reed said, state officials had him taken from her hospital room, citing concerns about drugs, housing and her proximity to sex offenders.
"To put it nicely, that was hellish," she said. "I felt like they kidnapped my son."
Though several of the women described clashes with authorities, they all expressed a certain fondness for Vermont — and its generosity toward those in need.
"I ain't never seen so many people come together and want to help you. I don't have no problem getting help here," Watts said. "If they see you trying to help yourself, people don't mind going above and beyond to help you."
An Existential Question
Ten members of the Child Poverty Council showed up at the Statehouse last Tuesday morning for one of its final meetings before its authorization expires. After a years-long hiatus, the council had been revived in the wake of Shumlin's 2013 attempt to cut EITC and Reach Up funding. But by now, just two of its original members remain.
The impact of the turnover was apparent.
"While I've served on the committee for three years, I was unaware of this report's existence before our last meeting," Deputy Secretary of Education Amy Fowler complained, referring to the panel's 2009 recommendations. "When I joined the Vermont Child Poverty Council, I was told that our goal was to reduce the impact of poverty for children in the state of Vermont."
Even members of the panel, it seemed, weren't aware that its charge had been to cut poverty in half — and that its deadline to do so had passed seven weeks earlier.
Council members proceeded to reprise a familiar debate: What, they wondered, was the best way to measure child poverty? One hundred percent of the federal poverty level? Two hundred? Perhaps an alternative metric?
Later, the council's new chair, Rep. Diane Lanpher (D-Vergennes), reminded her colleagues that the panel's mandate would end in June 2018. "Should we [continue to] exist?" she asked. "And, if we should, how should it look different going forward?"
House Majority Leader Jill Krowinski (D-Burlington), who preceded Lanpher as the council's chair, sees value in extending its life — even if the panel failed to meet its original goal.
"Poverty falls into so many different policy areas across the legislature, and I think it's really helpful to have a group of people come together to take a high-level view of what's working and what's not," she said.
The council, Krowinski added, could be an important voice in looming debates over paid family leave and a higher minimum wage — two anti-poverty measures that are likely to dominate the 2018 legislative session.
Having failed to cut child poverty in half by 2017, should Vermont try again for 2027? Levin-Epstein, the policy analyst who pushed the state to set such a target in the first place, isn't so sure.
"I think setting a goal for the sake of setting a goal is not useful," said Levin-Epstein, who has since left the Center for Law and Social Policy.
Rather, she said, Vermont should "take a moment to celebrate" what it has accomplished and perform "a hard assessment of what worked and what didn't."
Racine, who left state government in 2014, said he's not sure whether the goal he helped set for Vermont was ever really possible to achieve.
"That's not an easy question to answer," he said. "It was aspirational, certainly. It was something that we who put this together thought was possible. But it was something that, as time went on, seemed more difficult to do."
Still, Racine argued, it was worth trying.
"I believe that the focus on poverty that the council provided, even if it was only for a couple short years, had an impact on what was happening for children in poverty in Vermont," he said.
*Sources: Vermont Department for Children and Families, Vermont Agency of Education, U.S. Census Bureau American Community Survey