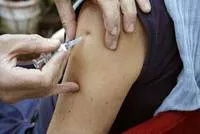 WASHINGTON, D.C. — A national vaccine watchdog group has issued a warning about a possible side effect of the new Human Papilloma Virus vaccine, Gardasil, especially when it's administered simultaneously with the meningitis vaccine known as Menactra. The warning came just a day after the Vermont Department of Health proposed new vaccination rules for all incoming students, including one that would require all first-year college students living in dormitories to be immunized against meningitis.
The warning, released by the National Vaccine Information Center (NVIC) — a Virginia-based nonprofit group — claims there is a "statistically significant increased risk" of Guillain-Barré (pronounced "ghee-YAN bah-RAY") Syndrome when Gardasil is co-administered with the meningitis vaccine and/or other vaccines. GBS is a rare condition in which the body's immune system attacks part of the peripheral nervous system. In severe cases, it can cause total paralysis.
The NVIC looked at statistics from a federal database that gathers information on adverse effects from vaccines. It found that the combination of the two vaccines could result in a "two to 12 times greater likelihood" of acquiring GBS than when each vaccine is received individually. Vicky Debold, NVIC's director of patient safety, claims at least 15 suspected or confirmed cases of GBS have been related to the Gardasil shot. "These findings are statistically significant and cannot be dismissed as coincidence," she adds.
Gardasil, which was approved by the U.S. Food and Drug Administration in June 2006, protects women against two strains of the human papilloma virus that cause 70 percent of all cervical cancer cases, as well as two other strains that cause genital warts. Cervical cancer rates in Vermont are significantly higher than the national average; the disease afflicts about 31 Vermont women per year and claims the lives of about 10 of them annually, according to the Vermont Department of Health (VDH).
Gardasil generated a lot of controversy earlier this year when at least 20 states, including Vermont, introduced legislation to mandate it for all school-aged girls. Cultural conservatives objected to those bills, suggesting that issuing the vaccine could promote sexual promiscuity among teens, since HPV is sexually transmitted. Meanwhile, critics of the pharmaceutical industry objected that the vaccine's manufacturer, Merck, had funded the lawmakers' group Women in Government, some of whose members sponsored those bills. Vermont's HPV vaccine-mandate bill never made it out of committee.
Both the VDH and the U.S. Centers for Disease Control and Prevention caution against drawing unfounded conclusions from the NVIC report. Neither organization plans to amend its endorsement of Gardasil as a safe and effective defense against the cancer-causing virus. In March, the CDC recommended girls and women ages 9 to 26 get inoculated.
"We recognize that this is a very good vaccine," says Dr. Cort Lohff, a VDH epidemiologist. "We certainly encourage its use among women who are eligible for it." According to Lohff, Vermont received more than $1 million in federal funds this year to pay for at least 12,000 doses of the vaccine, which are being administered to uninsured and underinsured girls ages 9 to 18. Thus far, no cases of vaccine-related GBS have been reported in Vermont.
A CDC spokesperson challenges the NVIC's findings and asserts that the incidence of GBS in its study is no greater than the "background rate" researchers would expect to find randomly in the population. Curtis Allen, a spokesperson for the CDC in Atlanta, points out that the NVIC warning was based on data from the federal Vaccine Adverse Event Reporting System. He says that data is not always statistically reliable, since a single incident can be reported by multiple sources.
That said, Allen admits the CDC is looking into the meningitis vaccine as a possible "confounding factor" for increasing the risk of GBS. "But even if there is that risk, you have to weigh the risk of the vaccine versus the risk of the disease," Allen notes. "Meningitis is rare, but the outcome is often not good."