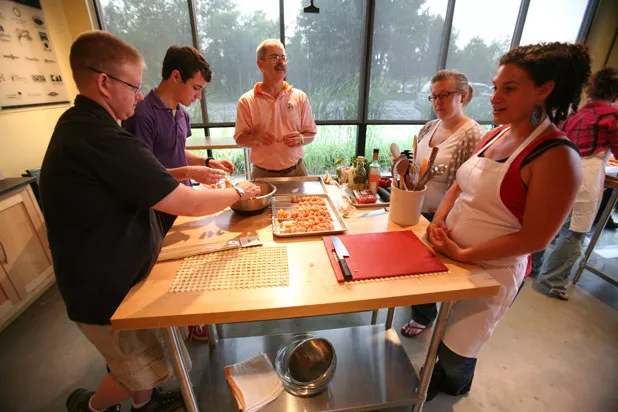 Corey Perry and Wyatt Peck help fix a salad during a class at Healthy Living
Corey Perry sat tall at the counter in the Healthy Living test kitchen, staring at a pile of gleaming chef's knives. He had never used such fancy cooking utensils before.
"Are we really gonna use those knives?" he asked, his voice quavering with enthusiasm.
"Yep," said cooking instructor Nina Lesser-Goldsmith as she handed him one of the stainless-steel blades.
"Really?" said Perry.
A smile widened across the 20-year-old's face as he ran his finger across the knife's edge and listened to the blade sing. He seemed to be thinking, This could be fun.
But before Perry and his fellow cooking students could begin cutting and dicing, they had to learn to use the knives. Most of the participants — all housemates at the single-room-occupancy (SRO) house for young adults in transition run by Burlington's Spectrum Youth & Family Services — were new to cooking. But the ultimate goal of the SRO program is to help them live successfully on their own someday. And that entails knowing how to whip up more than ramen noodles and cereal.
Lesser-Goldsmith, a French Culinary Institute-trained cook who runs the Learning Center at the South Burlington food market, held her knife up to demonstrate. With three fingers wrapped around the shaft, and her forefinger and thumb pinching the blade, Lesser-Goldsmith pushed the knife back and forth over a cutting board in a rocking movement.
"It should be a very fluid motion," she advised.
With their SRO house staff watching, the seven students mimicked Lesser-Goldsmith's cutting technique. Not quite "Iron Chef"-caliber brunoising or julienning, but good enough for basic slicing.
The students, ages 18 to 21, were invited to Healthy Living at Lesser-Goldsmith's behest to learn how to cook. Before moving to the SRO — which houses nine young adults in private rooms on Maple Street in Burlington — most of the residents were homeless or couch surfing, in state custody or in unsafe or unsupportive environments, said Bryonne Johnson, who manages Spectrum's residential program. They never acquired basic culinary skills, and most are still learning healthy ways to shop and eat. The class is the first formal training any of the residents has had in cooking.
While the class is new for Spectrum, similar programs exist around the region to help low-income Vermonters gain access to nutritional information, menu ideas, shopping tips and everyday cooking techniques. The Vermont Campaign to End Childhood Hunger has been running its Cooking for Life program since 1999, and serves at-risk youth and teens as well as low-income parents. Recently, the Center for Sustainable Agriculture at the University of Vermont partnered with Cooking for Life to increase participants' access to local foods.
Not surprisingly, local food isn't readily available to residents of the SRO. Burgers and chicken patties are prominent menu items there, as are the ubiquitous ramen noodles. Resident Wyatt Peck, whose cooking know-how is somewhat more than rudimentary thanks to a brother who went to the New England Culinary Institute, likes to make homemade pizza, pastas and shrimp scampi "when I can afford it."
Healthy Living's initial collaboration with Spectrum began last year when the market started making meals for the organization's Pearl Street drop-in center. For two months, twice a day, youth who accessed the center's services were treated to healthy lunches and dinners. Lesser-Goldsmith, who is in charge of programming at the Learning Center and admits she's more used to teaching foodies, wanted to extend the partnership by offering cooking classes to Spectrum youth.
"Usually community outreach is just food donation, but we wanted to do something where our staff could be involved with the kids," Lesser-Goldsmith said.
After getting their chopping lesson and practicing on a few potatoes, the participants cleaned their prep tables and prepared for the main event. On this night — their first in the kitchen — they would be making garlic baked chicken, lemon-rosemary chicken skewers, potato salad and a leafy green salad with homemade ranch dressing. Perhaps the menu was a little haute cuisine for folks who happily eat boxed mac 'n' cheese every night, but they seemed excited at the prospect.
The students split up into two tables — one to ready the potatoes and one to prep the chicken thighs. Perry ended up at the potato table. "I think I can do this," he said, encouraging himself out loud.
Perry, in a red polo shirt buttoned to the top, aggressively chopped his way through the pile of potatoes, trying to keep in mind what Lesser-Goldsmith said about cutting the pieces a uniform size. Every so often, he'd pause to pop a piece of raw potato in his mouth. He sometimes prefers eating vegetables raw, he said.
At the other table, Katy Lesser, owner of Healthy Living and Lesser-Goldsmith's mother, showed Kiki Laflin, 20, and Dustin Lozell, 21, how to peel garlic. With a chef's knife placed on top of a clove, Lesser smacked the blade and demonstrated how easily the outer layer comes off.
Kyle Field didn't need any instruction on how to peel garlic. He does it all the time at the SRO, where tortellini Alfredo with fresh garlic is his specialty. Like many of the young adults, Field said he isn't afraid of cooking; he just doesn't have the money, time or culinary know-how to do it regularly. Most of the residents receive 3SquaresVT benefits (formerly called food stamps) and often, Johnson said, they eat "supersized, prepackaged, dollar-menu food" because it's easy and cheap.
"Why wouldn't they do that?" she asked.
While they have access to all the kitchen appliances and utensils they need to make healthy meals for themselves, the SRO residents don't necessarily have the planning and budgeting skills it takes to prepare nutritious food. Johnson said she hopes the six-session class will help with that.
After chopping the garlic and mixing it with melted butter, Laflin spooned the mixture onto the chicken thighs. "Whoa, this is gonna be fabulous," she said. It was a welcome departure from her normal dinner of nutrient-light ramen, which she peps up with vegetables and scrambled eggs.
At the other table, the novice cooks cut up cubes of chicken for the lemon-rosemary skewers. Peck, a slender 18-year-old wearing skinny jeans and pink Vans sneakers, was in charge of the marinade. You'd never know from his confidence in the kitchen that he eats cereal — Sugar Smacks, Rice Krispies, whatever's on sale — pretty much exclusively.
Finally, after about an hour of prep work, the chicken came out of the oven and the salads were on the counter, waiting to be eaten. The seven students, plus the Spectrum staff, sat down to eat.
"The breaded chicken is really good," Lozell said.
Laflin agreed. She liked it better than the skewers. "It's got more flavor and texture to it," she said.
Perry, who seemed perfectly happy eating only raw vegetables that night, weighed in on the chicken thighs.
"It's really soft in your mouth," he said, smiling down at his full plate of homemade food. "It melts in your mouth."