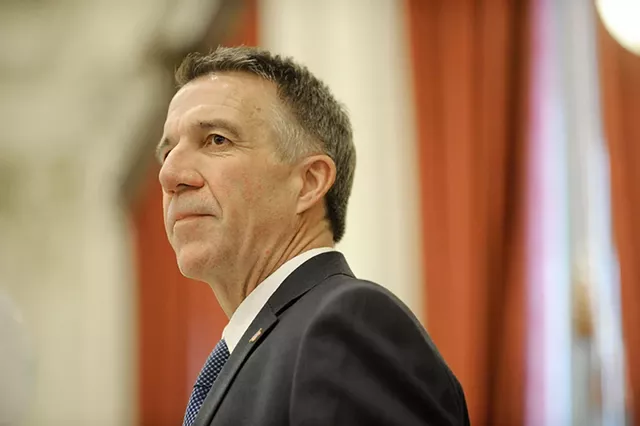 Jeb Wallace-Brodeur
Gov. Phil Scott delivers his inaugural address last Thursday at the Statehouse
At the start of an auto race, all the cars get in line and circle the track behind a pace car. As they approach the starting line, the drivers close ranks, revving their engines and jockeying for position. (Obligatory racing analogy, in honor of our new governor's favorite pastime.)
That's where we are right now in Montpelier. Republican Gov. Phil Scott delivered his inaugural address last Thursday, and, as many remarked, it was long on concepts and short on substance. To be sure, inaugural speeches are usually big and broad. But coming after Scott's substance-free campaign, it was a bit of a letdown.
"I didn't hear a blueprint," Senate President Pro Tempore Tim Ashe (D/P-Chittenden) said shortly after the speech. Seconding that emotion was House Speaker Mitzi Johnson (D-South Hero): "I would really like to see some of the details."
Some, especially Republicans, are willing to give Scott more time. But sooner or later, he'll have to run his car into the pits or rev up to racing speed.
The lack of substance appears to go far deeper than a single ceremonial speech. Scott's inaugural address included a decisive call for full-scale education reform.
"We must rethink our entire education spectrum," he said, from pre-K through college. "We must be bold, together."
Boldness is, apparently, subject to interpretation.
Asked Monday at an unrelated press conference about his call for a fundamental transformation of public education, Scott didn't even pretend to offer a plan.
"We're going to be looking at some education proposals," he said, then spoke of an "incremental" process that might take a decade or two, and concluded with, "If we can get it put together, we may have some legislation this session."
Ah, leadership.
Overall, the speech was a curious mix of vision and reticence. Scott called for action on Vermont's education system, the state budget and bureaucracy, the economy, the fight against opiate addiction, and cleaning up the state's waterways. But he also cautioned against new spending. His speech almost completely lacked concrete proposals. On reinventing state government, as on education, he called for other people to do the heavy lifting.
"I believe that our frontline employees, who directly engage with Vermonters every day, have valuable knowledge about what's working and what needs improvement," he said. "That's why I am calling for every process, every procedure, every system, every government mandate to be looked at through a new lens — theirs."
"Leadership that listens," as in the motto of his successful campaign? Or leadership that abdicates?
In his speech, Scott pointed ahead to his budget address, scheduled for January 26, as the time he would deliver some long-awaited specifics on how he will confront Vermont's many challenges.
So, yeah. Still waiting for the pace car to clear the track.
Cheeky Devil
The echoes of Scott's inauguration had barely faded last Thursday when numerous Statehouse notables left the building for a 3:30 p.m. reception hosted by incoming Democratic Attorney General T.J. Donovan. The timing seemed to confirm the universal consensus that Donovan has his eyes set on higher office.
The gathering at the Capitol Plaza Hotel & Conference Center was large and enthusiastic, and the affair continued well into the evening. Plenty of lobbyists were there, along with lawmakers of all political persuasions — from Burlington liberals to rural conservatives.
For instance, Rep. Job Tate (R-Mendon). "Quite a crowd," he recalled.
As for why an unabashed right-winger would show up for a Democrat's reception, he said he wanted to get in a word or two about his top priorities.
"Toward the end of his tenure, Bill Sorrell was really focused outward, at least on high-profile issues," Tate remarked, referring to Donovan's predecessor. "I want to see the attorney general focused on justice and law enforcement right here in the state."
With the departure of former governor Peter Shumlin and Scott's easy victory over Democratic nominee Sue Minter, there were those who wondered about the depth of talent on the left side of the spectrum. Things are turning around in a big hurry; there is no shortage of bright, energetic and probably ambitious politicos on the Democratic stage.
Donovan is, perhaps, the most conspicuous, but there's also Progressive/Democratic Lt. Gov. David Zuckerman, Johnson, Ashe and Senate Majority Leader Becca Balint (D-Windham), among others.
Not that anyone's looking ahead to 2018. Heaven forbid.
Board Count Down
Those with an interest in health care reform are expressing dismay at the depleted ranks of the Green Mountain Care Board. Its chair, Al Gobeille, has just become human services secretary; and, as Seven Days reported last week, board member Betty Rambur is resigning because she's moving out of state.
That leaves the five-member panel with a bare quorum. Restocking the GMCB will take time; a nine-member nominating board screens applications and sends a short list to the governor, who must choose from that list.
That nominating board is about to experience major turnover. The governor, House speaker and Senate president pro tem are each responsible for naming three members — and all three of those positions have just changed hands. Once the nominating board is restocked, it will take time for that panel to develop a process, screen applicants and send a list to the governor.
The GMCB is responsible for regulating health care costs in Vermont. It oversees hospital budgets, insurance rates and major investments by health care institutions. During Gobeille's tenure, the GMCB has done much to limit the rising cost of health care in Vermont.
"I'm concerned that if we don't get moving right away, we could be into March before the board is fully staffed," said Dr. Deb Richter, an advocate for single-payer health care and outgoing member of the nominating board.
Journalist and health care analyst Hamilton Davis is not as concerned about the twin vacancies as he would have been a year or two ago.
"The board has two jobs," he explained. "It's a health care regulator, and it oversees the restructuring of the delivery system to get a sustainable grip on costs."
The GMCB, he says, has done its work on the latter. And while he affirms that regulation is a big job, it's not as critical as the restructuring. He does hope to see a new board chair who can match the heft of its outgoing leader.
"Al Gobeille was basically the board, not just the chair," Davis noted. "The question will be finding a successor who deals with the legislature and the press, who gets a deal done with OneCare Vermont." That's the accountable care organization that encompasses the bulk of health care providers in the state.
Asked Monday what he was looking for in prospective GMCB members, the new governor was vague. "We want somebody as a chair that understands the process," Scott said. "We're going to take a look at those who are already on the board. As well, I'd like to see maybe a physician."
Media Notes
The diminished state of Vermont's political press corps was on display last Thursday at Scott's inauguration, where the House's compact press gallery wasn't even filled to capacity. Reporters spent hours worrying whether we'd get seats, and — sad to say — it wasn't a problem at all.
The Associated Press is down a man, thanks to its recent layoff of veteran scribe Dave Gram, who'd served the newswire's Montpelier bureau for 31 years. He's a highly respected journalist who knew the beat inside and out — and knew how to translate it for casual readers. Only a few days after Gram was given the boot, the AP posted an advertisement for a temporary reporter to cover his beat for the next three months.
Sheesh. Just spit on the grave, why don'tcha?
Given the number of underemployed journalists kicking around these days, the AP will probably find a capable temp. But, c'mon, you couldn't put off Gram's termination until after adjournment? Let him have a victory lap? Congrats on saving a few bucks.
The Burlington Free Press, for its part, covered inaugural week with a contingent of precisely one: April McCullum. It was a sad comedown for what was once the dominant press voice in Vermont.
During the 2016 session, McCullum and Jess Aloe covered the Statehouse, but Aloe was nowhere to be seen last week. When asked for comment by email, Free Press executive editor Denis Finley explained, "Jess's assignment last year was temporary. She's covering Burlington now. April is our primary statehouse reporter."
Translation: their only Statehouse reporter.
Meanwhile, VTDigger.org political reporter Jasper Craven was making his way to Washington, D.C., where he will spend the first one hundred days of Donald Trump's presidency.
"My main job is to focus on policy changes that might affect Vermont," he said by phone from inside the Beltway.
Craven's early impressions? "It's overwhelming," he said. "So much is happening in this town. And, unlike in Montpelier, it's not all under one roof."
Craven is bunking with Jackson Ellis, son of prominent Montpelier lobbyist Kevin Ellis, a member of Digger's board. Jackson has a spare room he rents on Airbnb; it is now serving as Craven's home away from home.
Last week, he took the subway under the U.S. Capitol and, lo and behold, who was along for the ride? Bernie Sanders, our beloved junior senator. The proximity paid no dividends, as Craven tweeted: "Ran into @SenSanders on train to the Capitol, was told I couldn't have a minute to ask about his role in fighting back against ACA repeal."
Yeah, well, Sanders is a transcendent figure who cannot be confined by mere geography. He didn't have a minute for Craven, but he made time later that same day for NBC's Chuck Todd, a member of the corporate-owned chattering class that Sanders so often lambasted during his presidential campaign.
That en route encounter is reflected in Craven's other interactions with Team Sanders. "Bernie's people have not been easy to get in touch with," he said. "Sen. [Patrick] Leahy and Congressman [Peter] Welch have been more helpful."
Finally, a shout-out to Ernie Farrar, one-third of "Charlie + Ernie + Lisa in the Morning!" on Burlington's WVMT. On Monday, Farrar celebrated his 50th anniversary with the radio station — a remarkable milestone in a notoriously fickle line of work — with guest appearances by Scott, former governor Jim Douglas and past employees of the station.
Farrar recalled Tuesday that when he gave notice to his previous employer, he was warned, "Don't go to WVMT! You won't last a year!" Joke's on them.
I didn't even bother to ask if the 73-year-old Farrar was thinking about retirement.
"I love getting up in the morning," he said. "I even get up early on weekends." And he loves the chemistry of the morning crew. "Charlie and I have been together about 20 years, and Lisa's been with us seven or eight years. You build up that chemistry, you don't want to leave it."
Disclosure: Hamilton Davis is the husband of Seven Days political editor Candace Page. Tim Ashe is the domestic partner of Seven Days publisher and ceditor Paula Routly. Find our conflict-of-interest policy here: sevendaysvt.com/disclosure.