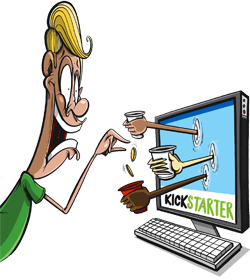 It started so innocently. In November 2010, one of our colleagues forwarded a Front Porch Forum posting from Mark Krawczyk of Burlington Permaculture, who was raising money to publish a book — "the first North American manual on coppice agroforestry" — using a website called Kickstarter. Donating small amounts was easy, but there was a catch: The authors had to hit their goal of $5000 in pledges by December 10 or they'd get nothing. Was this new e-fundraising model worth a story?
We'd never heard of Kickstarter, but we soon learned the site was launched by five friends in early 2009 to "gather a million mini-Medicis on the Web," in the words of an Inc. article. Starting a Kickstarter campaign is free, but campaigns can last no more than 60 days. When a goal is met, Kickstarter collects 5 percent of the proceeds. (Amazon grabs another 3 to 5 percent for credit-card processing.)
We were intrigued by the possibilities, especially when we received a second Kickstarter appeal, from Burlington playwright and filmmaker James Lantz. And we learned that Kickstarter is no sure thing: Krawczyk's campaign exceeded its target, while Lantz's fell short. (He'd have more luck with later campaigns; see sidebar.)
Soon the trickle of Kickstarter appeals in our inbox swelled to a flood. A band was recording an EP. A cabaret group was funding its trip to the Edinburgh Fringe Festival. A snow-sculpting team needed tools. A performance artist was transforming himself into a Japanese movie monster.
And that was just in Burlington. In its listings by city, kickstarter.com includes nearly 80 past and current Vermont-based campaigns, including seven in tiny Johnson alone. Googling brings up even more Vermont appeals. In Windsor, people pledged more than $10,000 to a multimedia historical commemoration. In Townshend, you can support an organic pizza farmstand. Back in Burlington, you have until this Friday to fund the production of a multiplayer role-playing video game called Aura Tactics.
Everybody seems to be Kickstarting, and crafting heartfelt video appeals and ingenious "rewards" for donors at each pledge level.
Alex Dostie of Burlington, a successful Kickstarter (see sidebar), points out that big investors are leery of creative projects in today's economy, and smaller donations tend to go to "established" organizations. "This is where Kickstarter steps in: a purely democratic form of group investment which makes it possible for new ideas to solicit financial donations on a global level," he writes in an email. "Artists can literally build budgets for their projects $5 at a time."
While we love to see money flowing to creative folks, we confess we've developed a bit of Kickstarter fatigue. Sometimes we find ourselves fantasizing about projects we'd like to pitch, wondering just how pie-in-the-sky we could make them.
Here are three of the campaigns our fevered imaginations produced. We didn't have space to include our ambitious project to convert global-warming-beleaguered cross-country-ski areas into Hunger Games-inspired paintball courses where you can drop the kids off for a character-building weekend. Imagine that.
Campaign 1: Bail Out Burlington Telecom by Giving It a Hit Show
Goal: $500,000 (for season one)
Sure, we'd like to raise $33 million to stop lender Citibank from repossessing our municipal telecom network, but we're not that delusional. Besides, Queen City taxpayers have already contributed to the BT cause. So here's our modest proposal: We'll hire some talent to craft a weekly TV comedy that does for Burlington what "Portlandia" does for Portland, Ore.
It shouldn't be hard, right? We've got quirk and whimsy to spare in the Queen City. We've got people who put birds on things, aggressive cyclists, bourgeois bohemians and obsessive locavores. They'll play themselves. With national distribution via PBS, sale to a cable network or product-placement deals, we'll get the money rolling in. Sit tight, Citibank!
Sample rewards:
Pledge $5 or more: A bumper sticker that says something rude about Comcast.
Pledge $25 or more: A DVD of season one.
Pledge $10,000 or more: We'll base a character on you. Sit down with us at Radio Bean and tell us what's "Burlington" about you, and our writers will get to work!
Pledge $100,000 or more: You will play the city's ultra-cool mayor!
Campaign 2: Turn the Moran Plant Into Burlington's Alamo Drafthouse
Goal: $30 million
Redevelopment plans for the Moran Plant were approved in 2008, yet there it sits, a hulking eyesore on Burlington's waterfront. With any luck, the Community Sailing Center and Scottish company the Ice Factor will eventually move in, but who'll buy the rest of the space?
Help us turn it into something the Queen City sorely needs: a theater where plaid-shirted hipsters can swill local brews and make snarky comments about bad '80s movies. Like the original Alamo Drafthouse in Austin, Texas, our multiplex will show second-run and repertory films, serve creative food and drink and encourage rowdy audience participation. Wouldn't a The Big Lebowski "quote-along" be the perfect way to recreate after a hard day of sailing and ice climbing?
Sample rewards:
Pledge $20 or more: A pint and a program guide.
Pledge $100,000 or more: We'll build a week of programming around your favorite movie, especially if it's Leprechaun in the Hood.
Pledge $1 million or more: You'll get to emcee, alongside Rusty DeWees, our monthly showcase of "Movies Set in Vermont That Were Actually Filmed in Massachusetts or North Carolina."
Campaign 3: Put Burlington (or Montpelier or White River Junction) in Record Books as the World's Most Kickstarter-Saturated City
Goal: $10,000
When you read yet another Kickstarter appeal, do you wonder if anyone in your town isn't collecting for their EP/performance piece/scrapbook? Ah, how little you know. Those who don't use Kickstarter are still many, and they may not feel any impulse to donate to those who do.
Accordingly, we will organize a door-to-door educational campaign to get every resident up and running on Kickstarter. We'll pay college students to staff information booths at fairs and farmers markets. We will overcome Joe Average's fear of "arty stuff" and show him how easy it is to create a Kickstarter campaign to fund a custom case for his collection of hockey memorabilia. He may not get the money, but, hey, he'll have tried.
Sample reward:
Pledge $20 or more: A professionally designed graphic with which to respond to future Kickstarter appeals. It says, "Hey, man, I support your creativity, but I'm flat broke."