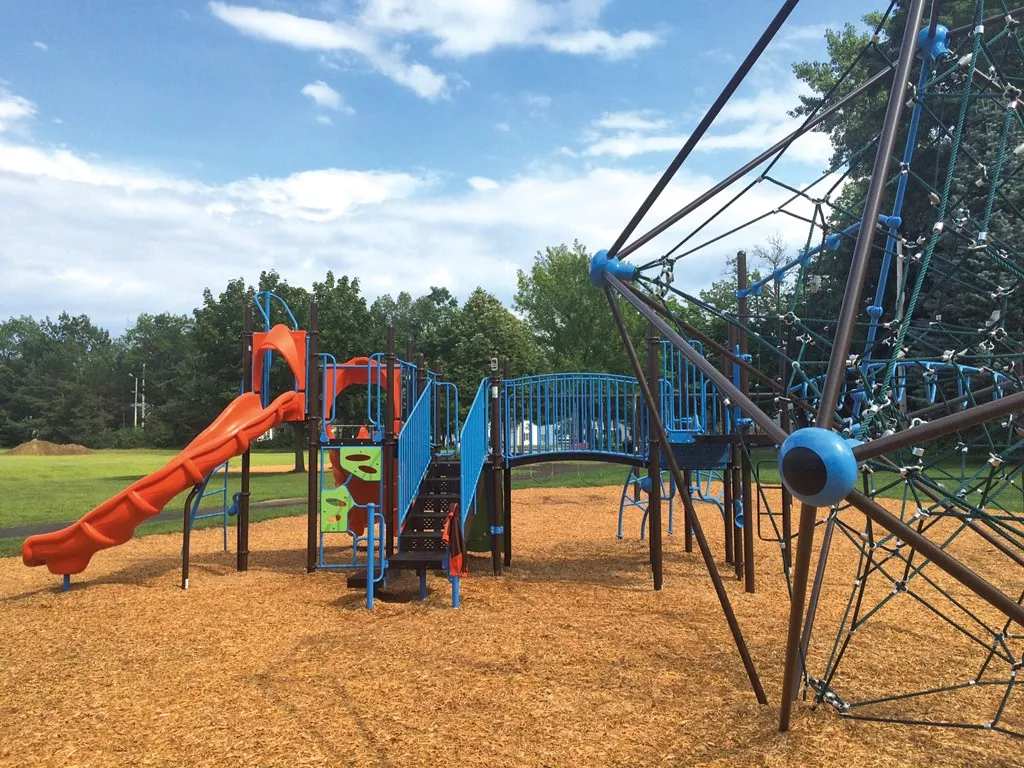 Residents of Burlington's New North End were pleased to say farewell this summer to the pressure-treated splinter factory that was Starr Farm Playground. After a series of neighborhood meetings, the city replaced the squeaky old swings with a futuristic, alien landscape that's as fun as it looks. My wife, Maggie, and I bring our daughter, Sailor, there a few times a week.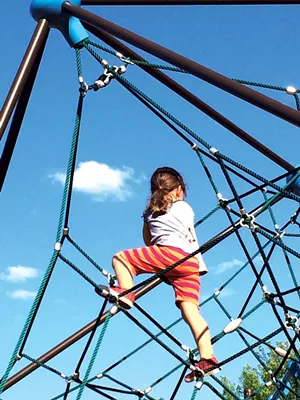 Steve Hadeka
Sailor on the PlayWeb
The colorful new playground is divided into two distinct areas. A toddler play structure offers a variety of old standbys such as baby swings and a small slide, along with a board showing shapes and colors, as well as a plastic hand drum.
But where this new playground really shines is in the big-kid area. At 4, Sailor's technically not old enough to play there — it's meant for ages 5 to 12 — but that's where we spend most of our time. The centerpiece is a jaw-droppingly tall 16-foot, 7-inch PlayWeb structure, a geodesic sphere that contains its own ropes course and is connected to the main structure by a cargo net bridge suspended several feet in the air. It's without a doubt the most challenging and fun element of the park. Even I want to get in there.
Not feeling so adventurous? Kids can play plenty of great games closer to the ground with an underground "telephone" system, a fire bell and a sling-swing.
Pluses
challenging, exciting and unexpected elements
close to the dog park, beaches and bike path
QR codes on equipment direct smartphone users to the manufacturer's informative website
Minuses
Local parents review a play space each month in "Destination Recreation." Got a spot you'd like us to feature? Email us at ideas@kidsvt.com.