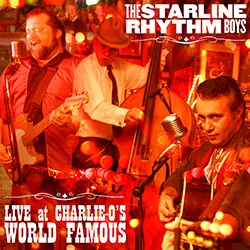 (Cow Island Records, CD)
If heaven were a roadhouse — as I've always imagined it is — it would be a lot like Charlie O's in Montpelier. And if said dusty juke joint needed a house band, The Man Upstairs — that'd be Hank to you and me — could do worse than Vermont's finest rockabilly trio, Starline Rhythm Boys. Angels they ain't. In fact, Billy Bratcher is just about the most devilish sumbitch behind the double bass this side of Lee Rocker. But in this version of the afterlife, sinners will likely outnumber saints. Fortunately, with SRB's first live album, Live at Charlie-O's World Famous, you won't have to go "down to the river" to find out. Hell, you don't even have to go to Montpelier.
From WVMT DJ Charlie Papillo's rousing introduction to the album's boozy last call, "Drink Up and Go Home," the Boys tear through 23 tracks of blistering honky-tonk, rockabilly and country. Classics such as Luke McDaniel's "You're Still on My Mind" and Faron Young's "Wine Me Up" sidle up next to SRB originals like "Charlie-O's" — Bratcher's ode to the capital's hillbilly haunt — "She Don't Live Here No More," and crowd favorite "Drunk Tank." The latter will soon be released on a 45 as a companion to the band's "Best Of" LP, Green Mountain Style. Sweet, sweet vinyl.
Though it was recorded over two nights in the fall of 2007, Charlie-O's sounds as though it came straight out of a Bakersfield dive in the late 1950s. A mere week shy of his 60th birthday at the time, Danny Coane offers an impossibly youthful, rich croon. "Big" Al Lemery's Telecaster shimmers, and so do his Louvin-high harmonies. Bratcher is his dynamically impish self. And Kevin Maul's guest turns on pedal- and straight-steel guitars are the perfect touch. With a cold bottle o' suds and a whiskey back, this disc is as good as being there.
After 10 years, there's very little left to write about the Boys. You know 'em. You love 'em. And their resume pretty much speaks for itself: 150 shows per year, three internationally acclaimed albums — each of which has won Album of the Year honors from the prestigious Freeform American Radio charts (FAR). But with Live at Charlie-O's World Famous, Starline Rhythm Boys have captured the essence of our collective decade-long love affair with the band: empty bottles, broken hearts and . . . well, you know the rest.
Starline Rhythm Boys return to honky-tonk heaven — a.k.a. Charlie O's — this Friday, following a free in-store performance and signing at Montpelier's Riverwalk Records.