A telescope in the Adirondack Sky Center observatory
From the slab of rock atop Coney Mountain, just outside Tupper Lake in the Adirondack Mountains, there is a 360-degree view of the dark. Not a single prick of human-made light is visible on the horizon, beyond occasional headlights on the highway 500 feet below. The only light comes from stars.
Tupper Lake is called the "Crossroads of the Adirondacks" because it sits in the center of the 6.1 million-acre Adirondack Park, home of the largest protected wilderness area east of the Mississippi River. Thanks to its remote location and relatively high altitude, the Adirondack region has very little light pollution, making it an ideal place for stargazing.
Amateur astronomers in Tupper Lake saw opportunity in all that starry darkness. They established an astronomy club in 1999, incorporated it as a nonprofit in 2003 and, in 2013, reached their first goal: completion of an observatory, the first building on the campus of the Adirondack Sky Center & Observatory.
Tucked on the edge of Little Wolf Pond just north of the town-operated campground, the observatory resembles an oversize shed. But inside, when the building's 4,000-pound roof slides back at the press of a button, visitors have a perfect view of the cosmos.
On Friday nights, weekly in the summer months and biweekly the rest of the year, the observatory is open to the public. On a clear night, according to Sky Center vice president Seth McGowan, up to 200 people will stop by to look through four mounted telescopes inside the building and any number of smaller telescopes set up outside. Through the larger ones, Sky Center volunteers show visitors detailed lunar features, distant galaxies and nebulae, and planets such as Mars, Saturn and Jupiter. McGowan said summer is a great time to spot Jupiter and sometimes even its moons.
The Sky Center also holds private star parties for families and groups, free summer and after-school classes for kids, and an astrophotography conference every fall. On Sunday, it held the first Adirondack Sky Festival in partnership with the town and local organizations, featuring space-related events all over downtown.
A view as stellar as the one in the Adirondacks is becoming increasingly difficult to find. According to the Light Pollution Science and Technology Institute, the Milky Way is no longer visible on 80 percent of our planet, including for 99 percent of the U.S. population. Since the invention of the first crude lamp roughly 70,000 years ago, humans have been perfecting the art of illumination. Now, we can rarely escape it.
One way to visualize how bright the U.S. has become is on a dark-sky map, such as the one at darksitefinder.com. It illustrates light pollution in neon shades: White and red areas are the most polluted, black and gray areas the least. On the western half of the U.S., bright splotches indicate the densely populated Pacific coast, and cities such as Denver, Phoenix and Las Vegas dot a landscape painted primarily in shades of gray and black.
By contrast, the eastern half of the country is blanketed in a neon quilt of light. Even the mountainous regions of Vermont are affected by light pollution. But there's a large black spot on the dark-sky map in upstate New York. In fact, other than northern Maine, the Adirondacks appear to be the largest spot of darkness in the eastern U.S.
A night sky at its finest is far from a passive backdrop. The constellations can seem to reach down and grab their viewers. And the higher the altitude, the fewer the number of air particles obstruct that experience. At 1,545 feet, Tupper Lake offers an intimate exchange with the cosmos.
But close observation of heavenly bodies doesn't come cheap. The center's newest telescope cost about $12,000, even before it was outfitted with imaging equipment.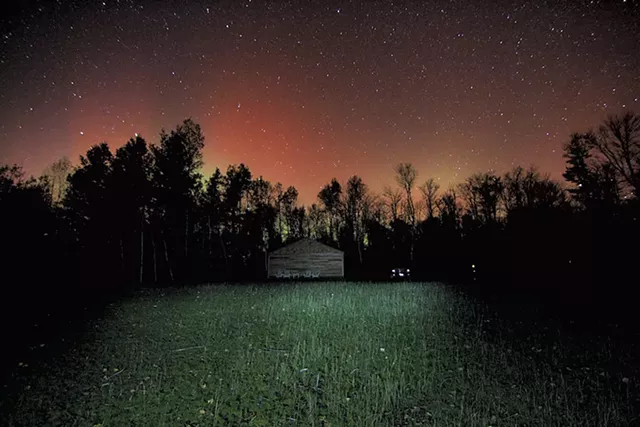 Photos Courtesy Of The Adirondack Sky Center
A 2013 photo of the Adirondack Sky Center observatory under the northern lights
That's pocket change compared to the Sky Center's next goal. In August 2018 it kicked off a campaign to raise $15 million for an AstroScience Center. The center aims to expand the current facility by adding a museum with a lecture hall and planetarium, and to add a second observatory with a traditional dome-style design. The staff hope to finish new construction before the solar eclipse in April 2024, because Tupper Lake is in the path of totality.
The Sky Center has raised $2.2 million to date, including grants from New York State and private foundations. Stewart's Shops and the Dake Foundation donated a total of $125,000 this spring.
"We are at the level of dark skies that are research capable," McGowan said, noting that students and researchers from Clarkson University in Potsdam, N.Y., and Saint Lawrence University in Canton, N.Y., have used the Sky Center observatory. He said the Sky Center has outgrown its current facility but that it can leverage its remote location into a world-class museum and home for research.
New York State has taken measures to protect the skies from light pollution. In 2014 the state adopted a law that established design standards for new lighting fixtures purchased by state and local governments. Shifting to LEDs can reduce the total wattage used and save municipalities money, and requiring that those lights be pointed downward will reduce excess ambient light.
Artificial light disrupts not only humans' ability to view the sky but also the patterns of wildlife, said John Sheehan, director of communications for the Adirondack Council, a nonprofit environmental advocacy organization. Many animals use the cover of night to avoid predators, migrate and take part in breeding rituals, according to the International Dark Sky Association. In addition, the association reports that insects are drawn to artificial light, which disturbs their normal role in the ecosystem.
"People are shocked to find that conventionally lit homes tend to spoil up to 30 acres of pristine forest if they are built in a place that didn't have any artificial lighting before," Sheehan said. The Adirondack Council is advocating for laws that would require new homes in the Adirondack backcountry to be clustered to reduce their total light footprint.
Sheehan said keeping the air free of particles, including smog, is also key to maintaining dark skies. The council is involved in a lawsuit aimed at requiring the U.S. Environmental Protection Agency to enforce current pollution controls on coal-fired power plants in the Midwest. Sheehan said that most of New York's air pollution comes from out of state; smog travels hundreds of miles downwind from Michigan, Wisconsin and the Ohio Valley.
Sheehan noted that the council is thrilled to see the "leaps and bounds" made by the Sky Center. He's also seen investment in astronomy in places he wouldn't have expected, such as Moreau Lake State Park, located south of the Adirondacks outside Saratoga Springs. The park recently purchased a telescope to use on the beach at night and a screen for sharing projected images with a crowd.
McGowan, who's also the superintendent of Tupper Lake Central School District, said he doesn't think the state is prioritizing astronomy and that the field is often left out of conversations about STEM education.
Never looking at the stars would "be like not knowing what street you live on," he said. "We should have some sense of where we are in the universe."
Tips for Planning a Stargazing Excursion
If you can't get to Tupper Lake on a Friday, don't worry. Great stargazing is possible all around the area. A blog post on the Tupper Lake website suggests Coney Mountain or a drive up Setting Pole Dam Road, and a Google search can reveal suggestions on hiking forums.
Coney Mountain has great panoramic views. It's close to town, and reflective signs mark a trail that's about a one-mile hike up a 500-foot ascent. If you're looking for something a little more accessible, one of Seth McGowan's favorites is driving to the Tupper Lake Golf Club.
He recommends two apps for identifying the stars above you: Stellarium and SkySafari. If you're without a smartphone, download and print out star maps to take with you. It's generally agreed that our eyes need at least half an hour to fully adjust to the dark, so take your time out there.
Never go into the woods unprepared. Pack as if you had to spend the night outdoors and wear plenty of layers. It's significantly chillier atop Coney Mountain than at road level, with no protection from the breeze. Mosquitos are plentiful, so long sleeves and bug spray are your friends. A blanket or tarp to sit on certainly wouldn't hurt.
Also, invest in a good flashlight. Don't count on the battery life of your smartphone or a dinky 99-cent gas station penlight. Spend $30 on a flashlight, and it will reward you with its reliability.