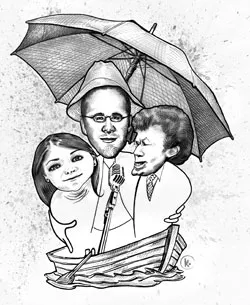 It is the dirtiest joke ever told. And it became famous in the immediate aftermath of one of America's greatest tragedies.
The Friars Club in New York City is renowned for its celebrity roasts. But the organization had understandable reservations about proceeding with a roast of Playboy magazine magnate Hugh Hefner that was scheduled to take place a mere three weeks after September 11, 2001. Would it really be appropriate to host a lowbrow comedy show celebrating the world's most famous smut peddler while the city's grief was so fresh? Showbiz axioms notwithstanding, must the show really go on?
The answer was yes. By most accounts, the Hefner roast was palpably uncomfortable. Most of the comics were tentative about making jokes, and the audience was skittish about laughing at them. Even Hef himself, the living embodiment of laid-back American cool, seemed ill at ease on the dais — and not because of any bawdy comedic zings. It was probably the most awkward roast in history. That is, until Gilbert Gottfried stepped onto the stage.
The squinty comic with the nails-on-a-chalkboard voice was bombing, and an ill-conceived joke about the Twin Towers turned an already tense audience against him. Then something remarkable happened.
Gottfried, realizing he was well past the point of no return, changed course and delivered a transcendent version of "The Aristocrats," a longtime standup comedy staple and, as documented in the 2005 film of the same name, widely regarded as the world's filthiest joke. Whether out of awe or sheer revulsion at Gottfried's cartoonishly blue telling, the audience turned its groans to guffaws, its boos to belly laughs. By the time he delivered the joke's corny punch line, the entire mood of the evening had shifted. For at least one fleeting moment, the crowd remembered that, even in the face of unspeakable horror, it was still OK to laugh.
This Friday, September 30, a group of local comedians hopes to evoke a similar response from audiences at Laugh-In for Brand-Aid. The comedy showcase at the Brandon Town Hall benefits Brand-Aid, a flood-relief fund for businesses in Brandon, one of several towns in Vermont severely affected by Tropical Storm Irene.
Comedian Tony Bates, 52, organized the show and will serve as the emcee for the evening. He says comedy has a universal appeal other forms of entertainment simply can't offer.
"You and I can disagree about what kind of music we'd pay to see," says Bates, a middle school teacher in Middlebury who owns rental properties in Brandon. "But everybody loves to laugh."
Colin Ryan agrees. The Burlington-based comedian, a runner-up at this year's Higher Ground Comedy Battle, will close the Brandon showcase. He says he hopes the show will remind those affected by the storm that it's important to maintain a good sense of humor, even or, perhaps, especially in dark hours.
"It's OK to laugh," he says. Ryan is a storytelling comic whose jokes typically evolve from awkward personal life experiences. He says that comedy helped him embrace his own social inelegance.
"There is a transformative quality to humor," he says. "It changes the experience. Within pain, there is the possibility for humor."
Ryan uses his most crippling personal worry as an example.
"As a single, childless man, my greatest fear in society is someone thinking I'm being creepy," he says. "But I've found a lot of humor in that and realized, by talking about it, that I'm not the only one."
Pat Lynch is a veteran local comic who will perform at Friday's showcase. He sees comedy as the most effective means for him to pitch in and help with the Irene recovery effort.
"Some people can build houses; others can build roads or bridges," he says. "I'm not good at any of that stuff. But I can tell jokes."
Lynch agrees with Ryan that comedy can help put tragedy in perspective.
"Comedy offers people a chance to get away and focus on the bigger picture, that there is life after all this," he says. "The cleanup will still be there tomorrow," he continues. "But I think people do get tired of being down on themselves. So this is a chance to hopefully turn that around, if only for an evening."
Using comedy as catharsis is one thing, but is there really anything funny about the storm?
"I don't know that there is anything funny about Irene," says Ryan. "But the fact that we're getting together to laugh about what's funny about life because of the hurricane … that creates the possibility for something great."
Ryan adds that the point of the Brand-Aid benefit is not so much finding humor in the storm, specifically. Rather, it's about finding humor, period.
"One thing I've learned doing comedy is that you don't necessarily have to address the room or any specific moment," he says. "You just have to be funny."
However, Ryan does have a typically awkward personal experience with Irene on which to draw. He spent the storm stranded with strangers at, of all places, a monastery in Weston where he was taking a short vacation.
"It was weird," he says. "Shit got real." He's unsure if he'll use his experience as joke fodder for the show, however.
Bates offers another viewpoint on addressing Irene head-on.
"Comedians, in a weird way, can say that the emperor has no clothes," says Bates. "They can tell the truth, what people are thinking, whether it's a joke about your wife, or your job, or maybe a flood. I'm making you explore a dark place in your head to make you laugh."
"It's always a fine line," says Lynch. He observes that, ultimately, any situation has the potential for humor, provided the comedian can put it in a proper framework.
"Context, with every joke, is important. And Irene is certainly no exception," he explains. Then he adds, "But this seems like an opportunity to talk about something that isn't the hurricane, to remember the bigger picture."
Bates, who has Irene-related material planned for the show, cautions that an off-color joke is almost always a risk, and its success can depend on the crowd. As an example, he points out that a joke that goes over well in parts of the South might not elicit the same response from a northern audience with more delicate PC sensibilities. But how about a waterlogged, flood-weary crowd?
"You have to know your audience," Bates concedes. Then, without skipping a beat, he quips, "By the way, did you hear what Irene did to the city of Rutland?
"Hundreds of thousands of dollars in improvements."
Too soon?