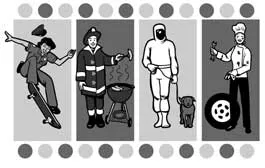 As a young Catholic school girl, I loved my uniform. I adored the plaid skirt, admired its symmetry and order. The blue, green and black lines intersected at right angles, forming boxes. By cloaking me in those grids, my uniform paradoxically freed me from the anguish of adolescent fashion. It didn't take long to figure out what to wear: I wore what everybody else wore.
There aren't many opportunities to wear uniforms as an adult — unless you have to wear one to work. The phrase "men and women in uniform" conjures up images of soldiers, police officers or fire fighters, but in fact many kinds of jobs require standard apparel. For some the uniform is a source of pride or signifies devotion to a particular cause or ideal. Others find their uniforms ugly, uncomfortable or even silly. To an observer, a uniform can trigger hatred, fear, respect or laughter.
What all uniform wearers have in common is an alignment with a higher power, be it the armed forces, a corporation or, well, God. Their identity basically fuses with their occupation. We asked five uniformed Vermonters what it's like to wear theirs.
---
Tom Ely, Bishop

When he's not wearing his Sunday service vestments, The Right Reverend Thomas Ely, Episcopal Bishop of the Diocese of Vermont, wears a purple shirt, black pants and a white clerical collar. "Most clergy shirts are black," he says, "but bishops wear purple." The 50-year-old Ely also wears a pectoral cross hanging from a chain around his neck. He often keeps the sizable cross, which is meant to rest against his chest, in his breast pocket. Otherwise, he explains, "It can get in the way and knock things over."
The cross is one of Bishop Ely's few personalized touches. "My pectoral cross was made as a gift from the folks I worked with in Connecticut, before I came to Vermont," says the clergyman of 22 years. "The chain was Bishop Butterfield's chain, who was my predecessor here four times removed." Other than the cross, and the Bishop's ring on his right hand, Ely is unadorned.
"Clerical garb is not meant to draw attention to oneself," say Vermont's highest-ranking Episcopalian. "It's not a personal statement. It's meant to be an identification of one's vocation."
Ely finds this instant identification useful in crisis situations. "For instance, if I'm called to a hospital, it's important that I'm easily recognizable," he explains.
After September 11th, Ely's purple shirt and white collar helped him gain access to St. Paul's Church on Wall Street, at the edge of Ground Zero. "I was in my clerical garb, and they recognized me as a bishop and invited me in to meet with the staff and see to the ministry… Some-times," he points out, "it opens doors, it makes the entrée a little bit easier."
It seems frivolous to ask a man of the cloth if he likes wearing a "uniform" — after all, being a bishop isn't just a 9-to-5 gig. But Ely politely considers the question and offers a down-to-earth answer. "Sometimes," he admits, "it just makes it easier to decide what to put on in the morning."
---
Tam Cristman, Military Police Officer
Senior Airman Tam Cristman of the Vermont National Guard gets a little toasty in the summer. As a member of the Military Police, she wears a black beret, along with "woodlands camouflage" pants and blouse, a black T-shirt and black leather combat boots. This is her "Battle Dress Uniform" and, like most military outfits, it's tailored for men. "The only ones that are cut for women are maternity ones," Cristman says. Even so, "they're not too bad. They're fairly comfortable."
Cristman displays several patches on her uniform, a police badge, and a nametag above her right breast pocket. She further distinguishes herself by polishing her shoes, starching her shirt, and setting the crease in her pants.
"You have to spend maybe an hour polishing your boots, maybe 15 minutes starching your uniform and getting the crease just right," Cristman reveals. "One thing we're taught, being security forces, is that when we're working the front gate, we're what the public sees, so we have to look really sharp."
When she slips on her military threads, Cristman feels a renewed sense of responsibility. "It straightens your back a little," reports the eight-year Guard veteran, who was called to active duty in the aftermath of September 11th.
Since then she's noticed people looking at her a little differently. "You get a little more respect," Cristman says, "especially from some of the older veterans and retirees."
But not everyone gives props to soldiers. "Some of the kids with spiky hair give you looks," she reports. Cristman seems unfazed by their disapproval of her career, but she concedes that Burlington's Church Street — site of the occasional protest and peace march — "is actually one of the places I try to avoid when I'm in uniform."
---
Jody Harvey, Animal Control Officer
Animal Control Officer Jody Harvey doesn't change into her Burlington Police Department uniform until she gets to work at 8:30 a.m., but that doesn't stop the folks at Dunkin' Donuts from pestering her with animal sightings when she stops in for her morning coffee. "Every morning they have a question for me," she says. "I went in there the other day, I was still tired, and the woman asked me, 'What do you know about geese?'"
Like soldiers, police officers wear uniforms to identify them as part of a group, but Harvey is unique. As Burlington's only Animal Control Officer, she is often on television or in the news and consequently has a higher profile than many public servants. Harvey also wears a customized uniform. Her silver-tan color scheme stands out in a sea of blues. "I took it one step further," she adds. "I have a different patch on my shoulder which I designed. So there's only one in the country like mine."
She is also the only officer in the department certified to wear a "chemical capture" patch, which indicates her knowledge of dart and blow-gun tranquilizing techniques. She stopped wearing it, though, because it doesn't match her gold buckles and buttons.
But though Harvey may be a cop of a different color, she still has to wear some standard-issue equipment, including a bullet-proof vest and a duty belt that can weigh up to 10 pounds. The long list of her accoutrements includes a radio, a radio clip, a flashlight, capstun (pepper spray), a Leatherman tool and a straight baton. She also carries ticket books, a pen and notebooks.
After almost 13 years on the police force, Harvey sees the benefits of wearing a uniform, which for her is a choice. "My predecessor would show up on calls in jeans and a T-shirt," she remembers, "and I don't think people respected her as much. You could have all the knowledge in the world, but it's perception that people first acknowledge."
Harvey's uniform also serves another very practical purpose. "I tend to get all bloody and dirty," she says, "and it's nice to know I'm not ruining my own clothes."
---
Joe Crosby, OPERATOR/Technician
Joe Crosby knows what his white jumpsuit is made of, but he's not going to tell you. The 45-year-old technician and operator at IBM's Essex plant won't divulge any company secrets. "They always put it this way," he ventures cautiously, "it's anti-static, so particles won't attach to it, and it's the type of material that allows circulation."
Like other IBM employees who manufacture microchips in the plant's "clean room," Crosby wears IBM-patented protective clothing. This includes a jumpsuit, a white hood, a veil that covers the nose and mouth, and boots and gloves. It stops short of covering the eyes, though Crosby hides his behind glasses. This outfit, however, protects the microchips, not the employees. Microchips are apparently very sensitive. "I don't actually touch any chips," he explains.
Crosby arrives at the plant half an hour before the start of his shift to don his top-secret attire and enter his workspace. He must complete a series of steps just to enter the room where he keeps his suit. And once inside, he has to find it. The IBM changing room houses thousands of suits. The room is divided into sections to make the suits easier to find, but they all look exactly the same. Each suit bears the nametag of its owner, but if you've forgotten where you left yours, confronting the rows of identical white garments can be as daunting as finding your Ford Explorer in a mall parking lot packed with SUVs.
Beneath the jumpsuits, employees wear shorts and T-shirts, but has anyone ever gone commando? Crosby laughs and seems shocked by the question. "No, you can't do that!" he exclaims. "It's not like a locker-room environment. There are several hundred people at a time, men and women, getting ready! I think you could get fired if you did that."
Crosby reports that IBM tries to make the clean-room experience as painless as possible. "They're pretty good about letting us wear what we want underneath," he says. Even so, he doesn't know of anyone who actually likes wearing the jumpsuit. But given the recent cutbacks, no one's complaining.
Crosby has one redeeming thing to say about his uniform: It makes everyone the same. "A lot of times people judge other people by what they come to work in, like, 'Oh, that guy's got a bummy T-shirt on, and that guy's got an expensive one,'" Crosby says. He prefers to bypass the gossip and focus on his work. "You can't be judgmental about what people are wearing, because you're all dressed alike."
---
Jennifer Nantell, Bartender
If you saw her in uniform at the post office or the bank, you might not guess that Jennifer Nantell is a bartender at T.G.I. Friday's in South Burlington. Like all Friday's waitstaff, Nantell wears dark jeans, polishable black shoes and a regulation black Polo shirt. A half-inch-wide band of alternating red-and-white squares wraps around the sleeves and the buttons below the collar. It's subtle, almost non-descript, and Nantell likes it that way.
Until about a year ago, T.G.I. Friday's encouraged its servers to express their personalities through their uniforms. The restaurant provided the black pants, the bright red-and-white striped shirts and the fire-engine-red suspenders. The servers provided buttons with what-ever zany slogans they wished to display, and any kind of hat except a baseball cap.
Some of the servers preferred the quirkier uniforms. Nantell, who started at Friday's three years ago, was not one of them. She says she didn't mind the suspenders, the buttons and the hats, but the shirts were awful. "People would come in to eat," she remembers, "and say, 'Do you have to wear that?'"
If Nantell approves of the new uniforms, those who enjoyed the spunk and originality of the old Friday's garb will be sadly disappointed. The "Kiss me, I'm Irish!" buttons have been replaced by company-sponsored slogans such as "$750 in sales," "Teamwork" and the creepy hospitality citation, "Guest Obsession."
Nantell, who worked in IBM's clean room before she came to Friday's, says she doesn't mind dressing like everybody else. But she's still planning to go back to school so she won't have to wear a uniform anymore. "Bartending," she declares, mixing a drink, "only takes you so far."