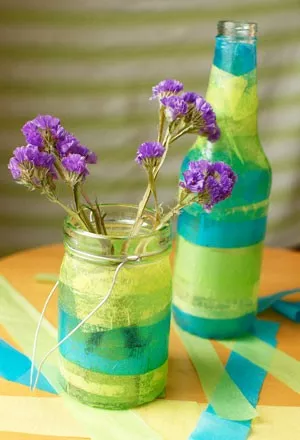 April showers bring May flowers — and Mother's Day on May 13 could bring some of those blooms right to your table. Crafty youngsters can contribute these découpage DIY vases, which use strips of tissue paper to create a surprising stained-glass effect ... with surprisingly little effort. It's as simple as breaking out the Mod Podge and grabbing a jar from the recycling bin. They pass the test of time, too: My mom still has the sunny yellow vase I made for her more than 15 years ago.
materials
glass jar, bottle or vase, cleaned and with label removed — baby food or spaghetti-sauce jars work great!
scissors
several colors of tissue paper
sponge
Mod Podge découpage glue
Mix it up:
Experiment with different colors and sizes of tissue paper. You can even cut the paper into squares and make a patchwork pattern. Reuse the vases to hold pencils, tea lights, toothbrushes and more.
Begin by cutting tissue paper of varied colors into inch-wide strips. Make sure the strips are long enough to go around the glass jar with about an inch to spare.
Use a sponge to apply Mod Podge evenly around the bottom inch of the jar. Gently lay a strip of tissue paper over the glue, and use the sponge to apply a thin coat of Mod Podge on the strip to smooth out any bubbles or rough edges. It's OK if the tissue paper wrinkles or overlaps; this will make your jar look more interesting in the end.
Continue applying Mod Podge and tissue paper all the way up the jar, alternating colors as you go. If there are gaps or small tears, just lay another strip of tissue paper over it.
When the jar is covered, let it dry for about 15 minutes. Then use the sponge to apply one final coat of Mod Podge over the whole jar, sealing down any flyaway edges. Let it dry completely before use.
Share your fun craft ideas with us! Send them to ideas@kidsvt.com.