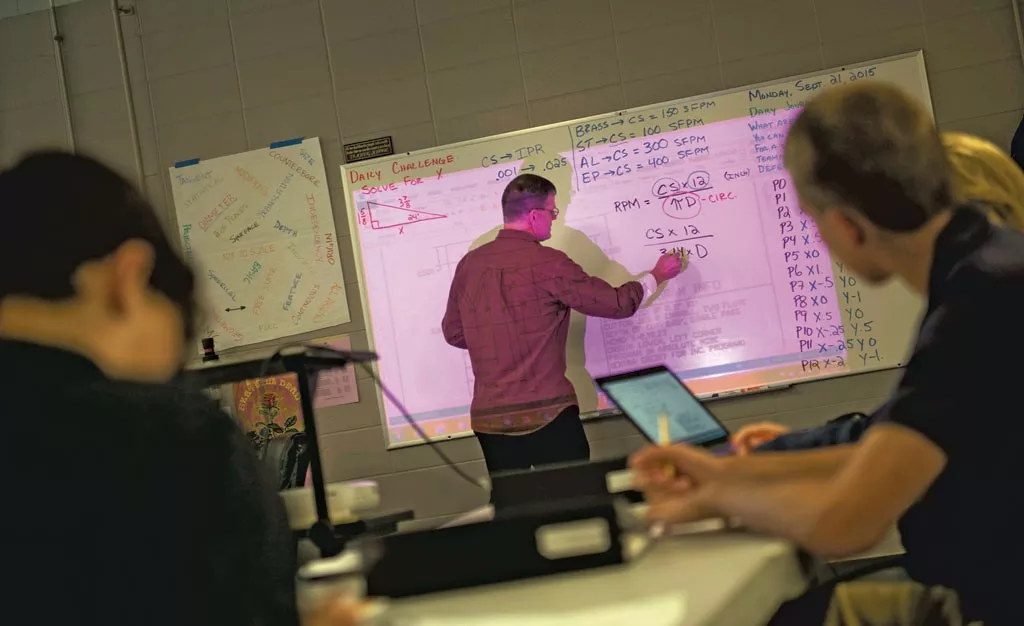 Caleb kenna
STEM Academy teacher Chris Gray in Stafford's STEM lab
Rutland high school senior Karine Bombardier has loved to take things apart since she was a little kid. She says her father encouraged her to seek out educational opportunities in science, technology, engineering and math — a group of subjects commonly referred to as STEM. "He told me engineering is big in our economy," she said. She plans to apply to Rochester Institute of Technology and Vermont Technical College and pursue a career in computer engineering.
Megyn Spafford, a senior from Fair Haven, has a passion for building. She hopes to be a mechanical engineer one day.
But neither of the college-bound young women is attending a traditional public high school — they're both students at Stafford Technical Center, one of Vermont's 17 career and technical centers.
Typically, these schools provide primarily high school juniors and seniors with skills that will prepare them for careers in areas ranging from cosmetology to forestry, auto refinishing to nursing. A quick tour of Stafford in Rutland, shows young women practicing hairstyling on mannequin heads, casually dressed teens gathered around cars in a garage and a room full of hospital beds.
But in addition to those more traditional fields, tech centers are now also giving teens the opportunity to pursue STEM education, to learn the skills they need to enter the 21st-century workforce. Both Karine and Megyn are second-year students in Stafford's STEM Academy, which launched last school year. It's one of numerous STEM-related programs at tech centers around the state that have cropped up in recent years.
Around two dozen students from eight high schools in Rutland County attend the STEM Academy. Over the course of the two-year program, students learn about the engineering design process, robotics and electronic circuits. They design solutions to problems using 3D modeling software and use an engineering notebook to document their work. They become proficient in AutoCAD — a computer-aided 2D- and 3D-drawing program — which is the foundation for communicating in the design world. They learn how to use 3D printers and laser cutters. They also work on "soft skills" like communication and critical thinking.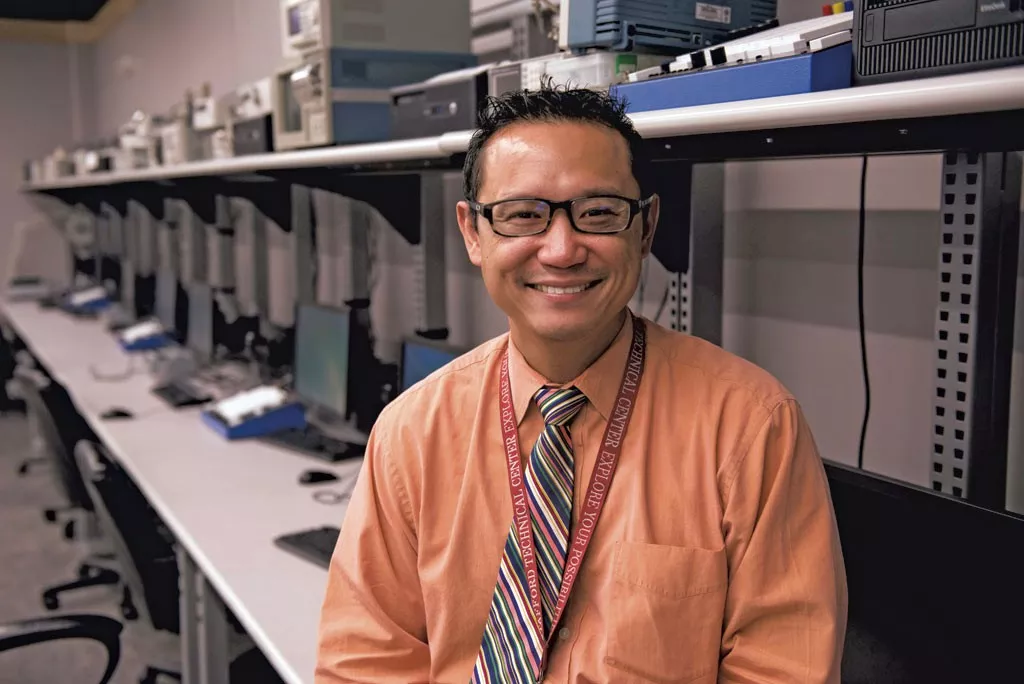 Caleb kenna
STEM Academy coordinator Fieh Chan
All of this takes place in Stafford's state-of-the-art STEM lab, renovated last year with money from a half-million-dollar bond. It includes a spacious computer lab with a 75-inch TV and large Smart Board, a room that houses a 3D printer and laser cutter, and a huge open workroom, which also doubles as a meeting and work space for Rutland County's FIRST Robotics team.
Programs and facilities like this are changing the kinds of students who attend tech centers.
Stafford's STEM Academy "has allowed us to attract a demographic we normally wouldn't at the tech center," says the academy's coordinator Fieh Chan, a former high school math teacher who also acts as outreach coordinator for STC.
One of those students is Abby Wright, a 17-year-old senior from Fair Haven. She moved to Vermont from Baltimore the summer before her junior year after her mom got a job teaching accounting at Castleton University.
When she visited Rutland High School and mentioned her interest in math and science, the guidance counselor directed her to Fieh Chan and the STEM Academy. Chan convinced Amelia, and her mom, that the academy would give her the foundation she needed to be successful in a college biomedical engineering program. Now in her second year of the STEM Academy, and on the cusp of applying to colleges, Abby is happy about the decision she made. "I really have just enjoyed everything we have done," she says. In particular, she says, she loves the group work and the hands-on challenges, such as using Vex Robotics kits to build simple machines, including a lever that can lift a textbook.
Doug Webster, career and technical education coordinator for the Vermont Agency of Education, says he's seen the demand for STEM education in tech centers ebb and flow through the years. Stafford actually dropped STEM-related programs focused on machining, architectural design and information technology around 2010 because of low enrollment. At that time, Webster says he thought, "We've got to do something about this. We've got to change the perception of STEM-related programming."
Increasing funding for programs like FIRST Robotics is one way to build students' interest in STEM-related education, he says: "You gotta make it cool."
Caleb kenna
A robot in the STEM lab
Webster, who also founded the Champlain Mini Maker Faire, says robotics clubs and Maker Faires are good ways to get kids interested and excited about STEM education, and that then drives the demand for more STEM programming.
Webster thinks Stafford's STEM Academy has been successful in large part because of the recruitment efforts of the affable and articulate Chan, who brings his "road show" to local middle schools and high schools in the winter to spread the word about the program.
The Computer Animation and Web Design program at the Center for Technology in Essex is another successful STEM-related tech-center initiative. It started in 2001, serving 16 juniors and seniors in Chittenden County; enrollment this year is up to 40 students. Matt Cronin, who runs the program, attributes the rise in popularity to the prevalence of technology in everyday life. "Kids want to learn to build what they love to do," he says. Second-year students intern with organizations like the Vermont Lake Monsters, where last year a group of them helped design animations for Centennial Field's Jumbotron. Many students who complete the program pursue higher education at places like Champlain College and Vermont Technical College. Five alumni are employed at Dealer.com, and two are at Burlington's Union Street Media.
Students enrolled in STEM-related tech programs don't just go on to college — they can save money and time at the tech centers, too. Stafford's STEM Academy uses a curriculum called Project Lead the Way, which is used in 7,500 schools nationwide. Students who successfully complete the four-semester course of study can earn up to 12 college credits through the Rochester Institute of Technology. Other tech-center programs across the state have similar opportunities to earn college credit, says Webster.
Getting hands-on experience with the type of work they will actually be doing in a STEM-related career also helps students decide if it's truly the path for them.
"I came here to see if engineering is what I wanted to do," says second-year STEM Academy student Amelia Kipphut, "and it is."