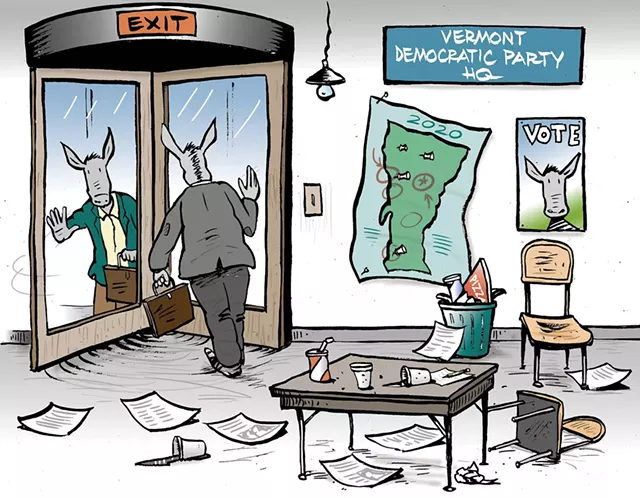 The Vermont Democratic Party has just hired a new executive director — the paid staffer who manages party operations. Scott McNeil is a Massachusetts native who's been executive director of the North Dakota Democratic party.
"Scott is a strong manager, a good administrator and fundraiser," said VDP chair Terje Anderson. "He's the kind of guy we need to keep the party on track."
He'd better be. McNeil is the party's third executive director in less than a year and a half. (Conor Casey was on the job for almost three years before departing in June 2018; his replacement, Josh Massey, resigned in April.) Even in a turnover-heavy field like state politics, that's remarkable. And not in a good way.
There's also been frequent churn in the VDP's top unpaid position: Anderson is the third party chair in the past two and a half years. (Dottie Deans served for four years before resigning in the spring of 2017; her successor, Faisal Gill, left that November and was succeeded by Anderson.)
State parties tend to experience high attrition rates. Staff positions combine high pressure with low pay. (Starting salaries are in the low $30,000s to low $40,000s, depending on the job description.) People either move to bigger states with more opportunities or get out of the game entirely. The party chair position is equally thankless. But even so, the VDP's revolving door has been spinning with uncommon speed. In interviews with a number of current and former staffers, a common narrative emerged.
The party still suffers from a 2016 hangover, when the presidential primary battle between Sen. Bernie Sanders (I-Vt.) and Hillary Clinton left quite a few bruises and caused some donors to stop giving.
Also, paid staff and leadership have differing views on the proper role of the party. Is it to win elections or set a political agenda? Staffers tend to be in the "win elections" camp, which also means keeping the lights on and the bills paid.
In their view, party leadership should devote more of their time to fundraising and less to policy discussions. At times, especially in 2017, the VDP was often short of cash. Staff members worried about whether they'd get their paychecks on time. Sometimes they didn't.
Anderson acknowledged that the party has underperformed financially. "We've struggled with our small-donor program, and our large donors haven't been asked," Anderson said. "We do anticipate ramping up our efforts. We'll be reconnecting with large donors. Once our new executive director gets here, he and I will be having coffee with a lot of people."
That's well and good, but what was Anderson doing in the year and a half when he had an executive director to share the load? Was he pulling his weight? It doesn't seem so, judging by party financials.
Top elected officials might also benefit from a look in the mirror. They cut the occasional check to the VDP, but do they work the phones on behalf of the party? Some do, but others do not. A call from a well-known officeholder is much more effective than a pitch from an obscure staffer.
Anderson is expecting a lot from McNeil: better administration, better organizing, a more stable office environment and a significant boost in fundraising. Hope the new guy knows what he's signed up for.
Not Dialing for Dollars
The year between campaign seasons is always a slow time for state party fundraising, as evidenced by the monthly reports that Vermont Democrats and Republicans must file with the Federal Election Commission. Reports for the first half of 2019 show that the Dems are, as usual, outpacing the Republicans — but neither is doing very well.
One sign of trouble on the VTGOP side: Its only full-time staffer, executive director Jack Moulton, resigned at the end of May. The party didn't issue a press release, and apparently no one in the media noticed. I contacted Moulton on Monday after getting a tip that he was about to leave, and he confirmed that he'd actually left two months ago. He now works for a Vermont ad agency.
In an age of charismatic candidates and single-issue advocacy, the internal workings of political parties don't seem particularly sexy. But a well-run party can provide the foundation for successful campaigns: maintaining voter databases, running coordinated campaigns that tie a party's ticket together, giving guidance to candidates, and delivering a unified message to the public and the media.
Both parties seem to be doing a poor job of getting donations from their rank-and-file and potential large donors. The VDP's healthier bottom line is due largely to the generosity of its officeholders and the Democratic National Committee.
The Democrats' federal account received a total of $234,000 in the six-month period that ended on June 30. Their single biggest benefactor was the DNC, which contributed more than $62,000. Vermont Dems got another $40,000 through the State Party Victory Fund, which the national committee uses to funnel donations from well-heeled party backers. By contrast, the VTGOP reported no funds from the Republican National Committee and only $16,000 from the RNC's version of the Victory Fund.
Democratic elected officials kicked in almost $14,000, mostly in advance payments for 2020's coordinated campaign and donations for the party's Curtis-Hoff awards banquet in April. The Republicans received very little from their elected officials. Gov. Phil Scott gave $2,000, House Assistant Minority Leader Rob LaClair (R-Barre Town) gave $1,000 and Sen. Randy Brock (R-Franklin) gave $250. That's about it.
Take away the DNC funds and the giving by officeholders, and the VDP's take would have been substantially less than the VTGOP's. That's something of a shock, given the Dems' usual fundraising advantage.
The Republicans' federal account took in $160,000 in the first half of this year. The party began the period with only $6,000 in the bank and ended with $37,000 — but also reported $33,000 in unpaid debts. Considering that the party has already tallied the receipts from spring fundraisers featuring commentator Star Parker and former Wisconsin governor Scott Walker, its finances are in perilous shape.
The Democrats ended June with $61,000 in cash on hand. Not bad by comparison, but the VDP has a bigger staff and more expenses. It's not much of a reserve.
The party hopes for a bit of a boost this Friday evening, when Chasten Buttigieg, spouse of presidential candidate Pete Buttigieg, comes to Burlington for a 7 p.m. fundraiser at Main Street Landing.
Beyond that, Democrats had better hope their leaders can get their act together ASAP. The 2020 campaign is approaching quickly. In recent years, the Dems have enjoyed a big advantage in resources and organization. If they want to keep it that way, they'll have to bring in a lot more money.
Young Blood
After a stint as a frequently frustrated policy advocate, Scott Pavek has decided to run for a Vermont House seat in next year's election. The 27-year-old Burlington Democrat works in enrollment management at the University of Vermont. He is in recovery from substance-use disorder, which has fueled his activism on issues related to the state's opioid crisis.
His entry sets the stage for the first known contested primary of Vermont's 2020 cycle. Pavek lives in the South End district currently represented by two well-known incumbents, Reps. Johannah Leddy Donovan (D-Burlington) and Mary Sullivan (D-Burlington). Both say they are likely to seek reelection, though neither has made a decision.
"I spent this session sending emails, calling, writing, trying to get a word in edgewise on buprenorphine legalization," Pavek said. He lobbied for the passage of H.162, which would have allowed possession of "bupe," which eases the symptoms of withdrawal from more dangerous substances. The bill died in committee. "Same debate, same bad information, session after session after session," he added.
Pavek is likely to face a major organizational hurdle: Party policy bars candidates who challenge Democratic incumbents from access to VDP's prized voter database. (The policy only applies to House races. For statewide offices and state Senate contests, each instance is considered on a case-by-case basis.) The database is a trove of information about voters — their addresses and contact information, party preference, and issues of concern. It's valuable in helping candidates target those most likely to vote Democratic. "It's hard to run a winning campaign if you can't reach those likely to be engaged in a primary," Pavek said.
Party leaders are considering a change for 2020. "We always ask ourselves how open we are to internal challenges," said VDP chair Anderson. He cited the case of U.S. Rep. Alexandria Ocasio-Cortez (D-N.Y.), who unseated a longtime incumbent in 2018 and has become a champion of the party's left wing — including Vermont's many Berniecrats. "On the other hand, the House caucus understandably wants to protect incumbents," Anderson continued. "Is the voter database part of that policy?"
Anderson said a decision will be made this fall, once McNeil is on the job. The district's two incumbents seem hesitant about allowing newcomers access to the database.
"A lot of [House] members, including myself, have put a lot of work into it," Sullivan said. "I'm undecided. I'd have to think about it." She does welcome Pavek to the race. "I believe in democracy. It's amazing I've had no opposition in the last three elections," Sullivan said.
Donovan's arms are not exactly open. "I met with Scott Pavek last year," she said. "We had a great discussion. I'm surprised he's running. I don't know why he's so impatient."
Is the 10-term incumbent feeling a sense of entitlement? Sounds like it.
The Democratic caucuses could use an infusion of new blood and new ideas. Young adults are woefully underrepresented. Political parties have an interest in favoring incumbents, who have a track record of electoral success and party service. But the Democrats also need to be open and welcoming to younger folks.
If you need proof, just go to any party meeting and count the gray heads.