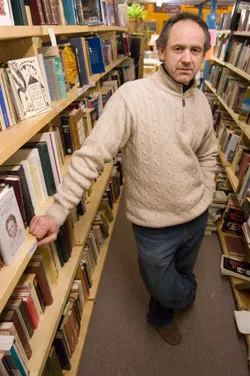 Matthew Thorsen
Norbert Ender
This is the time of year Norbert Ender should be baking Linzer cookies. Gugelhupf. Strudel. At least, that's what you'd expect from an Austrian-born chef trained in classic European cuisine. But instead, he's holed up in his Burlington secondhand store, called Speaking Volumes, seven days a week. And rather than being covered in flour, Ender, 44, is surrounded by books — from 16th-century tomes to recent paperbacks, and everything in between.
The appeal of used bookstores is the thrill of the unexpected discovery. Magnify that for the proprietor, who is constantly on the hunt for the old and unusual. "I just found, in the middle of Vermont, a set of books from Switzerland, less than two hours from where I was born!" he enthuses. Speaking Volumes holds an embarrassment of vintage riches. Perpetual stacks of books languish in the aisles, waiting to take their places on cramped shelves. The cookbook section alone is impressive. Despite his personal interest in all things culinary, "It surprises me how well they sell," Ender notes.
He's enamored of historic magazines and other paper ephemera as well: The variety encompasses a yellowed 1863 broadsheet from The Vermont Chronicle, a kewpie print from the early 1900s, framed cardboard "decoders" from Star Trek The Final Destination, and piles of Playboy. There's vintage vinyl, too — racks and racks of carefully sorted and appraised LPs. A pink notice taped to a pole elucidates his rating system, from "mint" to "VG-/G," curiously translated as "This darn record is rough / Darn this record!"
The books and albums obviously comprise the "volumes" in this store's name, a clever double entendre. But how to explain the front third of Ender's shop, which contains a mishmash of antiques — including lots of lovely glass paperweights — and art both new and old lining the two-story walls, all the way up the stairs to his office loft?
"Well, the paperweights go with the theme of paper," Ender begins. Truth is, though, there's a third meaning to the store's moniker, probably unintentional: This proprietor can speak volumes about nearly everything in his store.
Ender loves the stories behind these books, albums and other objects. With a European's nuanced perspective on history, he waxes over such arcana as records of immigration and settlement patterns in the New World. "I like old agricultural reports," Ender says. "Old town reports, budgets . . . And those church cookbooks are loaded with local history," he exclaims, citing a recently acquired 19th-century specimen from Waitsfield. "And you can see the international influence" in the recipes," he adds approvingly.
What seems to most fascinate Ender about history is connectedness. In fact, he says, being from a large family — eight sisters and three brothers — he needs it. In random artifacts, "You find these little bits of connective tissue," he explains. And, yes, he actually sits down and reads these things. "Every day I come to work and make new discoveries," Ender says. "Right now I'm reading about the fur trade of the far West." That book, too, is more than a century old.
The "unexpected discovery" applies to the store itself. Speaking Volumes is tucked off the street next to Myers Bagel Bakery, across the road from Fresh Market. Only a modest sign near Pine Street alerts passersby that something of interest lies down that bumpy, unpaved driveway. Still, since the shop opened just over a year ago, the clientele has grown. It's surely helped that Ender throws parties for the artists exhibiting here, including live music by local indie bands. "I like how the place has developed," Ender says, "young people coming in to look for old records, and old guys bringing in their old records." And the books, always more books, keep coming and going, too.
Walk-in customers may rely on serendipity, but Ender notes that he also buys, and sells, on eBay and Amazon, and often hunts down specific treasures for individual clients near and far. Recent examples include a book about Beatniks and an antique medical tome. Any really unusual requests? "Nothing strikes me as unusual, because that's what I do," Ender says. "Everything is unusual."
**********
So, how did an Austrian foodie from the shores of the Bodensee — a.k.a. Lake Constance — find his way to a vintage venture on the shores of Lake Champlain? Like most career-changing paths, his was circuitous. In his youth, Ender says, he wanted to become a chef; he also wanted to skip his country's obligatory year of military service — "I'm a pacifist," he explains. A move to Switzerland took care of both needs. There he trained in European cuisine for four years. Then, in 1987, Ender went to New York City for a chef job at the landmark Golden Tulip Barbizon Hotel (now Melrose). When he wasn't working, he says, he'd read The New York Times and watch "Sesame Street" to improve his English.
Over the next few years Ender alternated between New York kitchens and road trips — to Mexico and Central America, and across the U.S. to Alaska. His last job in the Big Apple was running a jazz club in the Village, and that's where he met his wife. When a baby arrived, the couple moved upstate, to Whitehall. There they converted a cavernous former Agway building into an antiques co-op, gallery and bakery. "That's when I started to get really interested in antiques," Ender explains. By the time he and his wife parted four years later, he was a regular at auctions.
The divorce necessitated selling the Whitehall business, so, at the urging of some friends, Ender headed to Danby, Vermont, to open a restaurant. His ex-wife and daughter, Anaii, moved to Burlington. Finally, after two successive misfires in Danby, Ender says he'd "had it with restaurants," and came to the Queen City to be with Anaii. (Now almost 18, she's about to move to New York City herself.)
For a while Ender conducted business on eBay and consulted for other dealers from his home, but that didn't fulfill his social, never mind spatial, needs. And so a shop was born. In the year since, Ender has happily accrued an awful lot more inventory — including stuff he's had in storage in Whitehall. "I'm still unpacking and finding things," he says. "It's like a treasure hunt in here." Somehow, he also manages to maintain antique booths at two locations in upstate New York.
"I'm a magnet for things," Ender understates. But while he admits he's hoarding his collection of cooking utensils, in the end his vocation is all about recycling. "I really do appreciate the historic value of a thing," he says. "You can honor that by continuing to use it, or by passing it on." A well-used and well-kept book "has soul," he suggests, gently patting an old volume on his desk. "There's another thing about books: People should read more," Ender declares. "And not just contemporary — there's a lot to look back on."