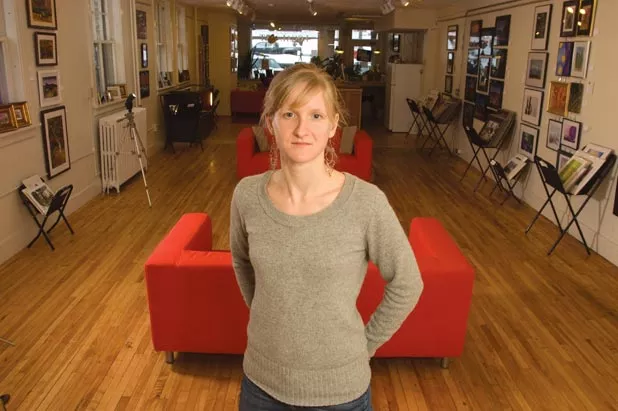 Matthew Thorsen
Stina Plant
Photographer Stina Plant was only 29 when she decided to open an art gallery in St. Albans, where she'd grown up. Since its appearance in September 2007, Staart Gallery — the name melds "St. Albans" and "art" — has been the only dedicated multi-artist gallery in this small, blue-collar town. "I still haven't figured out whether [the idea] was crazy or good," says Plant, whose straight blond hair and first name hint at her Swedish ancestry. "But the response has been great," she avers.
No wonder: Staart's vibe is fun and trendy, from its skateboarder-influenced logo to its red, modular couches, which punctuate the long room lined on one side with windows. Wall space is open to anyone who pays a three-month rental fee, so the artists who show display a range of experience.
For the current exhibit, one corner of the room is hung with Mary Ann Duffy Godwin's cheerful still-life watercolors, depicting vases of tulips or bowls of apples in contrasting patterns. According to the bio posted alongside, Godwin spent her career teaching business and technology at Milton High School before turning her hand to art.
Less new to the gallery scene are photographers David Juaire and Clair Dunn, standouts among about six shutterbugs represented. Juaire, of St. Albans, contributes to Vermont Life, and his bright-red barns and color-saturated scenes of autumn hills contrast starkly with Dunn's black-and-white shots of deteriorating, abandoned barns. Dunn, of Fletcher, is one of 20 finalists for "The Art of Action: Shaping Vermont's Future Through Art," a statewide commission competition being administered by the Vermont Arts Council and Lyman Orton of Weston.
Plant is happy to provide a space for new and established artists alike — a democratic approach that predates her gallery days. After earning a bachelor's in art photography at Syracuse University, she set out across the country on an extended road trip to visit friends and try out different places to live. Seattle would have won out had she not returned home briefly and met her fiancé, a southern Vermont native with whom she now lives in Fairfield.
Plant worked for five years as The St. Albans Messenger's staff photographer while shooting portraits and weddings on the side. Eventually, she says, her freelance work began outweighing her newspaper assignments, and she decided to open her own studio while still working for the paper. A café on Main Street that was going out of business seemed the perfect venue, and Plant hit on the gallery model as a way to help cover overhead. The space doubles as her portrait studio: Huge rolls of paper can be pulled down from the ceiling, and a range of props fill the back office, including a small trampoline for children.
The gallery idea wasn't merely economical. Plant was also inspired by the growing talk of Vermont's creative economy; the success of community-minded AIR Gallery in Enosburg; and the founding, in 2006, of the St. Albans Artists' Guild. Plant joined the guild as soon as she read about it in a Messenger article, and found to her surprise that "there were a lot of artists in the area." She now serves on the board of directors, creating a link for artists between the guild, an educational group with no physical exhibition space, and her gallery, which offers the opportunity for exposure.
A year after opening Staart, Plant stopped working for the newspaper out of necessity: Last summer alone, she shot 22 weddings. In addition to her growing photography business, she throws one or two new-artist receptions at Staart in every three-month period, closing for a week between contracts to rearrange or add pieces. In an agreement with the Bellows Free Academy, the gallery also features four high school students per month, and each group gets its own reception. Plant maintains a blog about these and other Staart happenings, including a series of figure-drawing classes for artists last year.
She's also busy planning her own wedding, in August — which will mean choosing a photographer. "It's a weird thing for me to be on the other side of the camera," Plant admits.
Staart Gallery alone is worth the trip to St. Albans, but it joins a handful of other unique and artful venues around town: St. Albans realist painter Corliss Blakely's gallery; a frame shop called The Champlain Collection that shows art, started by another townie artist, Fred Swan; and the Park Café, currently displaying more of Juaire's photos. While it's not yet an artists' mecca, it's a good, um, staart.