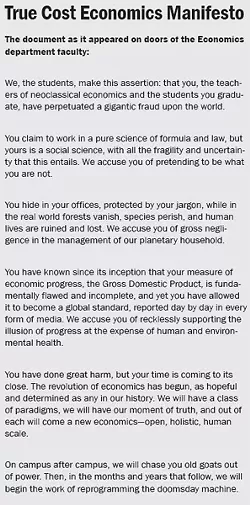 Strange times in the St. Michael's economics department. An anonymous letter was taped onto the doors of the economics professors on Sept. 18. The St. Michael's newspaper The Defender has the scoop:
...the same document was found published on multiple Web sites under thetitle of the True Cost Economics Manifesto, part of a campaign featuredon www.adbusters.org. The campaign, which began prior to 2005, invitesreaders to sign the manifesto and take part in True Cost Economics, aconcept aiming to create a "new economic paradigm," according toadbusters.org.
Intriguing! Check out the article and read the letter. It sure does sound angry. And a bit deranged.
The Defender quotes department chair Reza Ramazani as being "100 percent sure" that this wasn't the work of a St. Michael's student. Though I haven't taken an economics course during my time at St. Mike's, based on what I've heard from those who have, it's a fairly progressive department with intelligent faculty. And other faculty members at the school have high praise for their economics colleagues, especially Ramazani. In short, our economics department are hardly the people responsible for a tanking world economy and environmental degradation.
Lastly, it sure does strike me as lazy activism to simply print out a fewcopies of a letter. Can't these leftist revolutionaries atleast come up with manifestos in their own words? Is that too much toask? This guy should've taken lessons from the Forest Crimes Unit overat UVM, and figured out innovative use of toilets or something. Nowthat's a protest.