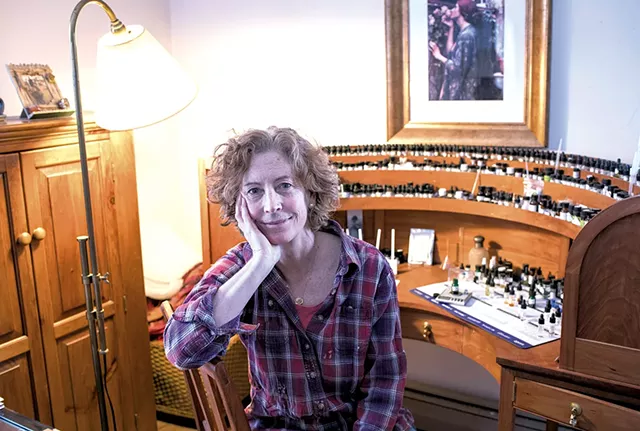 Photos: Caleb Kenna
Diane St. Clair
Vermont foodies know Diane St. Clair as the maker of the high-end butter named for her Animal Farm. She sells the hand-churned golden dairy product to a small number of prestigious restaurants including the French Laundry and Per Se. Recently, though, the 61-year-old Orwell farmer made the transition to a new medium: perfume.
St. Clair Scents launched in early February as an online store. To start, St. Clair is selling three scents that she developed, mixed and bottled herself. She plans to add more, then perhaps to place her products with a niche perfume retailer.
The launch is the culmination of six years of exploration and study, the last three under the long-distance tutelage of London- and New York City-based perfumer Eliza Douglas.
As part of that process, St. Clair received critiques on her formulas from prestigious perfumers such as Christophe Laudamiel, who employs Douglas at his fragrance company DreamAir. The creator of blockbuster scents like Polo Blue for Ralph Lauren and Happy for Clinique, Laudamiel is also the author of Liberté, Égalité, Fragrancité: A Fragrance Manifesto, in which he calls for a world where the public is educated to appreciate scent as an art form.
Such visions of democratization aside, the perfume industry remains incredibly exclusive, says Douglas in a phone interview. Aspiring perfumers, she says, typically study at one of two perfume schools in France or one of the few major fragrance houses, such as Firmenich or Takasago International. Douglas received her training at the Grasse Institute of Perfumery in France. By contrast, St. Clair worked with her teacher primarily over Skype.
If St. Clair's path to this new career is unusual, so is her product. The burgeoning perfumer makes sophisticated scents that are informed by her rural surroundings. The olfactory concoctions often seem animalistic, a bit dirty, yet they also incorporate florals, resulting in exquisite, complex mixtures.
St. Clair started delving into the world of perfume because "I've always been really interested in smell," she says. "It's a really undervalued sense." She began reading about perfumes, ordering decants online and smelling them. "It went from that to breaking them down further into the ingredients themselves," she explains.
After three years of self-guided exploration, St. Clair took a perfume-making class in New York with Douglas. She wanted to continue, but the butter-making business kept her in Vermont. So she and Douglas struck a deal: St. Clair would create her own accords — the scent combinations that form the building blocks of perfumers' complex recipes — and send them to Douglas for evaluation. The two then discussed her progress online.
"I haven't come across anyone else who is doing [what we're doing]," Douglas says of this remote apprenticeship. "I think this is the problem with the industry, in that it's quite hard to get training. And the more you learn, the more you realize you don't know." Since she began this arrangement with St. Clair, Douglas notes, she has taken on a few other long-distance clients.
For St. Clair, at least, it seems the unconventional method is paying off. Master perfumer Laudamiel exchanged his critiques of her perfumes for packages of her high-end butter. (St. Clair is still producing that, with help from her partner, veterinarian Al Clarisse.)
The award-winning perfumer says in an email that he agreed to the deal because he was intrigued by St. Clair's work with farm animals. "People don't usually talk about farm animals in perfumery," he writes, "or when it happens, it's [usually because of] a bad sentiment or scent." Furthermore, the farmer's lauded butter — which sells for as much as $50 per pound — convinced Laudamiel that "she likes high quality, and knows what it takes to get there."
At least to a novice nose, it seems she has. The three perfumes for sale on the St. Clair Scents website share a sense of greenery. Gardener's Glove, inspired by the worn leather accessory so often in contact with flowers and soil, is the most floral of the bunch. It starts off heady, green and punchy, then mellows to a softer, flowery scent cut with green stems and something earthy.
Frost — named for the powerful evocation of scents in Robert Frost's poem "To Earthward" — is a little darker. It starts off almost airy and floral and mellows to something smoky or charred, giving an impression of wet wood.
First Cut, so called after the summer's hay harvest, unfolds with a glimmer of honey and sunshine — an effect St. Clair says she achieves through the alchemy of scents such as yuzu and bergamot.
Beyond these three scents, which she sells for $75 per 13 milliliters — or $18 for one-milliliter samples of each, for those who like to try before they buy — St. Clair is working on a duo of perfumes in which she aims to capture the essence of stark autumn light and shadow. Another new scent will be composed of various "holy woods," she hints.
The perfumer maintains that all her scents are unisex, rejecting the notion that floral scents are "for girls" and woody notes are "for boys" as "just a construct."
"I don't see why people, no matter their gender, can't wear and enjoy different kinds of fragrance," St. Clair says. "Why is it OK for women to wear rose perfumes and like woody perfumes, but men can [only] like woody perfumes and not rosy perfumes? We all have the same nose."
St. Clair's formulas are generally 80 percent natural perfume oils and isolates and 20 percent synthetics, she says. All of her perfume oils use alcohol.
While she tries to use as many natural oils as possible, she says doing so isn't always in the best interest of the consumer's wallet, the environment or animal welfare. St. Clair cites ethical problems with harvesting scents such as civet, from the glandular secretions of African civet cats, as a reason that "none of my animalic smells are natural." She makes only sparing use of perfume oils that come from endangered or threatened species, such as rosewood and sandalwood.
Another reason to use some synthetic components, she notes, is that they help perfumes last longer. "Very few people want to spend the amount of money it takes to make that natural perfume and have it on them for [only] two to three hours," she says.
That said, St. Clair's perfumes still lean to the natural side; her scents unfold to a soft yet appreciable hum on the skin after about eight hours. A Chanel perfume sampled in the afternoon, by contrast, will still be quietly evident at nine the next morning.
The people St. Clair is trying to reach with her creations aren't looking for department store scents, she suggests, and will appreciate that she has ownership over every aspect of production except the harvest of the essential oils. Her perfumes are for "people looking for something made in small batches, as wearable art. Something that's different," she asserts.
Her teacher agrees. "[St. Clair] has such a specific voice, and it comes through in her work," Douglas says. "She's really genuine and passionate and uses unusual raw materials and natural materials ... That's what's so special about it. [Her perfume is] really representative of her environment and her experiences."
Can perfume convey the essence of a farm, of open pastures and worn wood and spring rain on a dirt road? St. Clair often pairs earthier scents with heady florals such as tuberose and jasmine but says she doesn't shy from the former.
"I think people get scared of animalic things," the perfumer says. "But I'm around animals a lot and the more earthy, musky soil plants."
A 2016 Taste Talks article on "The Terroir of Butter" cited Animal Farm as the prime example of a choice dairy product that reflects the taste of place. Now, it seems, St. Clair has devoted herself to evoking the scents of place, too. "The natural environment I'm around forms a lot of the palate that I bring to my perfumes," she says.