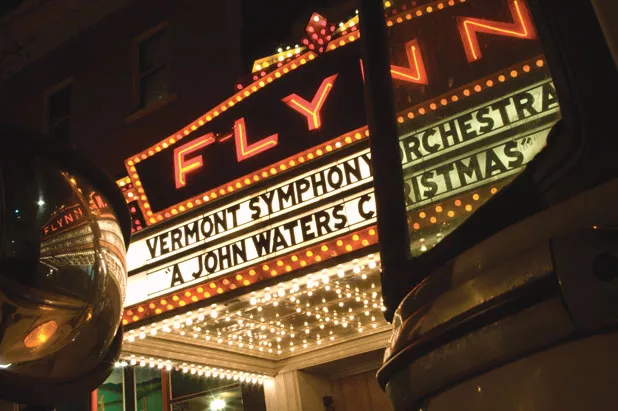 When outgoing Flynn Center executive director Andrea Rogers spoke in St. Albans City last spring, Ann Levy didn't want to miss her chance. She approached Rogers with an idea that had been percolating for 20 years: Why not run buses to Flynn shows from St. Albans?
Not surprisingly, Rogers loved the concept.
On December 15, 20 passengers will take the Green Art Bus' inaugural trip from Franklin County to the Flynn for "A Canadian Brass Christmas." Six dollars above the show's ticket cost covers the 26-passenger bus from Buddy's Taxi in St. Albans City. Buddy's Taxi, which has insurance coverage to transport members of various organizations such as the Franklin County Senior Center, charges those groups a flat hourly rate.
"I think this is viable," Levy says, sipping coffee at the Park Café in St. Albans. She organized the Green Art Bus for the St. Albans Society of the Performing Arts (SASPA) and the Franklin County Regional Chamber of Commerce. "It could be a really good resource for people," she adds.
Levy first tried launching a St. Albans-Burlington arts bus in 1989, when she was on the board of directors of the Northwest Public Transit Network, but the idea fell through. She had a second chance earlier this decade when creative-economy discussions took place around St. Albans. Again, nothing sparked. Levy says her direct approach to Rogers made the third time the charm.
Rogers made arrangements for the Flynn to set aside a block of tickets for the Green Art Bus. SASPA, which arranges transportation and oversees ticket sales, must sell all 20 tickets for each show. If it doesn't, the trip is canceled and the Flynn opens those tickets to the public.
The deadline for purchasing tickets to "A Canadian Brass Christmas" was December 7. But the other two shows have 2010 deadlines: January 15 for the Bill T. Jones/Arnie Zanes dance "Serenade/The Proposition"; and February 23 for Ed Asner's one-man show "FDR."
Levy says the "green" in the venture's name refers to the environmental benefits of some 20 Flynn-goers leaving their cars at home. She hopes the bus will appeal particularly to seniors and singles — people who don't want to drive alone at night, or attend a show alone. Buddy's has made the Green Art Bus available to other groups with specific cultural destinations in mind, though nothing is in the works yet.
"I'll be very glad if it comes to pass and the public sees it is a value not to drive," Levy says. "We will try it until it does fly — or, I guess roll — down I-89."