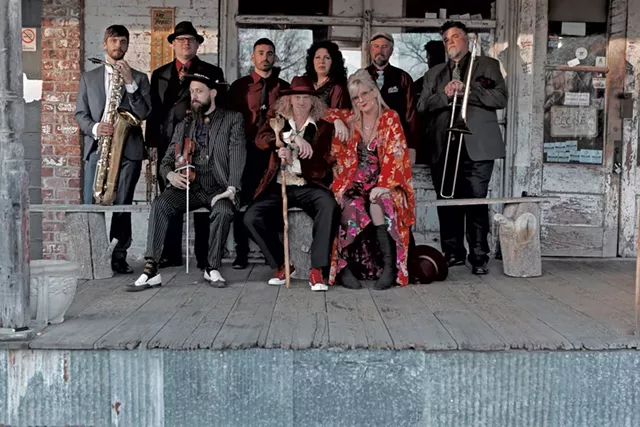 Courtesy Of Squirrel Nut Zippers
Squirrel Nut Zippers
Of all the trends in contemporary music that have come and gone over the years, the swing boom of the mid-to-late 1990s remains one of the most memorable. Seemingly out of nowhere, the hot-jazz sounds of the 1930s were a prominent part of the cultural landscape.
Some think a 30-second Gap commercial in 1998 featuring a group of hepcats dancing to Louis Prima's "Jump, Jive an' Wail" sparked collective interest. Swing-tastic bands such as the Cherry Poppin' Daddies and the Brian Setzer Orchestra were suddenly in the spotlight.
But a year prior, North Carolina-based swingers Squirrel Nut Zippers were blowing up the charts with their certified platinum sophomore album Hot. The group was unlike anything else on contemporary radio, cobbling together a peppy brew of blues, gospel, klezmer, gypsy jazz and, of course, swing. Hits like "Hell" and "Put a Lid on It" primed mass audiences for a full-blown fad and simultaneously cultivated a rabid and loyal fan base.
After a few more releases and a highly publicized, contemptuous breakup, the Zippers had fizzled by the early 2000s. But as the 20th anniversary of Hot approached in 2016, cofounder Jimbo Mathus decided to resurrect the project with a new lineup and its first album in 18 years, Beasts of Burgundy, which arrives on Friday, March 23.
Squirrel Nut Zippers perform on Sunday, April 1, at the Higher Ground Ballroom in South Burlington. Seven Days caught up with Mathus by phone. To achieve the full effect, read his answers with a deep Mississippi drawl.
SEVEN DAYS: First, I have to tell you that Squirrel Nut Zippers was the first concert I ever saw.
JIMBO MATHUS: Ha! That's awesome.
SD: It was back in '97 or '98. You played Burlington's Memorial Auditorium.
JM: That rings a bell.
SD: I'd seen some shows at the fair when I was little kid, but it was the first time I saw a concert as a teenager with no chaperone.
JM: That's incredible, man. That's such a big part of our story — the multigenerational thing.
SD: Speaking from personal experience: As a teenager, my friends and I had no problem connecting with Squirrel Nut Zippers. But I wonder about "kids today." Any thoughts or insights about connecting with new, younger fans?
JM: Well, I mean, that's what we're doing. At our concerts today, people that are, say, your age or a little older, that were children when they heard us — they have children now, and they bring them. Incredibly skilled musicians performing in the weird, old American style with joy, exuberance, creativity, showmanship, good old-fashioned cheap jokes — I don't see how that'll ever not be fun and cool.
SD: I've seen the word "revival" associated with the current run of shows. What does that mean in this context?
JM: It's something I came up with when they approached me about doing a reunion for the 20th anniversary of Hot almost two years ago. I pondered it for a while, and I thought it would be more interesting [and] authentic to revive it instead of trying to recreate something or to fit a round peg into a square hole.
I'm from the Deep South. There's a lot of religion down there. You always have tent revivals. I think about it in those terms. It's like a meeting — a place where you raise the spirit. [We're] trying to reignite the initial concept, energy and creativity that we had when I started the band.
SD: I definitely pictured the fervor and energy of a tent revival.
JM: It's a powerful word. I just had a revelation one night. I thought, I'm gonna put the dream team together and start from that. A lot of the cats from the original concoction aren't even in show biz anymore. I've been in the trenches this whole time. So I wanted people who are dedicated, devoted, skillful, talented [and] excited to take the revival out and really see if we could blow it up.
SD: Squirrel Nut Zippers have had long periods of inactivity over the years, but you've been consistently active. Will we hear influences from your other projects, like Knock-Down Society or Tri-State Coalition, in the new material?
JM: No, because the Zippers [are] a thing — it has a template, a mold. There's a lot that can fit in it, but it's a specific thing. What I wanted to do on [Beasts of Burgundy] is not break the mold and just add to what we had, and improve on it rather than trying to branch out. It's such a big era in American culture. I could work the rest of my lifetime on just that one era and never run out of ideas.
SD: A lot of Squirrel Nut Zippers songs feel kind of character-driven. Your new track, "Karnival Joe (From Kokomo)," is no exception. How do you develop these characters?
JM: Well, it's a vaudeville-based art form. You really gotta sell the song. It's an old-fashioned way of looking at songwriting and entertaining. A lot of the stuff I wrote for the first concoction, it was self-referential stuff — real people that I knew, that I was just parodying or making a black-humor commentary on.
"Karnival Joe" came from similar circumstances. When I got the revival going, I started to see the personalities of the new Zippers, and I began to want to write to their strengths [and] personalities. "Karnival Joe" is tailor-made for Dr. Sick, the fiddle player that I have now. He's got a background in burlesque and alternative sideshow-type performances.
SD: Tell me about some of the other people in the current lineup.
JM: Man, it's fantastic. The female lead now is Cella Blue. She's from Austin, Texas, and she's a longtime entertainer with a group called White Ghost Shivers. The rhythm section and most of the horns are all from New Orleans — the Frenchmen Street scene.
Everybody brings a big skillset, each and every person. As a matter of fact, the new record — I ended up collaborating so much and trusting Dr. Sick so much that he's a producer on it with me. Being inclusive like that and letting your people be their best — that's what makes a great band.
SD: Tell me about that cane. Where did you get it?
JM: Well, I'm a student of Deep South things and odd cultural phenomena. That cane came from [Louisiana State] Penitentiary. Over 90 percent of the inmates there are in for life. It's also a work farm. The prisoners cut cane and hoe cotton and raise crops.
Once a year, they have a rodeo where the inmates perform for audiences. They have arts and crafts that the prisoners are encouraged and allowed to sell. You get a lot of incredible woodworking and painting and folk art. And that cane came from a prisoner. We told him that it was gonna go out and be part of the show and that it was perfect for "Hell." It's a very voodoo-looking cane.
Squirrel Nut Zippers perform on Sunday, April 1, at the Higher Ground Ballroom in South Burlington. AA. $23/25. highergroundmusic.com