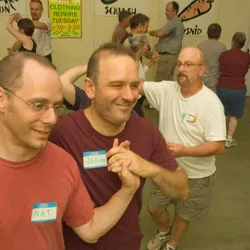 Matthew Thorsen
Nat Lew and Jason Lorber
Mark Westergard swings his hips, lifts up his imaginary petticoat and bats his eyelashes at his partner with the coyness of a schoolgirl. That's appropriate, because tonight Westergard is the girl in this dancing couple. As such, Westergard allows himself to be led around the ersatz dance floor at the Chittenden Emergency Food Shelf, where the season's first meeting of the Champlain Valley Rainbow Squares is being held. He sashays and curtsies and, when the occasion calls for it, kicks up his heels.
"We haven't even started with the flair," says Westergard, a government tax attorney by day.
That "flair" is a special kind of styling that occurs in gay and lesbian square dancing. Yes, there is such a thing. And, yes, it is every bit as colorful and theatrical as you might expect.
The Rainbow Squares, the state's only gay and lesbian square-dancing club, is entering its third season and picking up steam. At a recent meeting, 20 people showed up to cut a rug to caller Matthew Lytthouse's instructions.
Lytthouse, a slim, mustachioed computer programmer, began square dancing with his husband, Van Fryman, more than a dozen years ago. The pair was living in Long Beach, Calif., which has a vibrant gay square-dancing scene. Think the cowboy from the Village People. When they migrated east, they couldn't live without their weekly dance sessions, and founded the Rainbow Squares with Lytthouse's best friend, Cathy Hamilton, who had also recently moved to Vermont.
While gay square dancing has been around since the mid-1970s, no formal organization existed until 1983, when clubs in Denver, Houston, Sacramento, Seattle and other major cities banded together to create the International Association of Gay Square Dance Clubs. Today, the association has more than 60 member clubs around the world, including in Australia, Denmark and Japan.
Gay square dancing is similar to conventional Western square dancing, but there are a few differences. One is that gay clubs do not require costumes — which is somewhat of a disappointment given the LGBTQ community's penchant for elaborate raiment. Many straight square-dance clubs require some sort of festive getup, even if it's just a flouncy skirt for the ladies. The Rainbow Squares, much like other gay clubs, are very much "come as you are." On the first night of this season, dancers are wearing everything from Hawaiian shirts to flip-flops.
Another hallmark of gay square dancing is that singles are accepted and encouraged; many conventional clubs require participants to be partnered up. On this evening, about a quarter of the dancers are solo and have no trouble finding willing partners.
Perhaps the biggest thing setting gay square dancing apart from its hetero equivalent is that gender is unimportant. At the beginning of the dance, Lytthouse makes this clear to the participants.
"You have to pick a gender, but it doesn't have to be the gender you were born with," he says to the group. "Let's talk for a moment about hand holding. In gay and lesbian square dancing, the right hand is always palm up and the left hand is always palm down. This is how we're different than straight clubs: Gender doesn't matter."
That works for Peter Frechette. Last year — his first with the club — Frechette danced "as a girl." Despite a grounding in theater and a boatload of panache, he is the furthest thing from female. Frechette stands more than six feet tall and has substantial girth about the midsection. A pink flamingo tattoo rises on the side of his giant calf. This year, he says, he's "learning to dance as a boy." If this year is anything like last year, Frechette guesses it'll take him all season to learn the progression of steps.
In an effort to entice more people to join, Lytthouse and the other club officers made August an introductory month, during which novice dancers can drop in and learn the basics. But, come September, the club will incorporate more complicated calls — Pass the Ocean, Squeeze the Galaxy and Slip the Clutch, for example — that require all dancers to know the foundation steps.
Lytthouse begins the evening right at 7 p.m. Clearly, he is not on GPT — gay people's time. He tells the dancers to pick partners and reminds them which hand is the left and which is the right. "You'll thank me for this later," Lytthouse jokes.
A member of the Gay Callers Association, Lytthouse tells the dancers to take hold of their partners' hands. "Look deeply into their eyes and say, 'I'll never forget you,'" he deadpans. The dancers erupt with laughter. The joke breaks the inherent tension that comes with partnering with a stranger.
The first song, an instrumental, is vaguely country. Lytthouse says songs without words are best for square dancing — it's hard enough to follow the caller without being distracted by lyrics.
As a caller, or the person who determines the combinations of steps the dancers will follow, Lytthouse gets to pick the music. Country music is no longer the standard accompaniment for square dancing. The Rainbow Squares dance to show tunes as well as popular songs that have been remixed without vocals, such as the Pussycat Dolls' "Sway" and "Sweet Dreams (Are Made of This)" by the Eurythmics. Most songs are in the 125-beats-per-minute range. However, Lytthouse likes to kick it up to 135 BPM when he's calling for experienced dancers.
For square dancers like Westergard, the music is incidental. He'll sashay to anything as long as it "has a nice beat and is easy to dance to," he says.
Over the course of the evening, the dancers learn how to allemande (make a right or left turn with an arm hold), promenade and do-sa-do. Here's where gay styling comes into effect.
To promenade, the "girl" holds her hands palm up above her shoulders. The "boy," standing just to one side of her, grabs hold of her hands and walks her through the movement. In straight square dancing, the promenade is more traditional, with girls and boys holding each other's crossed hands at waist height.
When Lytthouse calls for a do-sa-do, the group, which tonight includes a sprinkling of straight people, has a chance to get creative. "Think Riverdance," Lytthouse calls, referencing the Irish dance phenomenon of the mid-1990s. "Think Highland Fling." Dancers, following Lytthouse's instructions, grab their partners around the waist with one arm and toss the other arm up in the air, some with more élan than others.
At the end of a sequence, some of the more experienced dancers, such as Westergard and his partner, Curt Moody, give a few claps, followed by a hip bump and a couple of toe taps. These moves definitely came from the gay playbook.
By the end of the first session, the dancers are drenched in sweat but look fairly confident seesawing, sashaying and swinging through. Only a few toes have been stomped and everyone leaves smiling, even Robin Burnett and Steven Griffin, a straight couple who came at the insistence of their friend Frechette. The married pair, who had never square danced before, gamely adopted the gay styling.
"It's going to be so fun when we go to a straight square dance and do the gay styling," Griffin says during a break.
His wife gently reminds him that it'll take a while before they master any kind of styling, straight or gay.