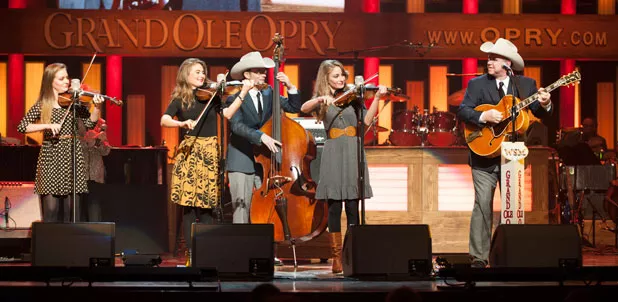 Last fall, when Seven Days checked in with Lance Olson for our Performing Arts Preview Issue, the executive director of the Spruce Peak Performing Arts Center in Stowe was brand new. He came to the job from the Cutler Majestic Theatre at Emerson College and had plenty of programming experience under his belt.
Olson took the reins of a gorgeous venue — a 420-seat theater with state-of-the-art acoustics — that was itself pretty new. Attendance at shows had varied wildly before his arrival, from sold out to embarrassingly sparse. Spruce Peak, smack in the middle of the ginormous Stowe Mountain Resort, had yet to discover its niche (or to be discovered, even by locals). It was Olson's challenge to make that happen.
To pinpoint Spruce Peak's audience, Olson told us then, he was going on a "listening tour." He took an apartment in the middle of Stowe Village (he also owns a home in Bridgewater) so he could mingle with the natives. He planned to take stock of the unique mix of Lamoille County locals, second-home owners and winter and summer tourists that defines Stowe. Oh, and he was going to visit schools and other performing-arts presenters in the area.
Turns out, he's a good listener.
After a fairly quiet winter, performance-wise, Spruce Peak sent out publicity last week for a full roster of entertainments scheduled for May through early November, encompassing several distinct, thematic series. Clearly, Olson had figured out something about his new town. We gave him a call to find out what, and how.
Yep, as we'd suspected, the director told us he'd developed what he called a "programming philosophy." It comprises five streams — the names of which each begin with the superlative-sounding double entendre "Peak."
Peak VTartists, Olson explained, focuses on, well, artists working in Vermont. They're the kind of quality artists who may perform frequently, but "we may not really know who they are," he said. By this Olson seemed to mean two things: that we may take gifted homegrown performers for granted, and that we may not have seen them in a venue worthy of their talent. "I think it's imperative that they perform on a world-class stage," Olson declared.
The artists he's chosen for this honor are a diverse bunch, ranging from Warren chamber players Scrag Mountain Music to Burlington singer-songwriter Gregory Douglass to dancers from the Montpelier Movement Collective. First up in this series, on May 18, is Audrey Bernstein — this is a CD release concert for this rising jazz singer who moved to Vermont in 2009.
The Peak Pop series, bringing nationally known acts from near and far, is still developing; only two are on the roster so far, though Olson said he's in negotiations for more. He's excited about the Quebe Sisters Band from Texas, whose three members are all winners of the National Old-Time Fiddlers Contest. The sisters also bring three-part vocal harmonies to their blend of Western swing and hot jazz (August 29).
Olson is proud, too, that he's "reconstituted" the popular but long-defunct Vermont jazz band viperHouse for a reunion show (September 28). "Some people will come for miles to see them," he said. "And the younger generation won't know who they are. There will be differences in how people experience them."
The "Pop" in this series isn't necessarily about a genre; it also refers to the pop-up nature of the scheduling. This "opportunity booking" means a venue might grab an empty date on an artist's tour while he or she is in the area. Nightclubs such as Higher Ground commonly do this; it's well known that northern Vermont benefits from proximity to larger cities in the region. At Spruce Peak, Olson will remain vigilant for such possibilities year-round and update his calendar accordingly.
In another stream, Spruce Peak will bring us the Rolling Stones, Paul McCartney and Peter Gabriel, among other giant acts. Digitally — it's called Peak Film — but still.
Big-screen broadcasts in HD have won over local audiences since New York's Metropolitan Opera began streaming its productions live several years ago to regional theaters such as South Burlington's Palace 9 Cinemas and Middlebury's Town Hall Theater. Spruce Peak has scheduled just one opera so far: the Staatsoper Berlin's production of Carmen. The venue will present the above-named rockers in live (recorded) concerts, as well as blockbuster musicals such as Phantom of the Opera; Andrew Lloyd Webber's sequel, Love Never Dies; and Stephen Sondheim's Company, whose cast includes Neil Patrick Harris, Patti LuPone and even — yes, nation — Stephen Colbert.
Peak Film is not a bunch of movies; rather, Olson said, it's conceived as "events that happen to be delivered digitally — and performances we could never bring to Vermont, at least not affordably." The Phantom broadcast is the 2012 production at London's Royal Albert Hall, a 25th-anniversary event with more than 200 cast members, many of whom have starred in other productions over the years. Now, that's an amazing "event" for 12 bucks.
Peak Film has committed to 11 such broadcasts between May 11 (Pina, the film paean to late German choreographer Pina Bausch) and November 2 (Love Never Dies). "These need to be presented on a big screen, in HD, with surround sound," Olson said.
Like Peak Films, the Peak Family series is likely to be typeset in stone, as it were. That calendar has seven dates on it right now, from the live taping of National Public Radio's "Says You!" that took place on April 20 through the third annual residency of world-renowned violinist and conductor Itzhak Perlman in late October. The programming in this stream, Olson suggested, "should affect all members [of a family], but not necessarily in the same way — it's a shared experience that people will talk about for some time to come." He added that on his listening tour, "I heard this need mentioned very clearly by people who live around here."
"This need" is not specifically for children's shows but for entertainments that all ages may attend together. The family series also draws on locals — the Stowe Middle and High Schools Spring Concert (May 15) and the Burlington Civic Symphony Orchestra, with dates in June and August. The glitzier acts hail from north of the border: the multimedia magic extravaganza that is Outerbridge: Clockwork Mysteries, from Montréal; and Québec's music-and-dance spitfires Grand Dérangement, which Olson likened to "an Acadian Riverdance." Both arrive in September.
Kids themselves are not overlooked in Spruce Peak's programming — far from it. But the public won't see the fifth stream, Peak Students, on the brochure. For this Olson sought out a collaboration with the Flynn Center for the Performing Arts, specifically with its Student Matinee Series. According to the Flynn's website, shows in this series reach an average of 43,000 children from more than 200 schools each year. Like all arts presenters and educators, Olson knows the significance of reaching young audiences — not only to provide them with often mind-expanding experiences, but to nurture future generations of theatergoers and patrons. "I believe this is important in every community," Olson said.
"The Flynn will essentially be including Spruce Peak as one of their venues," Olson explained. "I like collaboration very much. I'll be working with other small arts groups in the area, too." He's also thinking about potential partnerships in the broader region.
Olson has learned a lot of things since arriving in Stowe last fall, he said, and one of them is the power of community. Collaboration, not competition — a principle the Flynn and a half dozen other arts groups in Burlington implemented last year with their Six Pack Onstage project that collectively reached out to younger audiences.
"It's about strength in numbers," Olson said, "but it's also recognizing the skills that are already out there."
For Spruce Peak's "Peaks," he concluded, "We chose a smorgasbord to see what people like and will come