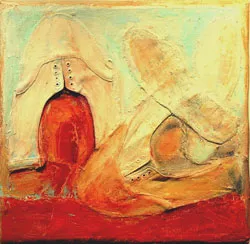 "Uppers and Soles" by Maggie Neale
The 1878 Victorian residence on Montpelier's Main Street roundabout houses the Lazy Pear Gallery, a haven for playful artworks. The Lazy Pear's current show, "Adding Dimension," lives up to its whimsical rep with mixed-media pieces by Vermont artists Alexandra Bottinelli, Timothy Fisher and Maggie Neale. Fisher's frisky cloth collage images are always ebullient. While painters Bottinelli and Neale have been known to present moody works, their offerings here are upbeat. It's a show of pleasant springtime fare, of accessible statements couched in sophisticated, multilayered imagery.
Bottinelli is a mixed-media artist who melds collage with oil and encaustic layers to ethereal effect. But these works aren't spectral; they're more often like fond memories conjured in a series of associative pictorial snippets. "Dancing" is a 16-by-16-inch collage on panel depicting an outdoor frolic of small birds, flowers, leaves and cut-outs of girls from the early 20th century. A milky wash over the surface integrates Bottinelli's incongruous details with the shallow picture plane.
"Red" is a vertical diptych of two 10-by-10-inch canvasses. The lower half is a translucent, blood-red field, while the upper portion offers children's figures, trompe l'oeil bubbles of color, and bits of newsprint and magazines. Bottinelli's vagueness holds viewers' interest, as visual puzzles appear within her subtle hues and textures.
Neale's "Hand-me-down" is a 23-by-24-inch work on panel, with an old polka-dotted blouse pasted across it. Her convoluted fabric textures are stain-painted with pale blues and earth tones. The cloth dangling along the piece's left side creates an irregular edge, contrasting with the three straight sides of the panel. Neale's red- and-pale-blue "Uppers and Soles" is a 16-by-16-inch canvas, also slightly irregular in shape, to which is affixed a pair of dismembered tennis shoes. Oil and a wax medium saturate her painterly surfaces.
Neale's 24-by-24-inch "Seed" exemplifies the process and materials she describes in her online artist's statement: "My paintings bring in textures of fabrics and scored paint, which has been thickened and increased in supply by the addition of a beeswax/copal substance. I have a tendency to dive into a painting and not come up for air until it has reached a state of potential finish." "Seed" is a mixed-media work dominated by a large ovoid form of collaged fabric and paper, nestled under a high and uneven horizon. Its main hue is raw sienna, but a subtle turquoise layer seems to bury the "seed."
Fisher, who crafts folksy, colorful narratives from paint and cut-out scraps of cloth, contributed six pieces to the show. He pastes his flat characters onto bright color fields that complement the plants and animals he's clearly so fond of.
"Endangered People in the Garden" is a 24-by-24-inch Adam-and-Eve story that depicts a little pair of pink nudes residing in a suddenly dangerous Eden. There's a huge, green-spotted frog in the lower right corner, and a hissing snake pokes out from an abstract tree bedecked with orange leaves. A giraffe 10 times the size of the human couple also appears in Fisher's whimsical biblical scene, which unfolds on a pleasing magenta background.
Another long-necked critter appears in "Floating Over Hen and Giraffe," an 18-by-24-inch idyll on pale green cloth. Fisher portrays two girls hovering above a stylized giraffe at left, and a speckled black-and-white hen at right. A leafy plant, visited by butterflies, rises among the animals in this decorative, fresh and cheerful narrative.
The timing of the Lazy Pear's lively three-person show is no accident. "Adding Dimension" adds much-needed color to the soggy monotony of mud season.