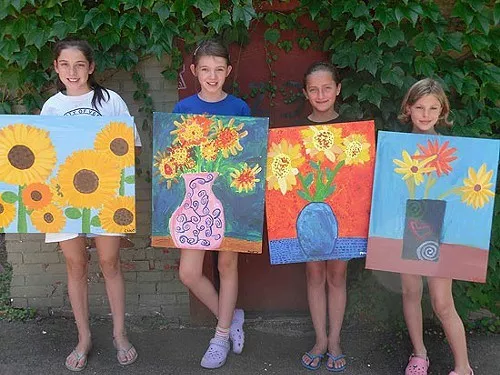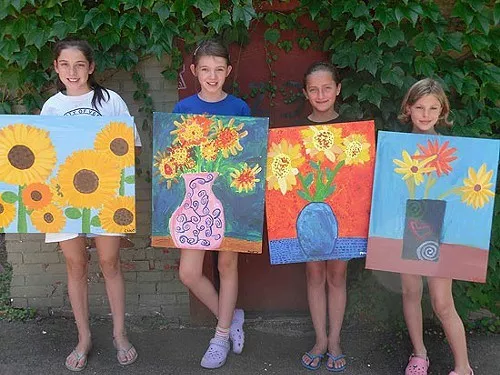 Davis Studio Summer Camps are among dozens of camps and schools exhibiting at the 16th annual Kids VT Camp & School Fair on Saturday, February 2, 10 a.m.-2 p.m., at the Burlington Hilton. At the fair, representatives from each exhibitor will present detailed information about upcoming offerings, and answer questions from parents and potential campers. Our "Spotlight" series offers a sneak peek at participating programs.
Art is everywhere — from treehouse architecture to graffiti. That's the underlying lesson linking dozens of Davis Studio summer camps.
The day programs run by the Burlington art center are widely varied. Six- to 8-year-olds might fling and splatter paint in the style of abstract expressionist Jackson Pollock, while 8- to 13-year-olds fashion "edible landscapes" from visually interesting foods. Thirteen- to 18-year-olds might envision their dream homes in an interior-design course, or improve their spray painting at an introduction to street art.
Exercising their imaginations helps kids develop their decision-making and problem-solving skills, no matter the program. "Just being creative has universal application in every area in life," explains director Teresa Davis. "We're trying to give them very authentic experiences that let kids be exceptionally creative ... We want them to use their own artistic voice."
Like the keepsakes the kids create in every program, that's something that will last a lifetime.
Davis Studio Summer Camps are weeklong day programs beginning as early as June 17. Kids camps for ages 6-13 run from 9 a.m.-3 p.m.; teen camps for ages 13-18 run from 9 a.m.-4 p.m. Aftercare is available through 5:30 p.m. Visit davisstudiovt.com/camps.html for more information.