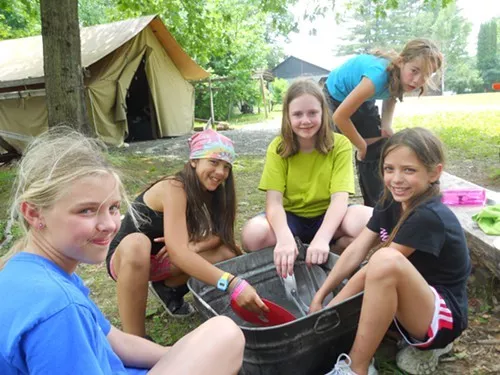 courtesy of Jessica Riendeau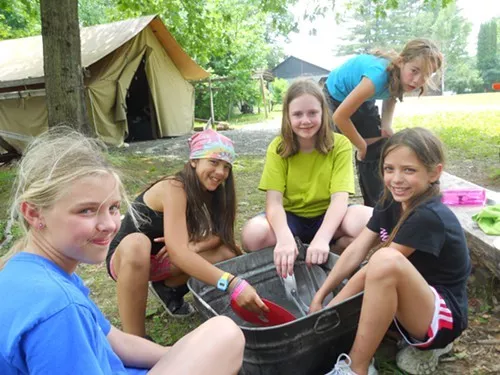 courtesy of Jessica Riendeau
Camp Farnsworth and Camp Twin Hills are two of dozens of camps and schools exhibiting at the 16th annual
Kids VT
Camp & School Fair on Saturday, February 2, 10 a.m.-2 p.m., at the Burlington Hilton. At the fair, representatives from each exhibitor will present detailed information about upcoming offerings, and answer questions from parents and potential campers. Our "Spotlight" series offers a sneak peek at participating programs.
It makes perfect sense that Camp Farnsworth in Thetford and Camp Twin Hills in Richmond are all about celebrating girl power — both are programs of the Girl Scouts of the Green and White Mountains.
"A lot of other camps have a very much structured schedule that the adults plan and develop," explains day-camp coordinator Jessica Riendeau. At Farnsworth and Twin Hills, "It's up to the girls what they're going to do for the duration of their stay. We really foster girl-led learning experiences."
The campers, who don't have to be Girl Scouts to attend, build their independence by devoting time to any number of personal interests, from horseback riding to photography. There are also more traditional activities, such as campfire cookouts, hiking excursions and archery. Twin Hills' weekly field trips to Waterbury Center State Park focus on swimming and canoeing.
Both camps serve girls in grades K to 12. Twin Hills sessions, beginning July 8, are one- or two-week day programs including a single overnight. Farnsworth's four-day and one- and two-week residential stays begin on June 30. Visit girlscoutsgwm.org/camp/camp.html for more information.