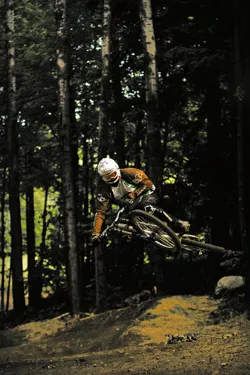 Wherever there are athletes, artists are often nearby — photographers, that is — even when there's no race. That's certainly the case in the burgeoning sport of mountain biking, and a brand-new competition culminating in Vermont this Saturday — for the artists, not the athletes — sets the bar. The first annual Green Mountain Showdown at the Trapp Family Lodge in Stowe features five adventure photographers giving five-minute slideshows of their best images of mountain bikers doing their thing.
The pictures were all shot over the past month, explains Hyde Park-based organizer Ryan Thibault, 32, a graphic designer and photographer himself, avid biker and cocreator of Mountain Bike Vermont, as well as a forthcoming guidebook of the same name. His writing partner, Vince Hempsall, 39, an outdoor/travel writer and editor, lives in British Columbia but is "Vermont's biggest fan," says Thibault. The two maintain mtbvt.com, "an online source of all things mountain biking in Vermont." The site includes personal stories of mountain bikers, info about events, trails and gear, and some killer photos.
Being very close to nature, mountain biking is a highly photogenic sport. And then there are the thrills: bikers airborne, skirting mountaintops, negotiating descents.
Thibault and Hempsall hand-selected shooters they considered among the best in the Northeast for the photo competition: Berne Broudy, Justin Cash and Bear Cieri of Vermont, Aaron Rhode of New Hampshire and Matthew DeLorme of Maine. After their presentations, a panel of judges will determine best in show, second place and — taking cues from the crowd, says Thibault — best individual shot.
The evening program under a tent includes a barbecue and Trapp Lager, live music, and remarks from the likes of Patrick Kell, president of the nonprofit Vermont Mountain Bike Association. Preceding all this are opportunities for rides on the 13 miles of biking trails the resort has built so far.
Thibault got the idea for the Green Mountain Showdown from similar competitions in British Columbia. "I attended a number of events there that really had a sense of community," he says. "I thought it was applicable to Vermont." As the state continues to expand its network of mountain-biking trails (see related feature on page 44), he anticipates the culture will grow as well, and draw more attendant photographers. "The best way to support that scene is to do a competition like this," Thibault suggests. "This is very much about the art."