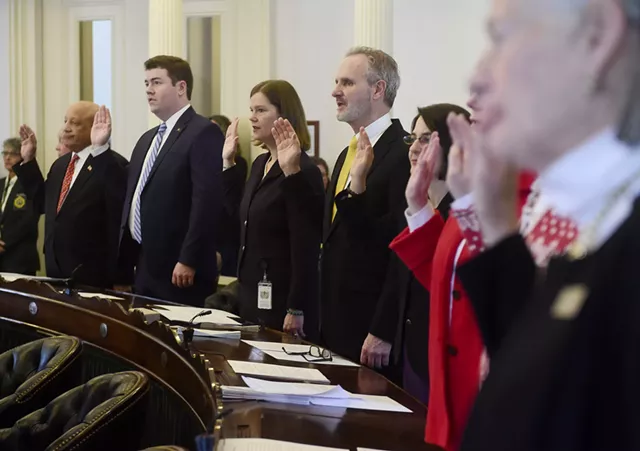 Jeb Wallace-Brodeur
Members of the Senate take their oaths of office.
Last week, the Vermont Senate approved a bill on a voice vote that would bring an end to the six-member Chittenden County Senate district. No other legislative district in the country is served by so many lawmakers, according to the National Conference of State Legislatures. All six Chittenden senators supported the bill, and two of them were cosponsors.
"It's time," said Sen. Phil Baruth (D/P-Chittenden), acknowledging the elephant in the room: The district amounts to "incumbency protection" because it's so hard for a newcomer to establish name recognition without spending mountains of cash.
How hard? The last time a Chittenden senator ran for reelection and lost was Republican Peter Brownell in 2000. How much cash? Fuel dealer Skip Vallee poured $123,000 into his 2000 campaign for Senate — and finished seventh.
The Senate's 30 members represent districts that roughly correspond to county boundaries. A single member represents the most rural counties, such as Orange. More populous counties have more senators. Chittenden, as the state's population center, has six seats. Most senators represent two- or three-member districts.
As written, S.11 would "limit senatorial districts to a maximum of three members beginning at the 2022 General Election." By then, the state's Legislative Apportionment Board will have drawn new political boundaries based on the 2020 U.S. Census.
That board, which is reestablished every 10 years, includes two members each from Vermont's three major parties, plus a chair appointed by the chief justice of the Vermont Supreme Court. The board must balance a number of factors, including constitutional mandates to keep towns and counties intact wherever possible and creating districts with relatively equal populations. Its work is subject to revision and approval by the House and Senate, where the interests of incumbents are often at the fore.
The Chittenden dilemma has been a constant theme of recent reapportionments. The board recommended splitting the district as far back as 1972 and as recently as 2012. But the Senate itself has consistently opted for the status quo. S.11 is like Odysseus tying himself to his ship's mast to defeat the temptation of the Sirens.
The 2012 board's two Republican members, Rob Roper and Neale Lunderville, had an even more radical idea. "Neale and I proposed an entire map of single-seat [Senate] districts with five House districts within each Senate district," Roper recalled. "The legislature would have rejected it, but it could have started a statewide conversation."
Roper's vision is shared by Brandon Batham, director of party operations for the Vermont Democratic Party. (He emphasizes that, on this issue, he's speaking entirely for himself.) "We've gotten in the habit of creating multi-member districts," Batham said. "But Vermont is very vulnerable to a legal challenge. The argument is that a vote in one district counts more than a vote in another."
Nationally, according to the National Conference of State Legislatures, there's been a trend toward single-member districts. Only 10 states allow multimember districts, and most set a maximum of two lawmakers per district. West Virginia, which currently allows up to five, passed a law in 2018 that will require single-member-only districts in the next reapportionment. After that, only Vermont and New Hampshire will allow districts with more than two lawmakers.
Ideally, according to 2012 redistricting board chair and Shelburne attorney Tom Little, the number of residents per senator shouldn't vary too much from district to district. The acceptable deviation between the district with the most residents per senator and the district with the fewest residents per senator is a gray area; Little believes that the upper limit is somewhere between 16 and 20 percent.
According to Little, Chittenden "could have supported six and three-quarter senators" based on the 2010 Census. Given the county's continued growth and population shrinkage in other counties, it's very likely that Chittenden will require a full seven by 2022. But if you want to create a firestorm in the Statehouse, try suggesting that Chittenden County is underrepresented. A more palatable alternative is to move some towns out of the Chittenden district.
Little believes that a 2022 reapportionment is likely to involve cutting most of Chittenden into two or three parts and shifting some communities to nearby districts.
On the other hand, he added, "you make more enemies that way" because you're affecting more incumbents. And when the Senate has final say over its boundaries, incumbency is a powerful argument.
But it might be the only way to bring district populations within acceptable variations. A northern Chittenden town or two, for example, could be moved into the Franklin County Senate district, which would transform it from a two- to a three-member district.
It would also take us farther away from the constitutionally prescribed ideal of following county lines. According to Secretary of State Jim Condos, each Senate district deviates at least slightly from county boundaries — but still, each district is clearly identified with a single county.
Besides all this, there's the cold political calculus underlying reapportionment: Which party might gain an advantage? The six-member Chittenden district helps Democrats and Progressives. Breaking it up might allow a Republican or two to win, depending on how the new boundaries are drawn.
The 2022 board will be expected to craft a plan that artfully balances all these factors while trying not to piss off too many incumbents. The mandate of S.11 will make it harder for the board to avoid making enemies — and it's likely to force senators to make some uncomfortable choices.
Mo' Money, Mo' Problems
Sen. Chris Pearson (P/D-Chittenden), one of the Statehouse's leading advocates of campaign finance reform, has proposed two bills aimed at limiting the influence of political money. The first, S.32, would reform Vermont's dysfunctional public financing system. The other, S.47, would ban corporate contributions to candidates or political parties.
Some might be surprised to hear that Vermont has a public financing system. It's underfunded and painfully restrictive to the point that it seems designed to discourage applicants. It's open only to candidates for governor and lieutenant governor. The qualifying process is laborious. Candidates can't initiate the process until mid-February of an election year. The money isn't enough to be competitive, and once they qualify for public funds, candidates are prohibited from any additional fundraising.
Pearson's bill would ease access in three ways. First, the system would be open to candidates for statewide office and the legislature. Second, candidates would be able to launch their campaigns anytime during a two-year election cycle. And third, a publicly financed candidate who's up against a well-heeled opponent could raise additional funds to match.
Pearson cites Maine and Connecticut as states with successful public financing systems. "Ninety percent of their candidates use it," he said, Democrats and Republicans alike. "They don't have to spend time raising money. They can talk about the issues and meet constituents."
His bill omits one crucial feature: a funding source for a substantially larger system. That's going to be a tough sell for the legislature and a tax-averse governor. Pearson didn't offer an estimated cost. Maine's system, for a population twice as large as Vermont's, requires a $6 million state appropriation every two years.
Pearson's other bill, S.47, is identical to one that passed in the Senate but failed to advance in the House last year. It would ban corporate gifts to candidates or political parties.
"For several cycles, Democratic candidates for governor have disavowed corporate contributions," said Pearson. "They recognized the value of [this approach] and the desire of voters to eliminate the influence of corporate donors. And yet we've struggled to pass the bill."
If the words of top Democratic Party officials are any indication, the struggles may continue. "We are concerned about corporate money in politics, but this bill may not solve the problem," said party chair Terje Anderson. "It might just drive corporate money underground" to lightly regulated super PACs.
Batham, the Democratic Party official, invoked the specter of a court challenge. He cited a Connecticut law banning lobbyist contributions to candidates or parties. It was struck down by a federal appeals court, which specifically cited the party ban as problematic. Batham said the same fate might befall S.47. "We're interested in crafting a bill that would pass the legislature and stand a test in the courts," he said. "We're not sure this would."
Paul Burns, executive director of the Vermont Public Interest Research Group, isn't buying it. "The Connecticut case involved lobbyists, not corporations," he said. "Nearly a couple dozen states have banned corporate contributions, and the courts have upheld those laws."
Considering that Batham's employer accepts corporate contributions, his advocacy might be viewed with suspicion. Batham and Anderson argue that the party doesn't really need corporate cash. "Less than 6 percent of our donations in 2018 came from corporations," said Batham. "Over the two-year cycle, it was 7.6 percent."
Well, sure, but Batham himself calculated that 7.6 percent of the two-year total added up to $115,000. It might be a small percentage, but it ain't chump change.
Criminal Disturbance
Should "disturbing the legislature" be a crime? A bill before the House would make it so. Offenders could be fined up to $500 and sent to jail for six months.
"We have had serious disruptions in recent years," said Rep. Patrick Brennan (R-Colchester), the sponsor of H.53, the bill in question. "It's still the people's House, but we have to keep everyone safe."
Serious disruptions have been few and far between. Take the February 6 hearing on abortion rights legislation. Emotions ran high on both sides, but participants observed House rules of decorum. The most serious disruption of the last few years occurred during then-governor Peter Shumlin's 2015 inaugural address. Members of the Vermont Workers' Center occupied the well of the House chamber, chanting and waving banners during the speech. Police removed the protesters and arrested 29 of them. This year, there have been a couple of occasions when a single protester briefly interrupted the House, but that's about all.
"My initial reaction is that it's a solution in search of a problem," said Rep. Sarah Copeland Hanzas (D-Bradford), chair of the House Government Operations Committee, which has jurisdiction over H.53. "I don't see a compelling need to change the statute in a way that could curtail free speech."
"I'm concerned by the inclusion of jail time and a substantial fine," said Chloe White, policy director for the American Civil Liberties Union of Vermont. "There are ways to prevent disruption of public meetings without involving the criminal justice system."
Brennan insisted that he has no draconian intent. "There will be common sense in this discussion," he said. "This bill would add clarity to what is and is not a disturbance."
The bill defines "disturbing the legislature" as "substantially impair[ing] the effective conduct" of the House, Senate or any official meeting of state lawmakers. That seems to provide little clarity and a lot of latitude for police.
Statehouse security has been steadily ramped up in recent years. At some point we will have to define the proper balance between safety and free speech in the people's House.
Disclosure: Tom Little serves as legal counsel to Seven Days.
Correction, February 14, 2019: The original version of this column misidentified the last Chittenden senator to lose a reelection bid, and misstated the year of Skip Vallee's Senate candidacy.