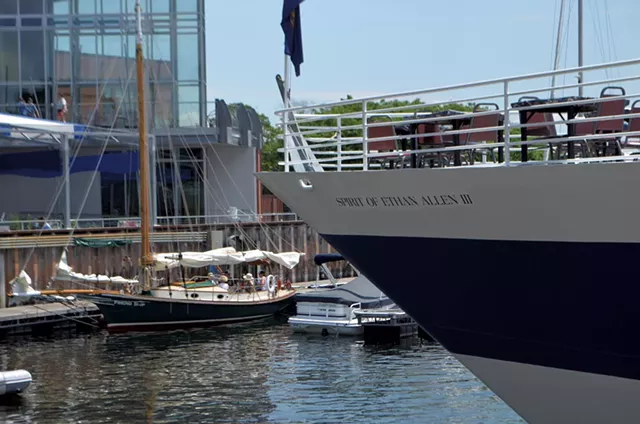 Ken Picard
The Spirit of Ethan Allen III docked at Burlington's waterfront
There's no better way to take in the spectacular beauty of Burlington, the Green Mountains and the Adirondacks than from Lake Champlain. And, short of owning your own sailboat, yacht or fishing vessel, taking a cruise aboard the Spirit of Ethan Allen III is one of the quickest and easiest ways to get out on the lake.
From April 15 through October, the boat runs daily sightseeing tours, lunch cruises and other special events — murder mystery tours, lobster dinners, Champagne brunches and harvest dinners — that depart from the Burlington Boathouse. Nearly 100,000 visitors step aboard to enjoy the area's natural splendor, learn a little local history and feel the wind in their hair.
The Spirit of Ethan Allen company, now celebrating its 35th season, has a unique history of its own. Mike Shea, who previously had worked as an airline pilot and managed the Morrisville-Stowe State Airport, founded the cruise boat business in 1984. At the time, his parents owned and operated a paddle wheeler called the River Queen on the Fox River in Green Bay, Wis. When the Vermont airline Shea was working for went bankrupt, he followed in his parents' footsteps and pursued the maritime life.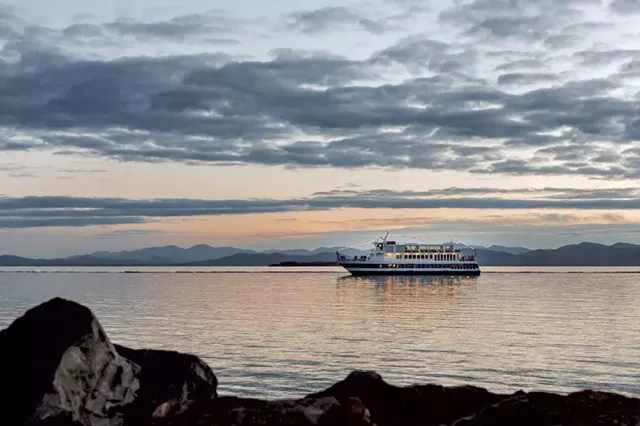 Courtesy Of spirit Of Ethan Allen
Spirit of Ethan Allen III sunset cruise
He first purchased the Dixie, a 149-passenger paddle wheeler from Philadelphia, and renamed it the Spirit of Ethan Allen in honor of the American Revolutionary War hero and Vermont founder. Its maiden voyage took place on May 28, 1984, at Burlington's Perkins Pier. Then-mayor Bernie Sanders — who, as U.S. senator, rose to national prominence during his 2016 presidential campaign — christened the vessel. He called its launch "the beginning of the new Burlington waterfront."
"At the time, I had no idea what he was talking about," Shea admits. "But look at it now."
Indeed, in those years Burlington's shoreline was still transitioning from its rusting industrial past into the booming tourist attraction it is today. The Spirit was instrumental in luring visitors to the lake and, in the process, fueled the growth of nearby restaurants, bars and hotels. In 1993, Shea relocated his ship to the Burlington Boathouse, where it's been berthed year-round ever since.
In 1995, Shea acquired the 500-passenger Spirit of Ethan Allen II, which he operated until 2001 before moving it across the lake to Plattsburgh, N.Y., and renaming it the Spirit of Plattsburgh. The boat operated there until 2005, when it was sold, moved to the West Coast and renamed the Islander. Since 2006, it has ferried tourists to Alcatraz Island in San Francisco Bay.
Today's Spirit of Ethan Allen III is a 363-passenger ship with a full galley. In addition to daily cruises, it can be rented for private events such as weddings, high school graduations and corporate gatherings. The ship once hosted a wrap party for the 2000 movie Me, Myself & Irene, which was filmed in Vermont and starred Jim Carrey and Renée Zellweger.
"It was kind of exciting," Shea recalls. "We were sworn to secrecy and couldn't ask for pictures or any of that stuff. But they ended up jumping in the lake and had a great time."
Every summer, Shea hires college students on J-1 work visas from Eastern Europe and former Soviet-bloc countries. The opportunity allows them to live and work in Vermont for the summer, then travel the U.S. As Shea puts it, "It's probably one of the most gratifying pieces of what I do."
Today, boat tours offer a narrated history of Lake Champlain, beginning with its formation as an inland sea tens of thousands of years ago. The story explores the lake's cultural significance to Abenaki and Iroquois tribes, notes the arrival of French explorer Samuel de Champlain in 1609, and examines the lake's critical role in the Revolutionary War and the War of 1812.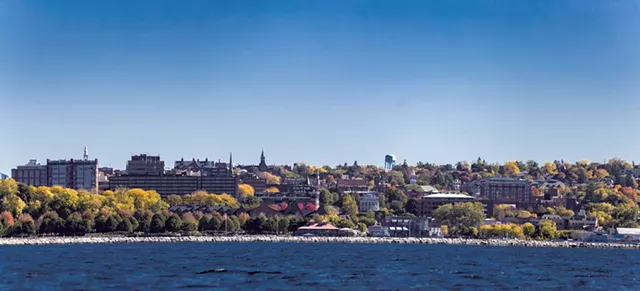 Luke Awtry Photography
The view from Burlington Bay
For example, when the ship passes a tiny island known as Dunder Rock, the narrator explains that, during the War of 1812, British cannons pummeled it after mistaking it in the fog for an American ship.
The narrator also notes that the Spirit of Ethan Allen earned itself a place in a local legend that dates back to the days of de Champlain. In 1609, the explorer claimed to have spotted a sea monster at least five feet long. Other travelers on the lake, including Native peoples, have reported similar sightings of the creature now known locally as "Champ."
On July 28, 1984, near a geological formation known as Lone Rock Point, the largest-ever mass sighting of Champ occurred aboard the Spirit of Ethan Allen. According to Shea, at least 70 people attending a 50th wedding anniversary party, including himself, spotted something large in the water.
"All of a sudden we saw something following us, and it came up a couple feet out of the water," he remembers. "We watched it for several minutes until a speedboat came the other way, and it did a 90-degree turn, dove and disappeared."
Shea admits he doesn't know what was in the water, "but there was something going on there — and it wasn't a rogue wave."
Whatever it was, Shea says that he's never seen it again — but thousands of visitors aboard the Spirit of Ethan Allen III still keep an eye out for Champ.
Find out more about Spirit of Ethan Allen III cruises at soea.com.
---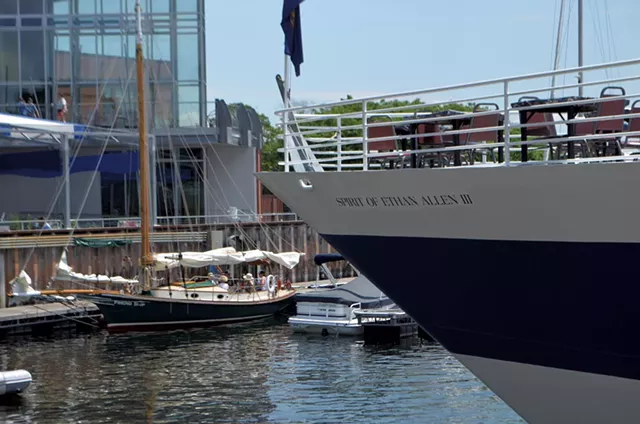 Ken Picard
The Spirit of Ethan Allen III docked at Burlington's waterfront
Le meilleur endroit pour apprécier la beauté spectaculaire de Burlington, des Montagnes vertes et des Adirondacks, c'est au milieu du lac Champlain. Si vous ne possédez pas votre propre voilier, yacht ou bateau de pêche, embarquez sur le Spirit of Ethan Allen III : l'une des façons les plus rapides et les plus faciles de découvrir le lac.
Du 15 avril jusqu'en octobre, des excursions quotidiennes, des dîners-croisières et des événements spéciaux sont organisés à bord — jeux de meurtre et mystère, repas de homard, brunchs au champagne et soupers des récoltes — au départ du hangar à bateaux de Burlington. Chaque année, près de 100 000 visiteurs montent à bord pour admirer les splendeurs naturelles de la région, en apprendre un peu plus sur l'histoire locale et humer la brise.
L'entreprise Spirit of Ethan Allen, qui célèbre sa 35e saison, a une histoire tout à fait unique. Mike Shea, qui avait travaillé précédemment comme pilote de ligne et géré l'aéroport Morrisville-Stowe au Vermont, a fondé la compagnie de croisière en 1984. À l'époque, ses parents détenaient et exploitaient un vapeur à aubes appelé River Queen sur la rivière Fox, à Green Bay, au Wisconsin. Quand la compagnie aérienne du Vermont pour laquelle il travaillait a fait faillite, Mike a suivi les traces de ses parents dans l'industrie maritime.
Il a d'abord fait l'acquisition du Dixie, un vapeur à aubes de 149 passagers de Philadelphie, et l'a renommé Spirit of Ethan Allen en hommage au héros de la Guerre d'indépendance américaine et fondateur du Vermont. Le voyage inaugural a eu lieu le 28 mai 1984, au quai Perkins de Burlington. C'est le maire d'alors, Bernie Sanders — qui, devenu sénateur, s'est surtout fait connaître durant la campagne présidentielle de 2016 — qui a baptisé le bateau. Il a alors parlé du « début d'une nouvelle ère pour le secteur riverain de Burlington ».
« À l'époque, admet Mike, je ne savais pas ce qu'il voulait dire. Mais regardez où nous en sommes maintenant. »
En effet, au fil des années, le secteur riverain de Burlington a subi une véritable métamorphose, quittant définitivement son passé industriel pour devenir l'attraction touristique qu'il est aujourd'hui. Le Spirit a joué un rôle important en attirant des visiteurs au lac, ce qui a favorisé l'essor des restaurants, bars et hôtels à proximité. En 1993, Mike a déplacé son bateau au hangar de Burlington, où il est amarré à l'année depuis.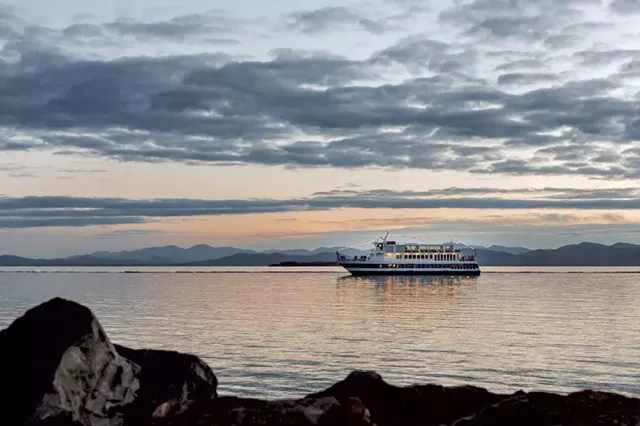 Courtesy Of spirit Of Ethan Allen
Spirit of Ethan Allen III sunset cruise
En 1995, Mike s'est offert le Spirit of Ethan Allen II, d'une capacité de 500 passagers, qu'il a exploité jusqu'en 2001 avant de le transférer à Plattsburgh, dans l'État de New York, sous le nom de Spirit of Plattsburgh. Il y a été exploité jusqu'en 2005, puis vendu à nouveau, envoyé sur la côte ouest et rebaptisé Islander. Depuis 2006, il sert de navette aux touristes qui vont visiter l'île d'Alcatraz dans la baie de San Francisco.
Le Spirit of Ethan Allen III d'aujourd'hui est un navire de 363 passagers avec cuisine complète. Outre les croisières quotidiennes, on peut le louer pour des événements privés tels que mariages, fêtes de fin d'études et sorties corporatives. C'est notamment à son bord que s'est tenue la réunion de fin de tournage du film de 2000 Moi, moi-même et Irène, tourné au Vermont et mettant en vedette Jim Carrey et Renée Zellweger.
« C'était vraiment spécial, se remémore Mike. Nous étions tenus au plus grand secret et ne pouvions pas prendre de photos ni rien de ce genre. Les membres de l'équipe ont fini par sauter dans le lac et se sont bien amusés. »
Chaque été, Mike embauche des étudiants universitaires de l'Europe de l'est et des pays de l'ex-bloc soviétique ayant un visa de travail J-1. Cela leur permet de vivre et de travailler au Vermont pendant l'été, puis de voyager aux États-Unis. « C'est probablement l'un des aspects les plus gratifiants de mon travail », dit-il.
Aujourd'hui, durant les croisières, on raconte l'histoire du lac Champlain, à commencer par sa formation comme mer intérieure il y a des milliers d'années. On parle ensuite de l'importance culturelle que revêt le lac pour les Abénakis et les Iroquois, ainsi que de l'arrivée de l'explorateur français Samuel de Champlain en 1609, avant d'aborder le rôle essentiel qu'a joué le lac dans la Guerre d'indépendance et la Guerre de 1812.
Par exemple, quand le bateau croise la petite île appelée Dunder Rock, le narrateur explique que durant la Guerre de 1812, les Britanniques l'ont bombardée avec leurs canons après l'avoir prise pour un navire américain à cause du brouillard.
Il est également question, dans la narration, de la place que s'est taillée le Spirit of Ethan Allen dans une légende locale qui remonte à l'époque de Champlain. En 1609, l'explorateur a déclaré avoir aperçu un monstre marin « d'au moins cinq pieds de long ». D'autres visiteurs du lac, notamment des membres des premiers peuples, ont relevé des apparitions semblables de cette créature qu'on surnomme « Champ » dans la région.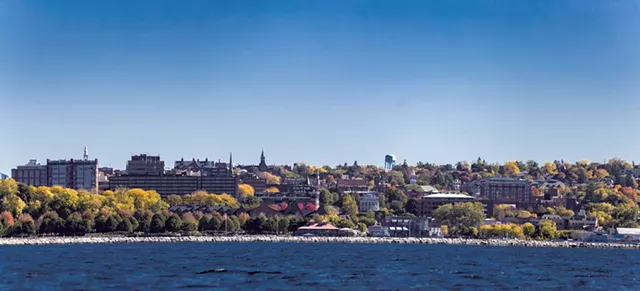 Luke Awtry Photography
The view from Burlington Bay
Le 28 juillet 1984, près d'une formation géologique connue sous le nom de Lone Rock Point, c'est à bord du Spirit of Ethan Allen qu'a eu lieu la plus importante observation de masse de Champ. Selon Mike, au moins 70 personnes participant à un 50e anniversaire de mariage, dont lui-même, ont aperçu quelque chose de gros dans l'eau.
« Tout d'un coup, se souvient Mike, quelque chose s'est mis à nous suivre et a émergé d'une soixantaine de centimètres. Nous avons pu l'observer pendant plusieurs minutes, jusqu'à ce qu'un hors-bord arrive de l'autre direction, puis la chose a viré brusquement et est disparue. »
Mike admet qu'il ne sait pas de quoi il s'agissait, « mais il y avait quelque chose là, et ce n'était pas juste une vague ».
Peu importe ce que c'était, Mike dit ne jamais l'avoir revu — mais les milliers de visiteurs à bord du Spirit of Ethan Allen III gardent l'œil ouvert dans l'espoir d'apercevoir Champ.
Apprenez-en davantage sur les croisières du Spirit of Ethan Allen III à soea.com.